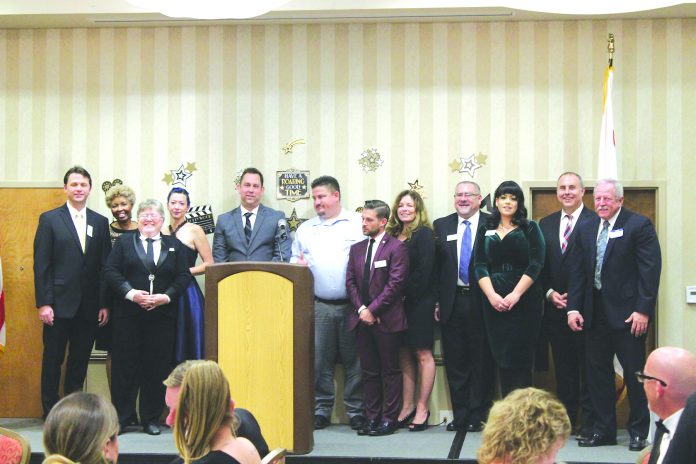 By David N. Young
The Los Alamitos Chamber of Commerce took somewhat of a risk this year in bringing back an annual "gala" event to honor its businesses and community members and, by most accounts, it went so well many are already thinking about how to make it better next year.
"The event was such a success," said Dawnette Palmore, the incoming Chairman of the Los Al Chamber, adding that she would push to continue the event because it is a "great way to honor our businesses."
"They (local businesses) give so much to the community and this is a way of giving back," she said.
Toni Hauger, the Executive Director of the Chamber, who coordinated the black tie event entitled "Oscars Through the Ages," said some attendees made suggestions about how to improve the event next year.
Justin Padilla and the Los Alamitos High School Jazz Band played big band tunes as Chamber members and their guests began streaming into the U.S. Navy country club ballroom to witnesses the installation of new officers and presentation of awards.
Dr. Jeff Barke, former president of the Los Alamitos Unified School District, served as Master of Ceremonies for the event.
Bret Plumlee, Los Alamitos City Manager, administered the oath of office for the incoming officers and directors, including Palmore as Chairwoman, Nesi Steward, 1st Vice President for economic development, Mark Lengsfeld as Vice Chairman for Budget and Finance and Shelley Henderson as immediate Past Chairwoman of the board.
The new directors include Jay Bobnes, Manuel Gouveia, Emile Jorge, Judy Kalbouch, Susan Morales, Dr. Andrew Pulver, Michelle Ratzlaff and Dan Swartz.
Ganahl Lumber was named the Los Alamitos Business of the Year, Restaurateur Art Garcia was named Citizen of the Year, Precious Life Shelter was named the Chamber's Community Partner of the Year and Golden State Water Company was awarded for having made the most Economic Impact.
Hauger said since Garcia was unable to be present (because of an emergency), the Chamber will present his award to him personally at their next regular breakfast.
In addition, the executive director said there was a silent auction that raised money during the event.
The Los Al Chamber board will at some point consider all of the feedback from the gala event to determine a way forward, said Hauger.
Overall, she said, the revived "gala" was a tremendously successful event for the Chamber. Members seem to very much enjoy the event, she said, and so much so, that some even suggested bringing back dancing after the program is complete.