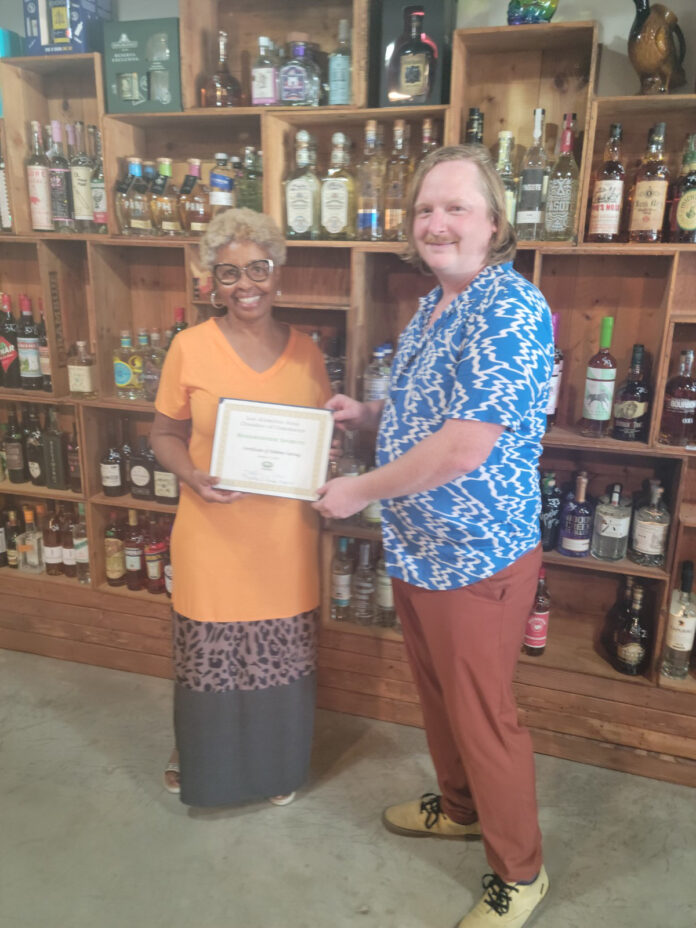 "Roadrunner Spirits, Beer and Wine," 10680 Los Alamitos Blvd., in Los Alamitos, held a Ribbon Cutting ceremony recently, orchestrated by the Los Alamitos Chamber of Commerce.
Two local brothers, Matthew and Andy Harrison saw a need during the pandemic; if people couldn't go out to enjoy a drink with friends, then they would bring the bar to people in their own homes, from spirits to tools and recipe ideas.
Their shop is open to the public in Center Plaza along Los Alamitos Boulevard for in-store shopping and ordering online at roadrummer.la and for curbside pickup or delivery for Los Alamitos, Long Beach, Cypress, Lakewood, Hawaiian Gardens, and Seal Beach up until 10 p.m. daily.
"In addition to an array of rare spirits, 'Roadrunner Spirits' offers a selection of local beer and natural wine," said Matthew Harrison. "While a slushy beer or orange wine might not be everyone's first choice, there is something here for everyone."
Some of the items Roadrunner Spirits offers for home-mixologists include mixer-containers such as jiggers in glass, metal, julep, shakers and/or bar spoons.
"Thank you all for attending our ribbon cutting today," said Matthew Harrison. "We have had so much support from our family, friends, and the Los Alamitos community."
"It's always great to see a new business open, and even more exciting to see Chamber members contribute to that success," said Chamber Chairperson Nesi Stewart. "The Los Alamitos Chamber looks forward to Matt and Andy getting involved with the Chamber and our community. Welcome to Los Al!"
Andy Harrison explained, "We wanted to make a place, where people could home-bartend, by purchasing items here to make their own bar at home – we saw the need and wanted to help."
Andy said that he and his brother grew up as children of a military father, living in many places, including Ramstein AFB in Germany, near the French boarder and finished out his career, stateside, in Missouri.
"All of our family was in California and so we ended up on the Coast of California," said Andy Harrison. Both brothers attended college in Santa Cruz, Calif. "I've always looked up to my older brother, Matthew, and followed in his footsteps and now that's with a good resolution as our travels have brought us together in Los Alamitos, having previously bartended together in San Francisco."
The brothers said they enjoy trying new foods and drinks. "That's part of what brought us here."
Store hours include Tuesday through Friday from 2 to 10 p.m.; Saturday from Noon to 10 p.m. and Sunday Noon to 5 p.m.
For information, call 562-446-0246 and visit www.roadrunner.la