Two former Los Alamitos High School standout athletes will each be bringing home a gold medal from the long delayed 2020 Olympic Games, which ended in Tokyo this week.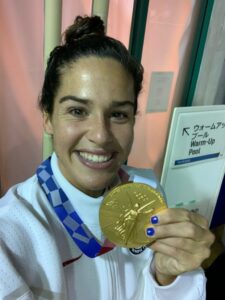 It was gold medal number two for water polo star Rachel Fattal, of Seal Beach, as the Americans established dominance in the sport, routing Spain 14-5 to capture the third straight gold medal in water polo for America.
And for the first time ever an emotional USA Volleyball team overpowered Brazil to win gold for the team that included former Los Al High School volleyball standout Justine Wong-Orantes, of Cypress.
For the team, the win over Brazil became emotional as it became evident that after coming close to gold many times, this time they would finally claim it for their own.
The USA Volleyball team, which had won three silver medals and two bronze since first getting on the medal stand in 1984, got to the top step by beating the team that denied it a chance at gold in the final match of the 2008 and 2012 Olympics.
In 2020, it was different. After losing to Brazil in 2008 and 2012, the determined USA team won 3-0 to claim the gold. The additional gold medal also served to carve out a victory in the overall gold medal count, with America edging out China 39-38.
The victory also allowed U.S. coach Karch Kiraly to join Lang Ping of China as the second person to win gold as a volleyball player and then lead a country to gold as coach. Kiraly won gold indoor as a player in 1984 and 1988. He also won gold in beach volleyball in 1996.
Congratulations to the gold medalists and to those who support our area's recreational programs that fostered these local Olympic Champions.