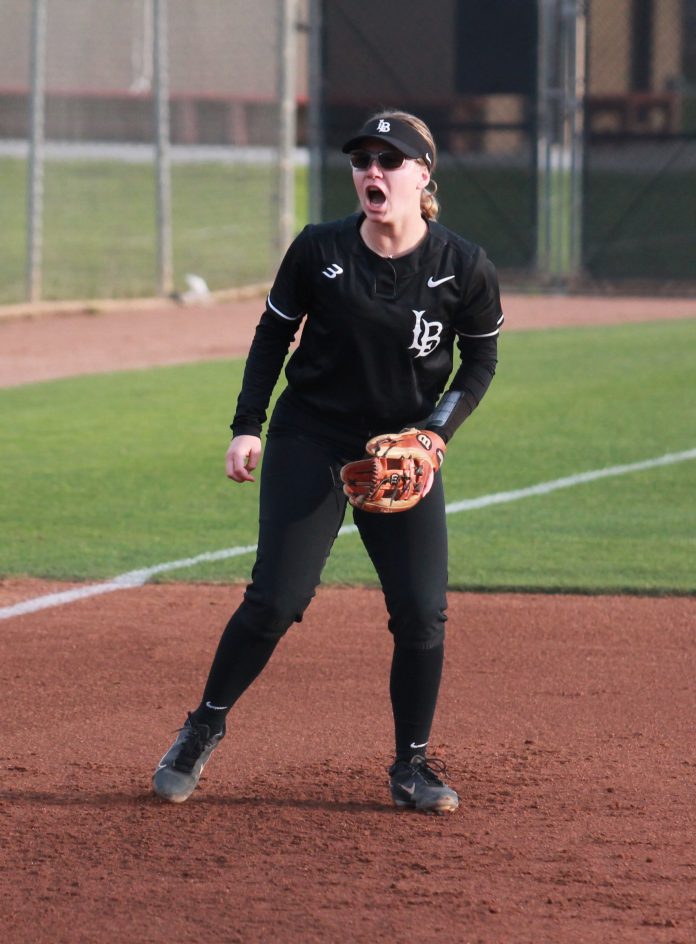 It's been a bit of a rollercoaster ride, but the Long Beach State softball team continues to keep itself in race for a Big West Conference Championship. In its last two series, against UC San Diego and UC Santa Barbara, Long Beach dropped the first game, but rebounded to win the next two and both series.
It's a tight race in the conference, but The Beach entered this week tied for first place with Cal State Fullerton at 11-4 in conference. UC Davis and Santa Barbara are both 10-5 and Hawaii is 9-6. Los Alamitos High product and Long Beach third baseman Carly Robbins said the team is embracing the tight race for a title.
"We're definitely excited, we use that as fuel," Robbins said.
Robbins has played in 37 games this year and started 35. She redshirted last year as a Division 1 transfer from University of South Carolina, but has been among the team leaders in offensive production. She is second in batting average and second in hits with 34 on the season. She has scored 14 runs and is tied for second in RBIs with 12.
"It's a team effort and so we kind bounce off each other," Robbins said of the teams offense.
Junior outfielder Sara Olsen is leading the team in on-base percentage and runs scored with 22. The team has six players in double digit runs scored and five with 11 or more RBIs. Sophomore Jacquelyn Bickar leads the team in RBIs with 15. For Robbins, she said approaching each at-bat as a situational opportunity.
"I definitely have a team mindset, so every at bat I'm looking to benefit the team, score the run, move the runner over, it's not necessarily for the hit," Robbins said.
If the Beach can regain the consistency they had early in the year, they should be a contender for the conference title. In the loss to UC San Diego, the offense was stymied by pitcher Jada Cecil who was able to keep Long Beach off balance with a one-hit shutout. Beach starter Shannon Haddad pitched a solid game, allowing just one run on five hits in six innings.
But The Beach bounced back in the next two games, beating San Diego by scores of 5-0 and 3-2. Against Santa Barbara, Long Beach followed up a 6-3 loss with 5-0 and 9-0 wins. Haddad allowed only two hits and struck out nine in the 5-0 win and she pitched four innings in the 9-0 win, allowing just one hit and striking out 4.
Haddad (9-7) leads the team in ERA at 2.08 and strikeouts with 92. Eryka Gonzales is 4-3 with a 2.62 ERA
"I think our pitching has done a really good job overall," Head Coach Kim Sowder said.
Long Beach is hosting UCLA today at 6 p.m. in a non-conference game and then will be back in conference action with a three-game homestand against Cal Poly San Luis Obisbo on Saturday and Sunday. They will play a double-header on Saturday at 3 and 5:30 p.m. and then play at 1 p.m. on Sunday.
There are nine games left on the conference schedule, including a three-game homestand against CSU Fullerton that might loom large if The Beach can regain their early-season form.
"Early on we were just doing all parts well, we were putting everything together and finding a way," Sowder said.
As for Robbins, she is just happy to be home after a year at South Carolina that was cut short by injury. Despite the heavy rainy season this year, she said the weather is something she definitely missed her. She also said the location, city and proximity to home is much more to her liking.
"It feels great, I always have a good group of people in the stands supporting me … I couldn't ask for anything more," Robbins said.