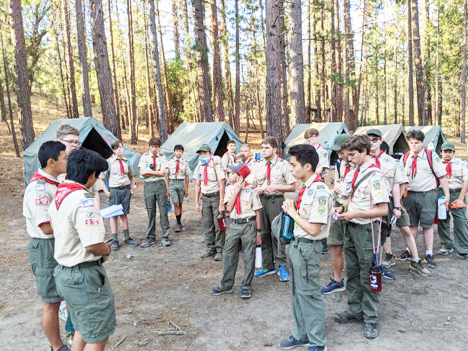 A local Boy Scout troop has not only recovered from the pandemic, but the troop took top prizes over the weekend and put their stills to the test as they helped extinguish a real-life truck fire.
According to the results reported by Troop 670, the "Roughriders of Cypress," scouting is making a comeback like many other traditions following COVID, announcing a very successful "camporee" over the weekend.
In a report filed by Aaron Chu, the Scout Reporter for Troop 670, which now includes more than 30 Scouts from Cypress, Los Alamitos, Seal Beach and Garden Grove, the Golden West District Camporee held at the Firestone Scout Reservation in Brea over the weekend was a smashing success.
"We believe that our troop's story of success and dedication would be of interest to your readers," said Chu, "particularly those interested in scouting, youth activities, and community involvement."
The Camporee is a district-wide event involving several Troops from across north Orange County, where they display their Scout skills and spend three days and two nights in patrol competitions, he said.
When all was said and done, Chu said local Boy Scout Troop 670 returned with seven patrol awards, "including the Best Overall Troop Spirit Award."
Moreover, the camping and emergency skills were put to a real life test, said Chu, when one of the pickup trucks caught fire.
"There was an unfortunate opportunity for our youth to put their skills to the test arose as they were leaving the Scout reservation on Sunday afternoon," said Chu.
"Just as they entered the public roadway, a pickup truck was seen to have caught fire. One of our Scout Leaders, Nathan Walker, immediately pulled over to lend assistance, said Chu.
"Another Scout saw a suspicious character running away in the opposite direction. Not knowing if there were other occupants in the vehicle, Mr. Walker approached the pickup with a fire extinguisher and opened the door through the flames," he said.
"Thankfully, there were no other occupants in the truck. In the meantime, one of the Scouts had contacted 911 and calmly provided detailed information to the operator, allowing for a quick response by the Fire Department and Sheriff's Department.
"The quick action and calm demeanor, which are key messages in the Emergency Preparedness Merit Badge, proved invaluable in this instance and highlight the many values that Scouting has to offer," said Chu.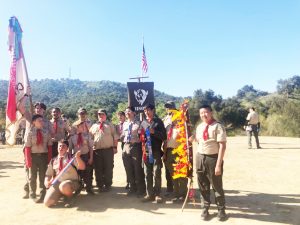 "These Scouts and Scouters truly lived up to the Scout Motto and exemplified the Scout Law," Chu added.
Chu said Troop 670 was founded in Cypress in 1967 and is chartered by Mt. Calvary Lutheran Church. The Troop has produced over 160 Eagle Scouts in its more than 50 years of existence and has a long history of winning awards at Camporee, providing amazing Summer Camp opportunities, monthly Troop outings, and an awesome high adventure program.
Since 1967, he said Troop 670 has welcomed scouts from nearby cities, including Seal Beach, Los Alamitos, Cypress, and Garden Grove. Over the past 55 years, the troop has proudly produced more than 80 Eagle Scouts.
Additionally, Chu said the local Troop 670 has earned the Best Overall Troop Spirit Award at the Golden West District Camporee for over ten years in a row. The troop holds meetings every Monday at 7:00 pm and organizes monthly outings such as camping, biking, and hiking, he said. They also have a team of dedicated counselors who help scouts earn merit badges.
He thanked current and former Scoutmasters Ron Hill, Dan Lee and April Walker for their assistance.
"We hope that you will consider sharing our story and help us spread the word about the good work that Troop 670 is doing in our community," said scout reporter Aaron Chu in his email message.