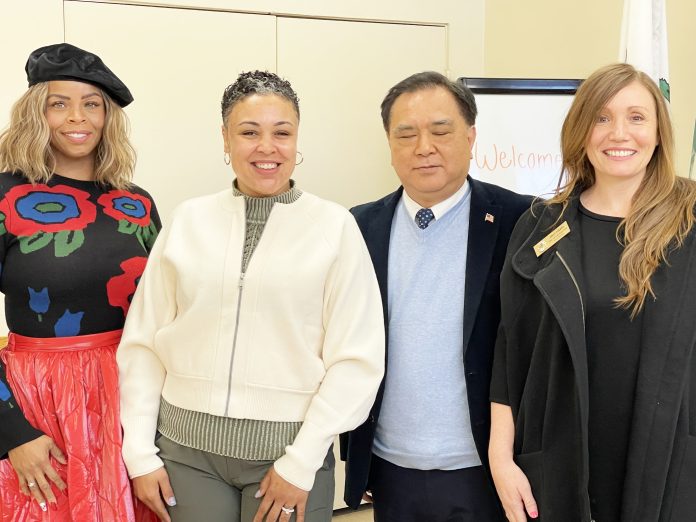 Officials and citizens from Los Alamitos gathered Tuesday to listen and ask questions of Orange County Supervisor Andrew Do's office.
"We (Orange County) are the fifth largest, with 3.2 million people, the fifth largest out of about 1,300 counties throughout the United States," said Van Tran, Chief of Staff for Supervisor Andrew Do.
Do was under the weather, Tran explained, so he was filling in as the listening tour continues throughout the Supervisor's newly apportioned district. Supervisor Katrina Foley, who formerly represented much of the area, was redistricted into a new district as part of the decennial redistricting process.
Tran said each OC Supervisor represents about 700,000 residents, as the new district includes Los Al, Seal Beach, Cypress, Rossmoor, Midway City and other areas. Tran said the Supervisor Do's staff was visiting each city to learn more about them and as well, hear from local residents and officials.
Los Al Mayor Tanya Doby attended, along with Council members Trisha Murphy and Emily Hibard. Also attending were a handful of other citizens, business owners and nonprofit executives.
Tran, an attorney, said his family moved to Orange County from Grand Rapids, Michigan, four decades ago to find a warmer climate. He has served as a city council member from Garden Grove and as a member of the California State Assembly before joining the Supervisor's staff.
Tran summarized the various agencies, from parks, to law enforcement and transportation, over which he said county Supervisors "have influence, directly or indirectly."
"It's a big county," said Tran, "with more than 2,000 employees, 30 different departments, and a budget of over $9 billion. "So, it's a big county with only five supervisors," he said. For that reason, Tran said he wanted to make sure local officials and citizens understood exactly what resources were available to them, inviting them to call on Supervisor Do's office to help access them.
"The county itself does not have a lot of funding," he suggested, "but because it is a depository-repository agency with money from the state and the federal government pouring in, Supervisors are a mid-agency that basically distributes … services," said Tran.
"We can collaborate, and I hope to have an opportunity to meet with the council in the near future so that we can sit down and talk about some of the projects," said Tran, "or some of the issues which we can resolve or help our residents in response to the needs, whether it's homelessness, health care, or mental health or any other issues."
He introduced Ofelia Vilarde Garcia, a staff member who will always be available to provide assistance to those in the various communities who need it.
"We're one of the smallest cities your office has to deal with," said Los Al Mayor Tanya Doby. "I know we are small but mighty," she told Tran.
"And what I would like to see is that our needs get met," she said. "we don't want to get ignored just because we are small."
"That is my expectation," she told Tran.
Retired military official Tom Lasser asked Tran to explain where their offices were located. Tran said the supervisor has an office in Santa Ana and would soon open an office within the district.
Lina Lumme, Executive Director of The Youth Center, a local nonprofit organization, explained that the nonprofit had raised only a portion of the funds they will need to move from their current location on Oak Street to a new, permanent home on Los Al Boulevard that is currently under renovation.
"I can't make any promises," said Tran, "but it's a worthy project," he said, asking The Youth Center Executive Director to send more details to the office.
Tran said that whenever possible, Supervisor Do likes for his office to assist OC residents' local government and community organizations.