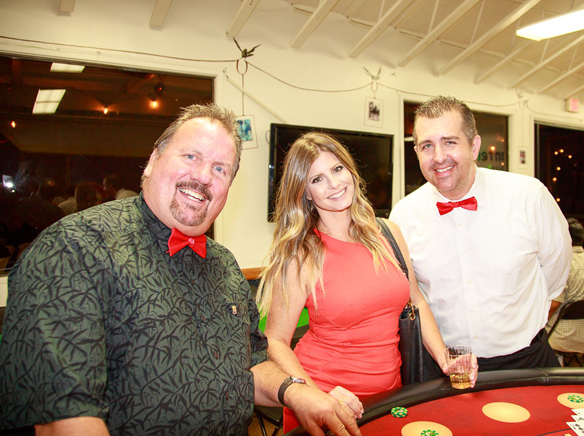 Los Alamitos community members recently came out and were "all-in" at the Youth Center's Casino Royale event which successfully raised scholarship monies for the award-winning nonprofit's elementary Music Program.
Among those in attendance were Chad Kidder of Ganahl Lumber who arrived in a limousine and was a $5,000 sponsor of the event. Ganahl Lumber is a long-time supporter of The Youth Center since the first day it opened in 1952, continually helping them. They hosted their holiday tree lot for 19 years, donate funds for program scholarships for children in need, and have actively served on their board of directors from the beginning. It's estimated that they have helped the nonprofit raise well over $1 million over the years, according to Youth Center Executive Director Lina Lumme.
"Ganahl Lumber loves kids," Lumme said. "They have invested in local children through their corporate culture of giving, and have never stopped supporting us. They are a true example of living their mission of supporting local kids. We are very grateful to them."
Other local supporters at Casino Royale were the Seal Beach Lion's Club President Ryan Ziegenbush, Rotary President-Elect Tom Stretz, Los Alamitos City Council Member Richard Murphy and the Los Alamitos Unified School District Board of Education representatives Diana and Randy Hill. Special sponsors at the event included "Wild Card" sponsor Jeffrey Blancq of New York Life, and "Royal Flush" sponsors Alan and Lorraine Chavez of the Seal Beach Lion's Club.
"Thanks to the local community, we raised more than $8,000 which will go towards scholarships for the Music Program," Lumme added. The Youth Center is not funded by the state or federal governments, and relies upon the generosity of the community to sustain all their programs including their after school programs, summer camps, music program, Leadership Academy, and their bi-annual teen drunk driving determent event called "Every 15 Minutes," which will take place this coming spring in conjunction with Los Alamitos High School.
The Youth Center specifically thanks all the area restaurants who donated to their Casino Royale including Walt's Wharf in Seal Beach, Kobe's Japanese Steakhouse in Seal Beach, Finbar's Italian Kitchen in Seal Beach, Huff's Family Restaurant in Long Beach, Romano's Macaroni Grill in Seal Beach, Gourmet Pie and Café in Los Alamitos, Coconut Rabbit in Los Alamitos and Taco Surf in Los Alamitos.
Two upcoming community events are their inaugural Chili Cook-Off with trivia contest on Nov. 10 at 6 p.m. at the Youth Center, and their dine-in at Mama's restaurant in Los Alamitos all day on Nov. 14, where 30 percent of all proceeds benefit the Youth Center. Sign-ups for entries and tasters for the Chili Cook-Off are going on now and can be found on their website at www.theyouthcenter.org.