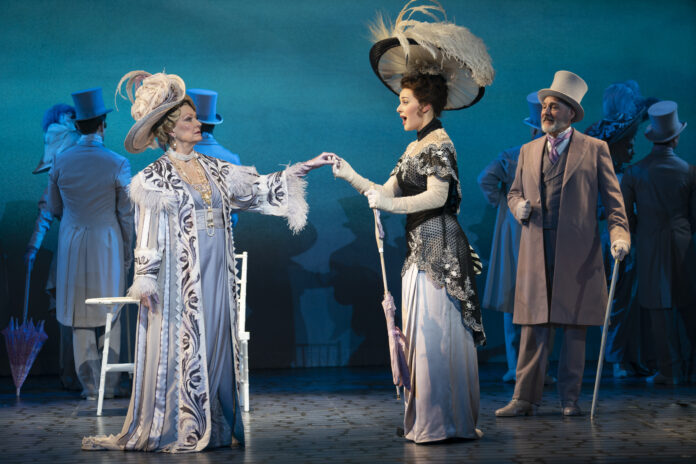 "With a Little Bit of Luck" audiences will get to the theater in time to kick off the New Year with the classical musical "My Fair Lady" playing at the Segerstrom Center for the Arts (SCFTA) July 11 – 23, 2022. Overall, Director Barlett Sher's stunning revival remains true to Lerner & Loewe's musical masterpiece, based on George Bernard Shaw's 1913 play Pygmalion. Despite the beloved brilliance of the show, Sher has infused a twist or two that brings the 100 years old story into the 21st Century. Here's a hint, one surprise will be sure to appease modern feminists.
Leslie Alexander who plays Mrs. Higgins, mother of Professor Henry Higgins says "My Fair Lady' is one of the great musicals in the American theater genre. There isn't a thing she would change about it although she does admit that Director Sher's artistic choices are a 'Loverly' mix of tradition with fresh ideas and surprises."
The role of Mrs. Higgins is a non-singing one but that didn't concern multitalented Alexander who has done it all, Broadway musicals, TV dramas, and voice-over work. And while she's never been a mother, she says "I always wanted to be a mother and I have played moms so many times that I've got it figured out. Among her many strengths, Mrs. Higgins has a strong, nourishing spirit as do I. I guess that's why I enjoy being her, our core character is similar. Some of the Characteristics we share in common are that neither of us 'suffers fools gladly.' We both are resilient yet kind-hearted women who love our families."
"My Fair Lady" is the timeless tale of Eliza Doolittle (Shereen Ahmed), a Cockney flower girl who takes speech lessons from Professor Henry Higgins (Laird Mackintosh), a misogynistic phonetician. Eliza's dream is to pass as a Lady so she can work in a fancy shop. As the lessons progress and goals are met, Henry falls in love with her.
Eliza is introduced to Mrs. Higgins, Henry's wealthy, upper crust mother at the "Ascot Gavotte." Alexander explains "Mrs. Higgins is an aristocrat who loves her son but she is not a snob and she sees Henry for what he is. She realizes that Eliza's success in passing as a Lady at the Embassy Ball is due to her hard work, not Henrys. She recognizes Henry's folly in taking all the credit. She later becomes a bit of a refuge for her while Eliza tries to figure out what is going to happen next in her life.
Director Sher has updated the classic production to reflect today's values. His vision is a delicate balancing act that removes the fairytale facade while keeping in the humor. "Get Me to the Church on time" has long been recognized as one of the great scenes in a show that has many show-stopping numbers and is a fitting example of his re-imaged nod to modern mores. Alexander would agree "the celebration scene is still one of the highlights of the show. Alfred Doolittle's pre-wedding ribaldry is 'one big 'all night long party' that is happening in the Pub before the morning's rituals," and she explains "there's some gender switching among the dancers but that wasn't uncommon at that period in time which makes it even more fun and funny. It's a fantastic number, Doolittle (Adam Grupper) and the ensemble dancers are incredibly hilarious."
Expect a surprise twist at the end as well, one that will have ladies cheering and older Gentlemen confused. This is a Victorian period piece but the "me too" era can clearly be heard. Alexander says "Our Director has found the precise balance between the original script and contemporary values. Today's Feminist movement will appreciate that Sher gives Eliza gets her say. It leaves audiences wondering about her future now that she is no longer a flower girl but instead can present herself as a Lady. I use the word 'empowerment' to describe her future."
"My Fair Lady" is beloved because all generations can connect with its message of the importance of being a good person, inside and out. "The revived production doesn't change the message; it's just not quite so traditional," says Alexander, "What's inside matters and that leads to another valuable lesson, that a person can dream big, work hard and achieve their dreams."
"My Fair Lady" is a dazzling and elaborate Musical comedy that mixes tradition with fresh ideas. Alexander recommends the show to audiences using three adjectives "Beautiful, wonderful and heartwarming."
Eliza's famous line "What makes a lady is neither birth nor how she speaks. It's how she's treated by others" is as true today as it was in 1912 London. Theaters are re-opening, with common sense Covid-19 precautions, so we can enjoy wonderful shows. "Wouldn't It Be Loverly" if audiences heeded Eliza's words to treat each other kindly by accepting the Segerstrom Center guidelines to show proof of vaccination, wear masks, socially distance and generally, respect one another so we can all enjoy the gift of live Theater once again.
"My Fair Lady" is at the Segerstrom Center for the Arts, January 11 -23, 2022. For tickets and information: The Box Office, 600 Town Center Drive, Costa Mesa: By Phone, 714-556-2787; Online, SCFTA.or