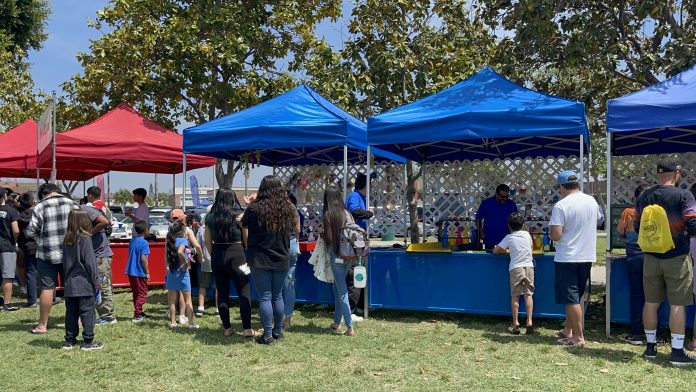 By Ronan Jensen
On April 29, La Palma's second-annual Festival of Nations took place in extravagant fashion. Consisting of a parade down Walker Street before leading to the titular event in the city's Central Park, the festival was a coordinated effort to celebrate the diversity and heritage shared among La Palma's citizens. While public events always run the risk of running into disappointment, as far as the city leaders of La Palma are concerned the festival was a complete success.
"Overall, the parade was a wonderful event", said Mayor Debi Baker. "Everyone had a great time."
The Mayor's enthusiasm was mainly centered around the event's inherent import: that of showcasing the diversity of the city's citizens out in the open for everyone to see.
"Everybody gets to celebrate their cultures," she explained.
And indeed, everybody did: marching bands, high school sports teams, color guards, and members of La Palma's city council all participated in the festival. The mayor herself was there as well, riding down Walker Street during the parade in the back of a classic Ford Model A.
While this was only the second time the city has put on a Festival of Nations, only one big change was cited as having been made from last year's iteration of the event: an increase in the number of food trucks. Both the Mayor and a member of La Palma's Recreation and Community Services department cited that the amount of food trucks had been lacking in last year's event. Also according to both: the mistake was not repeated this time around.
As declared on the city's official website, a third-annual La Palma Festival of Nations is already in the planning stages for 2024. Considering the feelings of pride and success felt among the city leaders, the intention to hold another event should not come as a surprise. But when it came to the topic of any potential changes for next year, neither Mayor Baker nor the Recreation and Community Services department indicated any intentions towards specific alterations for next year's event.
When asked about the future, Mayor Baker was less focused on 2024's festival, and was more concentrated on "looking forward to our Saturday concerts" later this year.
The 2023 Festival of Nations was the second annual event. La Palma's initial Festival of Nations had to be canceled by the COVID pandemic. The city planned the community event to celebrate La Palma's diversity, vision, and sense of community. They hope to make it an annual event.