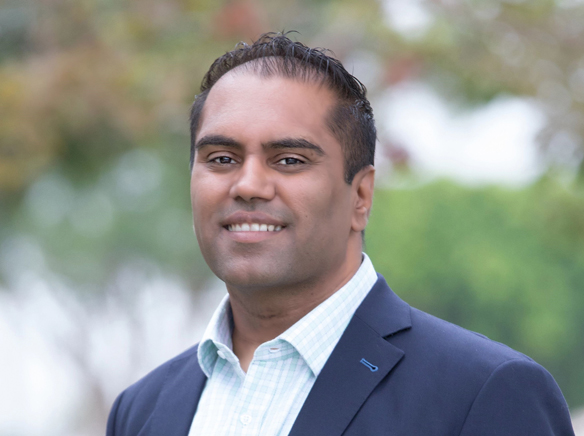 Nitesh P. Patel
Personal: Wife Niti Patel and daughters Tulsi Patel and Krishna Patel; 15-year resident of La Palma. Occupation: Salvation Army Los Angeles – Advisory Board Member; Executive Director – Non Profit 501c(3); CEO – Tech Company; CEO – Online University; Real Estate Developer
What are your long-term plans to improve La Palma?
La Palma has had to make some difficult budget cuts in recent years, some of which have adversely impacted services. My number one priority is the maintenance of our exceptional police and fire services. My second priority is to explore thoughtful and reasonable business growth to restore or enhance City services and events without jeopardizing our long-term financial stability.
If elected, what would be the issue you would want to work on first?
I would work on our infrastructure and reasonable and thoughtful business growth. The city is considering a median project and I believe that my private sector experience will assist in finding the right partner to assist with the project and making sure that the numbers make sense.
What does La Palma need to insure future fiscal responsibility?
We need reasonable and thoughtful business growth. I would explore possibilities on how we can develop existing land, with keeping in mind traffic congestion and most importantly our quality of life.
Why should voters choose you?
I have chosen to make La Palma my home for the last 15 years and I have enjoyed raising my two children in this tight-knit community. I value the quality of life that our city offers and I want to continue to be a part of strengthening the values this community is known for.
While building my businesses I have worked hard by contributing to the community I live in. In 2011, I was honored as La Palma Volunteer of the Year by the Recreation and Community Service Department. I served on the Community Activities and Beautification Committee (CAB) from 2009 to 2016 of which I was the Chairperson for 3 years and Vice Chairperson for 2 years. I was appointed and served on the Oversight Board from 2012 to 2018.
I was the parade announcer for La Palma Days for the last few years and served on multiple La Palma Days committees. Ensuring that the future students of La Palma succeed I have sponsored thousands of dollars of scholarships for students at Kennedy High School and have donated to different city sponsored events that encourage student involvement.
In addition, I believe that my professional background as an executive and entrepreneur will help me to serve as a council member with keeping in mind that I am a voice for the citizens and a public servant.