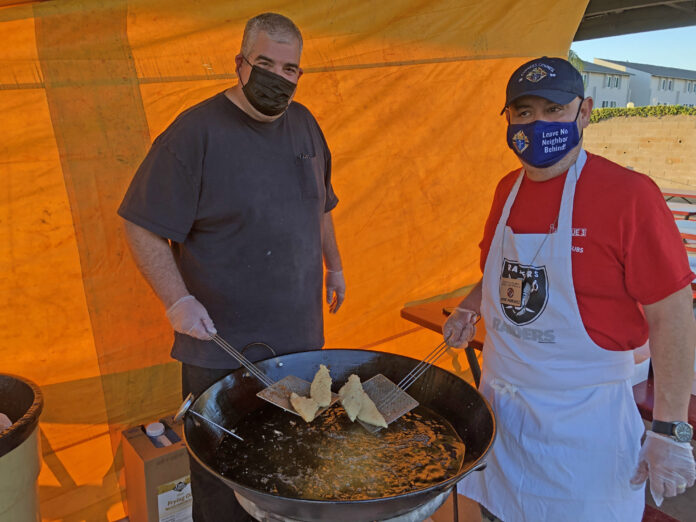 Looking for a way to get out of the kitchen and have someone else prepare some tasty and inexpensive dinners, all with drive-through convenience? The Knights of Columbus Cypress Council #8599 is again hosting its special Fish Fry dinners on each Friday of the Lenten Season at St. Irenaeus Catholic Church in Cypress. Everyone is invited.
The Lenten Fish Dinners will be served on six consecutive Friday evenings, March 4, 11, 18, 25, and April 1, 8, between 5 & 7 p.m. in the parking lot of St. Irenaeus Parish on Grindlay Street, between Lincoln and Orange in Cypress
On the menu will be full dinners of fish and chips, cole slaw, roll and cookie for just $10.00 for adults and $7.00 for children 5-12 years of age. Also: two slices of cheese pizza for $5. Early tickets will be sold after Masses the weekend of February 26-27, and possibly a subsequent weekend. Credit cards will be accepted. An added attraction this year will be a low-cost Raffle for a luxurious 3-night stay at the Welk Resort in Escondido in mid-June.
The Council's Grand Knight Rick Tkach says it's more than delicious dinners, but a way to help local organizations such HSA (Home School Association); H.O.P.E. (Helping Other People Everyday); Boy Scout and Cub Scout troops; M.E.F.P.(Marriage Enrichment Formation Program); Special Olympics; American Wheelchair Mission; People With Intellectual Disabilities; La Habra Life Shelter; and other Knights of Columbus approved charities in Cypress and surrounding communities.
The Knights of Columbus Cypress Council 8599 has been serving the local community and Saint Irenaeus Parish since 1984, and since beginning its Lenten Fish Fry dinners, thousands of meals have been served to parishioners and neighbors. For more information, contact Deputy Grand Knight Rick Tkach (714) 829-7289 or Irv Cuevas, Council Media Relations (562) 594-8081.