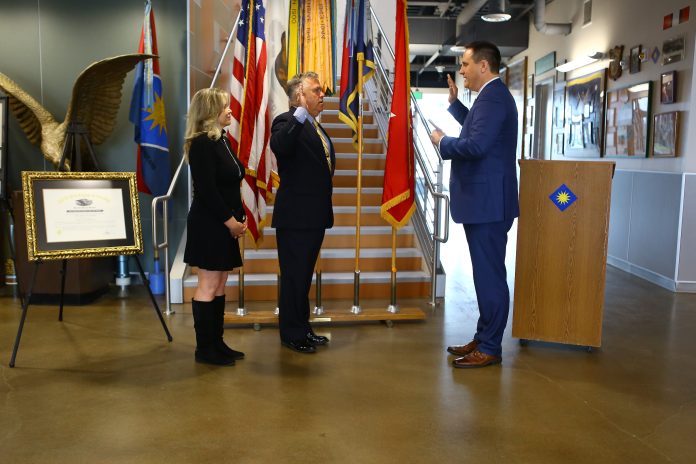 By Robert Kenny for the Event News Enterprise
Cal Guard senior leaders including U.S. Army Brig. Gen. Robert Wooldridge, 40th Infantry Division's deputy commanding general, and Lt. Col. Manju Vig, garrison commander of Cal Guard's Joint Forces Training Base, Los Alamitos, participated in a swearing-in ceremony for Selective Service California State Director John A. Arbogast, March 13, in the 40th Infantry Division Headquarters on the base. National Selective Service Acting Director Joel C. Spangenberg presided over Mr. Arbogast's oath of office proceeding.
As part of his remarks Acting Director Spangenberg said, "The driving principles of our mission are to ensure that a national draft lottery and the system established to classify registrants are operationalized in a fair and equitable manner. Mr. Arbogast will support our efforts to do so in California. We are fortunate to have him on our team."
As California State Director, Arbogast will lead agency efforts to strengthen Selective Service System readiness capabilities across the state in coordination with California's state, county, and local officials. Cal Guard supports these enduring efforts under the leadership of the adjutant general and the work of select National Guard Reserve Service Members (RSMs) assigned to the Selective Service System.
Currently, the Selective Service System has 11 RSMs, including three with the Cal Guard serving statewide and has over 800 presidentially-appointed local board members volunteering their time throughout state to assist with the classification of registrants should the President and Congress reinstate a national draft for induction into military service.
In recognition of his appointment as California State Director, Arbogast said, "The Selective Service stands ready to mobilize operations fairly and rapidly throughout the State of California and across America during a national emergency. I am proud to be part of the Selective Service System and work closely with the California National Guard and the State of California to build in and refine operational efficiencies and to support the personnel needs of the Department of Defense should the President and Congress reinstate a military draft."
The Selective Service System is an independent federal Agency that has been a distinguished part of America's history for over a century, spanning eras of conflict and peacetime. The national framework and structure of the modern-day Selective Service System embody the very essence of government leaders' collaborative efforts to preserve American security in alignment with the foundation upon which American freedoms exist – the U.S. Constitution.
Robert Kenny is with Selective Service Public & Intergovernmental Affairs