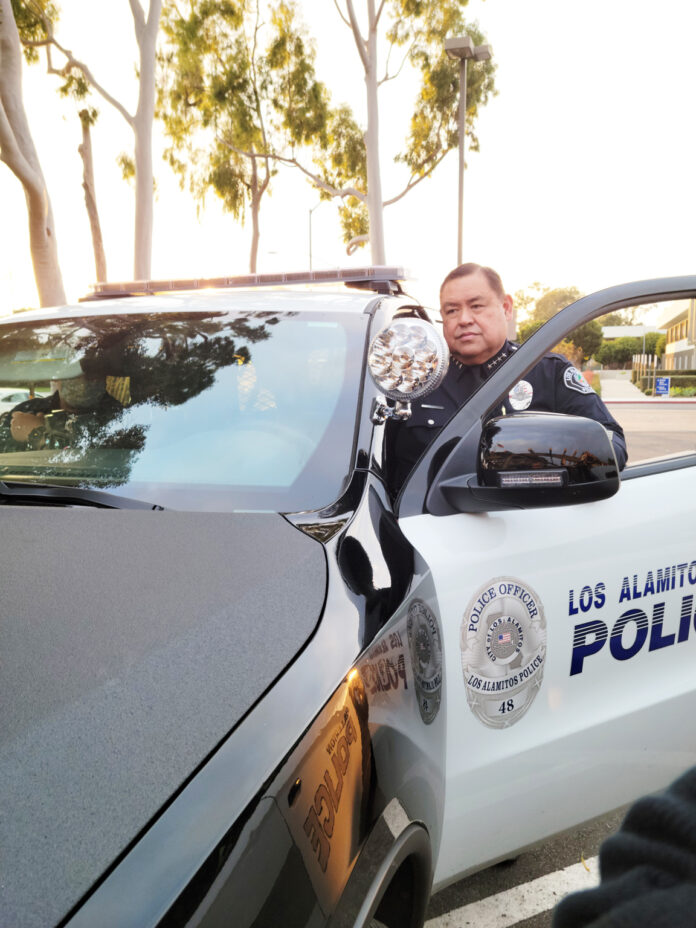 Los Alamitos Chief of Police Eric R. Nuñez officially retired Tuesday, Jan.18, 2022, after having served as the ninth Chief of Police for the City of Los Alamitos.
City officials, staff members, family and fellow police officers from surrounding cities joined the Chief as he walked along the corridor of City Hall to say goodbye to those he had worked with, shaking hands and hugging each individual.
He served as the Chief of Police in Los Alamitos from January 2016 to June of 2021, when he officially retired, but continued as Interim Chief until someone could be appointed to his position.
With nearly 25-years as Chief of Police for the neighboring City of La Palma, Chief Nuñez has served as a police officer and Chief of Police for 30-plus years.
During his many years of service, he has added many credits and degrees to his name, far too numerous to mention all of them here, but here are some of the highlights.
Nuñez is the Immediate Past President of the Executive Board for California Police Chiefs Association (CPCA) and previously served as its 55th President.
In Los Alamitos, he serves on the Board of Directors for the Casa Youth Shelter and the Sunburst Youth Academy Foundation. In 2017, Los Alamitos High School Varsity Football Head Coach Ray Fenton invited Nuñez to serve as an assistant coach for the team, where Nuñez said he learned leadership from a true master.
In a statement released by Chief Nuñez, he said, "I can never adequately express my gratitude for our highly effective and compassionate City Council and the wonderfully caring Community for their support of our police department.
"Having had the opportunity to work under the direct leadership of City Manager Chet Simmons, who has always led authentically and purposefully, has been a gift my last two years and the City Staff are truly the crème de la crème; they are some of the hardest working people I know in those roles.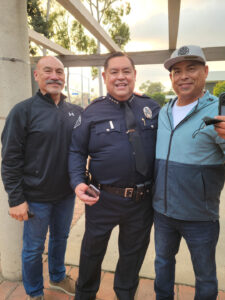 "I could never thank my two Captains or police management team enough for their leadership and solid work ethic. Everything we have accomplished in keeping the officers and professional staff focused on our mission of keeping our community safe and thriving, is because of their leadership and the frontline personnel going above and beyond the call of duty."
Chief Nuñez went on to thank his previous and current assistants, Catherine Howard, and Veronica Wilson; "Catherine, who showed me the ropes in Los Alamitos and Veronica who kept me off of them by always being in my corner and being the heart and soul of our police department."
He thanked the community for allowing him to serve as their Police Chief and for trusting the police personnel to always do the right thing and giving them the benefit of the doubt, "which gave us time to get better, be better and do better, in serving and protecting our community."
Chief Nuñez and his wife, Molly, are parents to four children and have three grandchildren.
In retiring, Nuñez said he looks forward to establishing his private consulting and investigations company, as well as walking his daughter, Shelby, down the aisle at her upcoming wedding, attending his daughter, Hailey's, college graduation, and his wife's graduation, as she becomes Dr. Molly Nuñez.