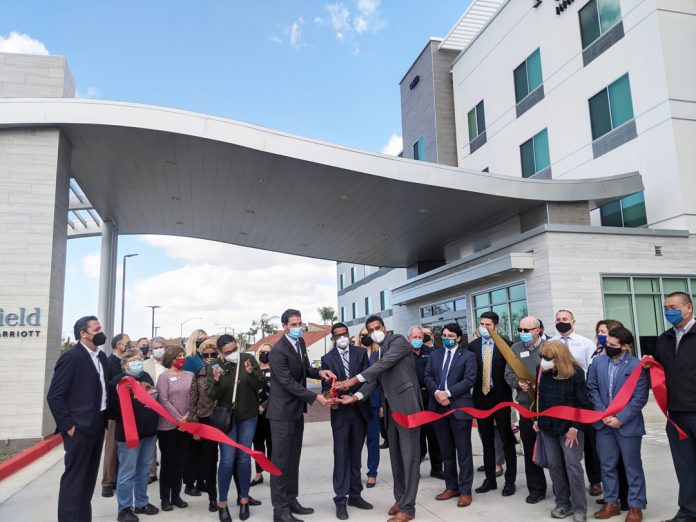 More than 60 local officials and well-wishers turned out to welcome a new Fairfield by Marriott business hotel to the city of Los Alamitos this week.
"It's been a long process," said General Manager Sam Kishor, "but it is really good to finally be opened to the public."
Local officials were also happy to see a new business opened in the city as they gathered to cut the ribbon during its grand opening ceremony this week.
"We want to welcome you to Los Alamitos and we're looking forward to the City opening back up," said Los Al Mayor Mark Chirco. "That's all good news for local businesses," he said.
"The fact that you chose Los Alamitos shows you have confidence in our City and speaks to a location that is close to the business, beach and Disneyland," he said.
Nesi Stewart, Chairwoman of the Los Alamitos Chamber of Commerce, also expressed optimism for the future.
"We look forward to the Fairfield Inn getting involved with the Los Alamitos Chamber of Commerce and the Chamber helping to promote your business," she told the large group of Marriott/Fairfield officials gathered for the grand opening.
Fairfield by Marriott has joined both area Chambers and Cypress Chamber of Commerce. President Shelley Henderson said, "thank you for joining the Cypress Chamber as well, and we warmly welcome you to Los Alamitos."
Kishor thanked everyone for coming and hotel officials gave a tour of the exclusive new property, which now offers 108 new hotel rooms.
The ENE will feature an interview with the general manager next week to tell his story of building a new hotel during the worst pandemic in modern American history.