By all accounts, it was a patriotic presentation when the Cypress City Council began their most recent meeting by honoring an active duty military veteran who has lived and raised his family in Cypress for more than three decades.
However, a funny thing happened on the way to the podium, so to speak, as his wife ended up getting a medal.
In fact, the council began their meeting by recognizing Sgt. Major Ron Cabrera, a former Marine, U.SA. Army Reservist and current member of the California National Guard for his meritorious service to the nation.
Mayor Rob Johnson said Cabrera completed his training at the Naval Air Station in 1981 and was initially assigned to Air Group 39 at Camp Pendleton. After being promoted, he served two overseas tours of duty that took him away from home for extended lengths of time.
Cabrera's first overseas tour as a combat helicopter mechanic was in Afghanistan in support of Operation Iraqi Freedom and the second, as a Sgt. Major in southeast Asia and in Iraq.
Johnson said Cabrera holds a bachelor's degree in business administration from Columbia College in Missouri and is employed by a defense contract management agency.
He also is a member of the Southern California chapter of the the Army Aviation Association of America and volunteers to help hospice veterans.
Cabrera said he was "blessed" to live in Cypress and that is was a "privilege to have raised my kids in this city."
But then, he turned to his wife Linda, and thanked her for doing such an amazing job as a wife and mother with their children while he was away so often on deployments. It always seemed that when he left, said Cabrera, the "roof starting leaking" and "always problems to solve for the kids."
Then Cabrera's commander, 40th Infantry Division Chief of Staff Col. Gilbert Roldan stepped up to the podium.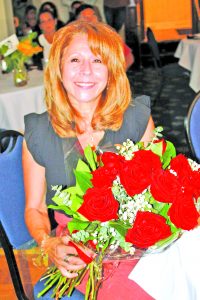 Although Rodan had presented a medal to Cabrera at his official retirement party held recently at the Joint Forces Training Base in Los Alamitos, he surprisingly began speaking about Cabrera's wife Linda.
"A lot of times we recognize our military service members for all the good things they do. However, we forget about our unsung heroes, on the home front," said Roldan.
"They (spouses) have to hold down the household while we're gone," said Col. Rodan, "and a lot of times they are not recognized."
Roldan said Linda Cabrera had served as a family group leader for the 140th Aviation Battalion and the for an aviation sustainment maintenance group.
"Mrs. Cabrera demonstrated outstanding support of the commander's vision to execute a family readiness program," the Colonel said, and "she raised $15,000 to fund events such as a welcome home dinner, family picnics to enhance camaraderie and boost morale," said Roldan.
Mrs. Cabrera had repeatedly demonstrated concern for deployed military families and was responsible for helping them cope with the stress of having loved ones deployed.
"So at this point, it gives me great pleasure and honor to recognize Linda Cabrera," Roldan said, presenting her with "a citation issued by the Military Department, State of California."
"This is to certify that, by the direction of the governor of California and pursuant to the authority vested in me, the California accommodation medal is presented to Mrs. Linda Cabrera for meritorious service between one April 2004 and one March 2010."
Roldan then pinned the medal on her and presented her with a certificate. Visibly shaken, Mrs. Cabrea simply said "I had no clue."
She then watched as the Col. stepped back, saluted her, and said, "thank you very much for your service, ma'am."
She slowly came to attention, within social distance, returned his salute, and said, "you are very welcome, sir."
Sgt. Major Cabrera then presented his wife with flowers and the meeting continued.