Following a two-year development process, the City of Cypress finally broke ground this week on a new, state-of-the art $13 million park that is expected to be completed in the fall of 2021.
"The City of Cypress is excited to announce the breaking ground of its newest park located on the corner of Lexington Drive and Cerritos Avenue," according to Mayor Rob Johnson.
"The new park will be a versatile facility that has something for everyone in the community," he said. He said it would not have been possible without a generous nine-acre land donation from the Los Alamitos Race Course.
Johnson said he thanked Los Al Race Track executive Frank Sherren, who attending the ceremony, for the donation. "It was a very generous donation," he said, with land in Cypress (pre-COVID going for more than $1 million per acre.
In May of 2018, the city accepted a donation of nine acres for the purposes of constructing a park.
City officials developed an initial design for the park using an outreach process to seek input from community members before approving a final layout in July of 2020.
The construction contract was awarded on October 26, 2020 to Horizons Construction Company with work beginning as early as this November.
While it has been referred to as "Cypress Sports Park" as a working title, citizens have expressed interest in undergoing a process to find a permanent name.
Cypress Recreation Director Cameron Harding said at a recent council meeting that they are considering some sort of corporate or institutional "naming rights partnership" for the new park, although they have made no decisions on naming the park.
During outreach with citizens, said Harding, the city received 183 naming suggestions, with Cypress Sports Park being the top vote getter.
Nevertheless, when the item came up last month, Berry said "why is this even in front of us tonight," saying permanent decisions should be left for the next city council.
"I would agree," said Council member Paulo Morales, "this (naming) is not a priority."
Cypress resident Ed Cramer said during open communications that "this is not the general use park we were promised. It became sports fields," he said, "and a ring around them (walking trails).
Other citizens had questions, such as why so many soccer fields in Cypress? Brooke Nefertiti said Arnold Park is already a sports park and that youth sports are in decline.
Johnson said there are now 21 parks in Cypress, some with no organized sports affiliations. He said while it is true that fewer people have been taking part, he thinks the isolation surrounding COVID has caused a huge demand for people wanting to return to the outdoors.
Johnson, who is termed out, began his career in recreation and served on the city's rec commission for eight years before being elected to the council.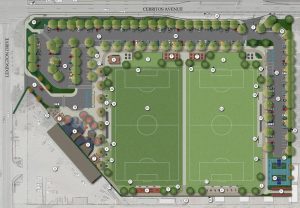 He said the large fields in the new park can easily be used for "gaterings on the green," concerts and other events. He said it also allows for lacrosse, soceer and organized sports like Friday Night Lights."We think it meets the needs of the community itself," said Johnson. "Our 21st park being finished in 2021, there has to be something special about that."
Harding said construction of the new park is expected to be complete in the fall of 2021.
Cypress city officials said the new park has a variety of pursuits available for citizens and they will wait to discuss formal naming of the facility until June 2021.
The new park includes:
Park Amenities:
1a – Multi-use Natural Turf Field
1b – Multi-use Synthetic Turf Field
2 – Natural Turf Areas
3 – Entry / Exit Points
4 – Child Play Area with shade covers
5 – Tot Play Area with shade covers
6 – Exercise Station
7 – Picnic Shelter
8 – Restrooms / Office / Referee
9 – Storage Area
10 – Flag Pole & Dedication Plaque
11 – Larc Maintenance Yard
12 – 8' Wide Walking Path (1/4 Mile)
13 – Bleachers
14 – Players Bench
15 – Maintenance Easement
16 – 12' Wide Deceleration Lane
17 – 20' Height Netting
18 – Drop Off
19 – Project Monument
20 – Total Parking: 237 + 7 Accessible
21 – Multi-use court (Pickleball, Basketball, & Volleyball)
22 – Electric Vehicle Parking
23 – Trash Enclosure
24 – Sports Field Lighting
25 – Utilities Enclosure
26 – 6' Chain Link Perimeter Fence
27 – Fire Department
Hammerhead