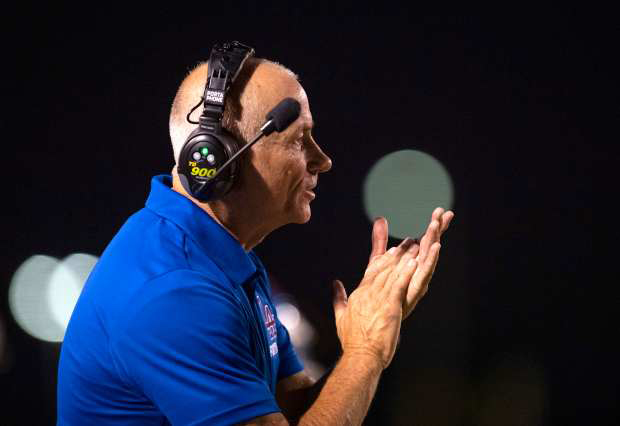 The Los Alamitos Chamber of Commerce has scheduled a rare lunch meeting for its April networking event as Los Alamitos High School head football coach Ray Fenton, also a powerful motivational speaker, will be the guest speaker, Chamber President Nesi Stewart has announced.
In addition, new Orange County Fire Authority Division Chief Craig Covey will attend along with the CEO of EPSON America, Keith Kratzberg.
Chamber officials say the event will be hosted on Thursday, April 6 by EPSON America, 3131 Katella Ave., therefore registration and pre-payment at www.losalchamber.org is mandatory. After payment, guests will receive a security email directly from EPSON to authorize entry.
The cost is $25 for members and military and $35 for everyone else. The public is invited to attend.
Members of the Chamber and the public who prefer to call the Chamber with a Credit Card number is acceptable. The Chamber's number is 562-598-6659.
Ray Fenton has over 30 plus years of high school coaching experience. His high school coaching career started at River Valley High School in Mohave Valley, Arizona. After a successful run and completely turning around the Dust Devils program he headed for the bright lights of Las Vegas.
In Las Vegas, Ray Fenton opened a new school in the Henderson area named Foothill. At Foothill, Ray was able to lead the Falcons to being a top 10 team in the nation.
While he was at Foothill he won countless awards including the Nevada State Coach Of The Year. In addition to just coaching Ray also won the Heroism award from the Clark County School District after showing great courage in a bus accident after a game.
At the peak of his success in Las Vegas, his alma mater, Cypress High School, had a job opening. Seeing it as his opportunity to come home, he accepted the job with the Centurions. Ray moved back to California and led Cypress to a CIF championship in 2007. Due to a budget crisis in the Anaheim Union High School District, Ray left Cypress and eventually found his way to Fountain Valley High School. Ray coached the Barons for three years before replacing the legendary John Barnes at Los Alamitos High School. With his short time with the Griffins he has lead them to two Sunset League Titles and to the CIF Semi Finals.