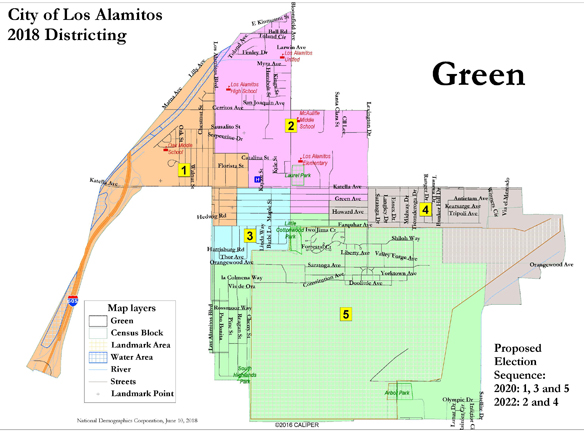 And the winning District Map for the Los Alamitos voting districts goes to … Green!
At least for now, the Los Alamitos City council has directed staff to move forward with the map that was designated by the color green, as the preferred layout. The Council voted 5-0 in favor of the map, although, there is no clear-cut favorite among the residents in attendance, or even the council members.
Councilman Richard Murphy voiced a preference to two other color designated maps (tan or yellow) or possibly the map that was created by a citizen group, labeled El Ouardani 4. Councilman Mark Chirco stated that Green would have been his third choice, but agreed that it was workable.
Much of the debate centered around how to break up the Apartment Row neighborhood, which makes up nearly 45 percent of the population. The Green map essentially divides Apartment Row up into all five districts, which some residents argued is too diluted.
Part of Murphy's concern was that Carrier Row and Apartment Row all had similar concerns, such as traffic along Katella and the construction in the same area. El Ouardani 4 kept most of Apartment row in two districts, with one, tied in with Carrier Row.
"I don't think they should be diluted," Murphy said.
Even the El Ouardani map had small parts of Apartment Row tied in with Old town area and the north end up to College Park North. In the end, the city is under a gun to approve a plan at its next meeting, July 16, to meet a deadline that will cap legal expenses for the plantiff at $30,000. Mayor Troy Edgar, who motioned to move forward with Green as the primary plan, acknowledged as much, before calling for the vote.
"Probably when we walk out of here, nobody is going to be totally happy," Edgar said.
City staff will bring an ordinance to the council on Monday, for a vote to satisfy the first step requirements for the process. But the change will not take place until the election of 2020, so more changes could still be brought.