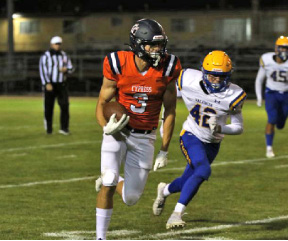 Cypress High's football team opened their season with a 45-17 win over Valencia in an Empire League game on Friday at Handel Stadium. The Centurion defense held the Tigers to just a field goal, as the two Valencia touchdowns came on miscues on special teams.
Several younger players for the Centurions stepped into primary roles to start the truncated 2021 season. Junior linebacker Muhammad Hassouneh was named player of the game for the Centurions.
"Our defense, I thought, was dominant all night long, they all did a great job," Head Coach Rick Feldman said.
Linebacker Michael Bygrave also played, while Ryan Alamo and Xavier Torres anchored the defensive line play. Feldman noted that Devin Cobb, Corey Anesi and Jacob Wilkie were outstanding in the secondary. Offensively, the Centurions are also young, but were able to control the game against Valencia. The defense allowed just 60 yards of total offense through the first three quarters.
Junior quarterback Dylan Eldredge was 14 for 21 for 373 yards and three touchdowns. The receiving corps was led by sophomores Matthew Morrell and Trevor Monteleone. Morrell had a huge night, with 10 catches for 234 yards and three touchdowns. Monteleone had three catches for 106 yards.
On the ground, senior Corey Anesi had 48 yards and two touchdowns. Tomas Ramirez ran for 73 yards on seven carries and also added a touchdown. Ramirez also added a 90-yard kickoff return for a touchdown. The offensive outburst came from behind a young offensive line.
"I thought our inexperienced offensive line ended up doing a great job against them," Feldman said.