Cypress High's defense kept Western's offense in check as the Centurion offense slowly extended an early lead, en route to a 40-13 win over the Pioneers in a non-league football game on Friday at Handel Stadium.
After the Centurions took a 25-7 lead early in the second quarter, Western responded with a 14-play drive that got them down to the Cypress nine yard line. But the Centurion defense held, eventually taking over on downs with a sack on a fourth-and-goal attempt.
The stop kept the Pioneers at arms length and from there, the Cypress defense knuckled down. They kept the Pioneers scoreless until the closing minutes. Cypress Head Coach Rick Feldman recognized some of the big-play athletes Western has and noted the defensive effort it took to keep them at bay.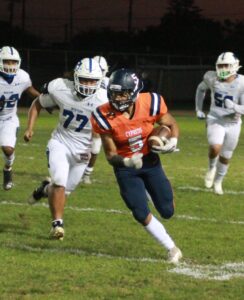 "Our d-line and linebackers, got great pass rushes, they have all year and didn't give them a whole lot of time to throw and we rallied our defense, made plays, had a couple opportunities for picks, bent a little but never broke, absolutely they were stars of the game," Feldman said.
Western's defense found ways to slow down the Centurion offense in the second and third quarter, but with the Cypress defense holding as well, it seemed to be only a matter of time before the Cypress offense adjusted.
Early in the fourth quarter the Centurions converted a fake punt with Matthew Morrell run to extend a drive. A couple of plays later, Tomas Ramirez took an out pass and found blockers down the sideline to move the ball to inside the Western 10 yard line. Quarterback Dylan Eldredge then found Trevor Monteleone for a touchdown and two-point conversion to extend the lead to 33-7.
Eldredge would finish the night with 285 passing yards and four touchdowns. Morrell had five catches for 125 yards and two touchdowns, including a 77-yard touchdown catch that gave Cypress a 12-0 lead late in the first quarter. Monteleone had four catches and two touchdowns, while Neil Jansen had one catch that he was able to break for a 49-yard touchdown.
The Centurions also had 223 rushing yards, led by Ramirez who finished with 123 yards and two touchdowns. Feldman said he likes where the team is at, but felt they were not as sharp as they were the prior week. He noted the turnovers that plagued them in the middle part of the game.
"We need to take care of the ball a little bit better that's for sure number one … but overall, yeah, I like where we're at," Feldman said.
Cypress has a bye this week and will host Katella on Sept. 16, at Handel Stadium, starting at 7 p.m.