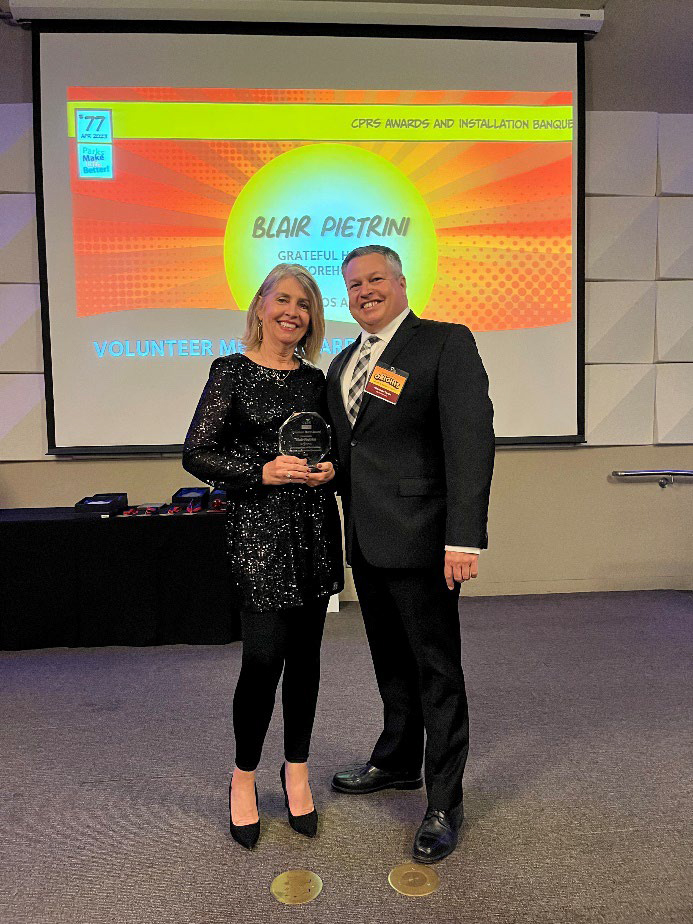 The City of Los Alamitos Parks, Recreation & Cultural Arts Commission nominated Universal Waste Systems and Blair Pietrini of Grateful Hearts Storehouse for the 2023 California Park & Recreation Society District 10 Volunteer Merit Award for their commitments to the community.
Universal Waste Systems (UWS) is one of the largest family owned and operated companies in Southern California, and the new waste hauler for the City of Los Alamitos. Their community approach to customer service makes them a standout in the Los Alamitos community, where they have also strongly supported City events and programs such as 4th of July Fireworks Spectacular, Week of Los Al, and Winter Wonderland. The Los Alamitos Recreation and Community Services Department is grateful for the continued partnership with UWS in providing the best service to the community.
Blair Pietrini is Founder and Director of Grateful Hearts Storehouse, a Los Alamitos-based nonprofit started in 1998 with a mission to provide hope for the hurting by serving those in need locally and internationally through the provision of food, clothing, hygiene products, furniture, appliances, and other necessities for free to the jobless, working poor, the disabled, the elderly and those experiencing times of crisis. In 2021, Blair along with her late-husband Gene Pietrini opened Pietrini Pizza Napoletana, a wood-fired pizza restaurant in Los Alamitos that has since won multiple food awards. A pillar in the community, Blair has given back to the City of Los Alamitos through her nonprofit, business ventures, and heart of service. The City of Los Alamitos thanks Blair for her years of service to the community.
Both parties accepted their Volunteer Merit award at the California Park and Recreation Society banquet in April 2023.
The City of Los Alamitos is grateful for the vital community partnership with UWS and Blair Pietrini for their past and continued support of Los Alamitos programs and services.