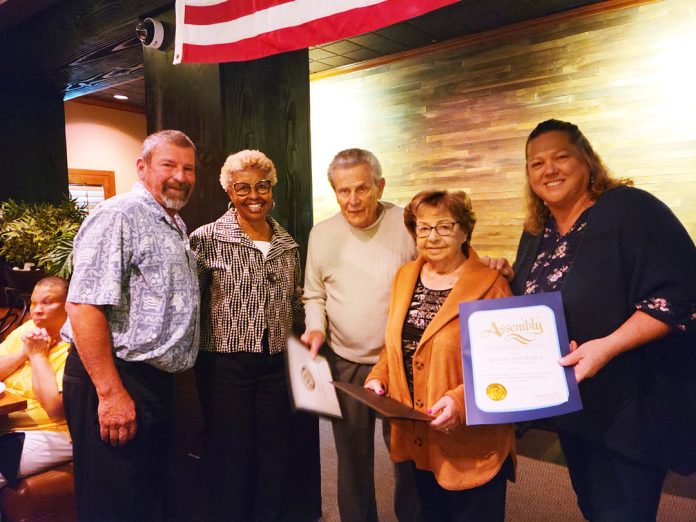 Each month, the Los Alamitos Chamber of Commerce honors one of its members.
For the month of May, Appling Insurance Services was honored with certificates of recognition from the Chamber and Assemblyman Tri Ta, Dist. 70, during the monthly breakfast hosted by Maderas Steak & Ribs Restaurant.
Come June of 2023, Owner David Appling and his wife, Diane, will be celebrating 45-years of owning Appling Insurance Services in the City of Orange.
Congratulations to the Applings and their staff, which includes their oldest son, Donald, and his wife, Shelli, who both came onboard a few years after David and Diane opened their insurance business.
Donald helps with the Commercial Accounts and Shelli oversees the Personal Lines. They also write other Target Marketing Accounts, such as Restaurants, Contractors, Non-Profits and Business Owner Policies.
The Applings shared that they have enjoyed great success throughout the years and as such, have donated their time and resources, to investing in the Los Alamitos Community.
"We have enjoyed this community very much and have spent many years participating in fund-raising projects and have been involved in coaching and being involved with Rotary, Soroptimists, the Los Alamitos Museum, Youth Center, Cancer Support, along with LAEF and the Football Foundation," said Shelli.
The Applings have also found time to sponsor a Fishing Tournament on Crowley Lake for the past 39-years, that has included 150-200 invited guests at the event.
Two years ago, the Appling's partnered with a large agency, SIP, which is part of a large National Organization located in Florida, which is Foundation Risk Partners.
"This was a great decision that has worked out well for us," said Donald, "Because it has opened many new companies coast-to-coast and has made Appling Insurance Services even more competitive."
The Appling family said they have enjoyed many recommendations from their established accounts, with most of their new business coming from referrals.
In 1999, David Appling was the recipient of the prestigious Cypress College Americana Awards, that annually honors one Citizen of the Year from each of the eight cities the college serves, for their work within their individual community.