Without a doubt, the legacy of Dr. Gregg Stone will long linger throughout the halls, classrooms, and fields of play at Los Alamitos High School.
Even at a high school with a storied history of tradition and accomplishment, Stone's story strongly resonates in the chaotic discussions of the modern day. After 21 years of standout administration, becoming the only principal to retire twice, Dr. Stone is back, this time forever.
In a new book entitled "Be Well and Stay Positive," Stone continues the lessons on life that once only emanated from the principal's office.
In a profile of Stone written in July of 2021 before his second retirement, Stone said he developed the ability to write as a result of his preference for introspective wisdom.
"I'm not the person that's necessarily out front leading the band, so to speak, but I can do it," said Stone then, "but it's not something that I necessarily push for."
Back when he was in the 11th grade, Stone said his yearbook teacher, Joan Danielsen, advised him to write things down before trying to deliver a public speech.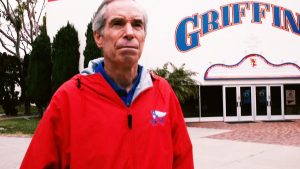 "So, when I started to script for public speaking, I found it easier to write a poetry piece rather than prose," he said. Therefore, going forward at key engagements, such as a teacher retirement, Dr. Stone said he would rather write, and deliver a poem. The recipients loved it.
And so began Stone's lifelong love of witticisms, insights and his ability to cobble together a series of words that connected immediately to the heart. When Stone was called out of retirement in the middle of the pandemic to retake the high school helm, his weekly inspirational newsletter became an instant hit with parents and students.
Now, they are expanded in Stone's new book.
"Dr. Gregg Stone retired as the principal of Los Alamitos High School in June 2019 after spending 21 years as an administrator there," said Dr. Andrew Pulver, Superintendent of LAUSD during his report at this week's board meeting.
"In August 2020, he was asked to return as the interim principal in the midst of the COVID-19 pandemic. He felt there were two ways to approach the unknown year ahead. One path would be to let the circumstances dictate the outlook. A second option was to take the high road and make the best of a situation the staff and community members had never experienced before," he said.
"I think that everybody who was a Griffin was really touched by the the pandemic. While it continues it was very hard last year, and a hybrid schedule, families and students had just two different schedules and parents are going to kind of get this all and just feel like things are stripped away from you," he said.
Yet, even in that environment, "Dr. Stone did such a wonderful job always trying to build positivity and provided a kind of a moral to the story."
"Dr. Stone continually promoted the positive route," said Pulver, adding that the book of positivity is now on sale for $13.99 at Amazon.
According to Carrie Logue, Executive Director at the Los Alamitos Education Foundation, Dr. Stone is donating all of the profits to benefit the future education of students.
"Dr. Stone is donating all net proceeds to LAEF (Los Alamitos Education Foundation) for the purpose of providing a scholarship for a Los Al High School graduating senior who shows determination or has a positive approach to whatever life throws their way," said Logue in a press release.
Moreover, she said Dr. Stone continues to mentor students as a volunteer counselor.
"Gregg Stone is the reigning LAEF King and was crowned in February 2021. This school year, Dr. Stone is volunteering his time at LAHS as a counselor supporting students who need additional academic or personal support. He is a humble and gracious leader who cares deeply about the Los Al community," she said.
Stone said in his final interview as principal that helping struggling or transitional teens gave him a warm feeling in the heart.
"I told my wife that I really kind of felt drawn to that, especially freshmen kids. Sometimes that transition from 8th to 9th can be a bit abrupt for kids so I kind of felt myself gravitating to help struggling kids," he said.
In one way or another, Dr. Stone said he has worked with teens his entire career. "Hopefully, you're impacting the kids, but they impact you," he said.
LAEF is the non-profit partner of Los Alamitos Unified School District. LAEF enhances educational excellence by providing after-school and summer enrichment programs to children in grades Pre-K to 12. LAEF impacts all students by providing significant funding for mental health resources and STEAM teachers/instruction, as well as igniting new programs and providing valuable resources.
For more information, visit www.LAEF4Kids.org or call (562) 799-4700 x 80424 today.