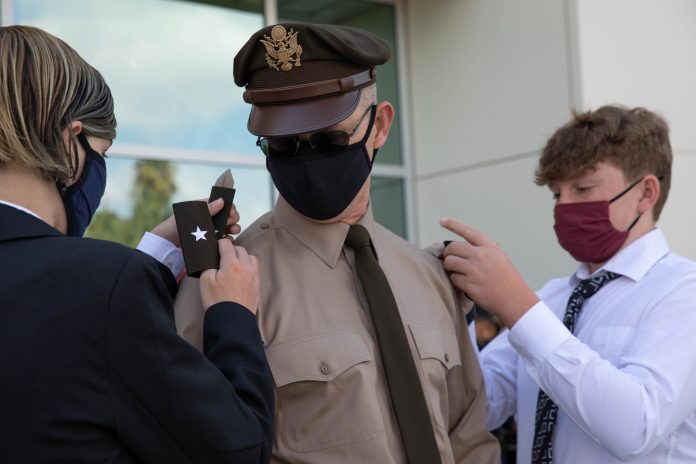 By E. Isaac Lee & David N. Young
Outside the Joint Forces Training Base (JFTB) in Los Alamitos, dozens of military personnel mill about in masks and fatigues. Old Glory waves in the wind, and the band practices "The Army Goes Rolling Along."
Inside the base, soon-to-be General Robert Wooldridge, finds himself overwhelmed at the pomp.
"I'm a simple guy, and this is kind of like a wedding," Woolridge said. "I'm flattered. It's pretty cool."
During the pandemic, on Feb. 13th, Gen. Robert Wooldridge was quietly promoted to brigadier general and became deputy commander of the California Army National Guard's 40th Infantry Division, headquartered at JFTB.
On Saturday, Wooldridge's official promotion ceremony was held outdoors with limited attendance and health measures put in place, marking the first promotion ceremony held at the base since the pandemic began.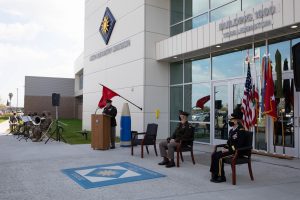 Those present included Wooldridge's friends and family, and his colleagues Major General David S. Baldwin, the Adjutant General of the California Military Department, Brigadier General and fellow deputy commander Michael J. Leeney, and Major General Laura L. Yeager, the first female to ever lead the 40th Infantry Division.
"Rob has demonstrated an ability to lead troops in a complex inter-agency environment time and time again," said Gen. Baldwin. "He is an expert at solving very complex problems in a volatile situation, in volatile environments, and we're going to see more of that as time comes," he added.
Baldwin hinted that the storied 40th Infantry Division could soon be deployed overseas again, in the Middle East, and Gen. Wooldrige's ability to come up with "innovative solutions" could be "decisive" on future battlefields, he said.
"He thinks critically and strategically," said Gen. Yeager, reading from her evaluation of Wooldridge many years ago. "He is multi-talented and conversant in combat and combat support." "Nothing makes me happier than being right," she said to the attending troops and well-wishers.
Baldwin presented Wooldridge the customary belt, holster and pistol awarded only to U.S. Army General Officers, a tradition that dates back to George Washington. Wooldridge also received his "one-start" ceremonial flag, which will now be flown anywhere the general is in attendance as his wife Serena, and their children, Hunter, Onyx and Eli looked on.
Prior to the proceedings, Gen. Wooldridge spoke with the ENE about his work in the National Guard.
As Deputy Commanding General for support, Gen. Wooldridge now leads the combat support efforts for the 40th I.D. The general must systematically provide maintenance, logistics, human resources, and medical services for the troops, regardless of where in the world they are called on to serve.
Wooldridge admits the role of the division has changed. He must also deal with civil affairs, having taken part in two active-duty missions to deal with civil disturbances related to the George Floyd protests and guarding the state capitol during the inauguration.
"The higher you get, the more you have to learn, so learning logistics, sustainment and health services and all this other stuff that I'm in charge of now has been enormous," said Wooldridge. As the man in charge of support operations, Gen. Wooldridge summed up his responsibilities as "sweating now so we don't bleed later."
He also spoke about the Guard's involvement in the Covid-19 pandemic and last year's political tension. One unique aspect about Covid-19 has been the longevity of the situation, requiring more time from members of the National Guard.
"We're used to coming in for a (wild)fire for a couple of weeks and helping out," the Brigadier General said. "Even Hurricane Katrina, which was months, you know, that was only a few months. He said the pandemic was different. "This is a once in a century, I'm hoping it's a once in a century," said Wooldridge.
Lately, California National Guard resources have been heavily focused on domestic events. According to Wooldridge, over 1800 soldiers are involved in assisting food banks and setting up vaccination clinics in Oakland and CSU Los Angeles.
Regional Medical strike teams have been assisting understaffed hospitals across the state for the past year.
"From my perspective it's been our busiest year," Gen. Wooldridge said. "It's impacted our daily lives and a lot of our medical folks that normally do one weekend a month, two weeks a year, they've been on active duty solid for the last year. So it's been a huge impact on them and their families."
Of course, the pandemic isn't the only thing the National Guard has had to deal with. The protests prompted by the death of George Floyd required a great deal of the 40th Division's focus. According to the Associated Press, over 8,000 National Guard soldiers were deployed to deal with civil unrest over this incident in California alone. During the 2021 presidential inauguration, security around government buildings like the State Capitol became a concern after the incident on Jan. 6.
Gen. Wooldridge recalled being in charge of the Guard's deployment to guard the state capital building, as well as partnering with the local police.
"[California Highway Patrol] gave us the responsibility as a part of their security, and it was an integral part of their defense of the Capitol," he said. "We know that there were planned protests of over 4000 people, and nobody showed up. There were both far right and far left leaning protests scheduled, and it was peaceful."
At the time, it appeared that the National Guard was being called on to defend democracy, as some outlets put it. Gen. Wooldridge emphasized that during the interview.
"The military has a long tradition of being apolitical. We answer to civilian authority, whatever it is: Democrat, Republican, Independent, left, right, center, who cares. We swear an oath to the Constitution," he said. "And so to be there [guarding the capital], making sure that we were defending it – that's certainly the state capital, a symbol of democracy. Actually, the legislature was in session for some of that, and we were there literally defending those people."
In other areas related to the National Guard, Gen. Wooldridge shared some new technology being developed for military use. New systems have improved military logistics, and the possibility of 3d printing metal could make supplying troops much easier. Vaccination is also being encouraged among the troops in order to reach the July 4th goal set by President Biden in a recent speech.
As the celebration began in earnest and the staff were called outside, Gen. Wooldridge reaffirmed the duty of the National Guard.
"It doesn't matter what the presidency, who's in charge. We're ready to do whatever the president or the governor needs for us to do," he said. "I'm really honored to have the appreciation from the citizens of California, so it's a great day."