By Gina Phillips
At The Youth Center, the health and safety of our campers and staff is a top priority. Camp S.H.A.R.K. leadership team is staying up to date on the recent developments by monitoring the CDC and has a plan to open this summer with extreme precautions.
"We know many families are stuck at home and feeling the stress of events surrounding the coronavirus. Help keep kids' minds and bodies active with a variety of distance learning activities on our free resource page. Our staff is working hard now on creating safe and fun summer experience for local kids. "We will be following requirements from our local Health Department and will keep our parents updated", shared Lina Lumme, The Youth Center CEO.
A fascinating, fun and unique camp experience is being offered for another year at the Youth Center's Camp S.H.A.R.K. and Teen Camp. This year's Camp S.H.A.R.K. features programming that weaves science, art, and sports into the trusted camp offerings you've come to rely upon from The Youth Center.
Camp S.H.A.R.K., stands for "Science, Hands-On, Art, Recreation, and Knowledge." The camp offers kids ages 5 to 12 themed weekly events and individualized daily classes such as growing your own geode and turning water into blood. Nine themed weeks include Zoology, Astronomy, Geology, Earth Science, Chemistry, Oceanography, Robotics, Marine Biology, and Anatomy.
Optional field trips are offered every Tuesday, Wednesday, and Thursday to places like the Aquarium of the Pacific, Los Angeles Zoo, SkyZone, Soak City and Knott's Berry Farm, Big Air and The Columbia Memorial Space Center. There will also be walking field trips every Monday and Friday to places like Starbucks, In-N-Out, Yogurtland and Chipotle.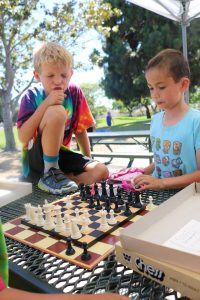 Kids can keep cool every Friday on Water Day which will feature a dunk tank, slip'n slides and water wars.  Arts and crafts include favorites such as making slime and tie dying t-shirts, to name a few.
Jamie Harris, Camp Director said, "It's almost time to get off the couch, put electronics away, and get ready for a fun filled summer. I am most looking forward to seeing the kiddo's faces light up when they see everything camp has in store for them".
Teen Camp is offered to youth ages 12 to 17, where kids get to plan some of their field trips and activities every Monday. Teen campers will go on trips to Catalina Island, Boomers, Tag & Target, Round one Bowling, and more.
Camp S.H.A.R.K. is run out of Rossmoor Park from June 1 to July 31. Teen Camp initially meets out of Rossmoor Park and is from June 15 to July 24. Basic hours from 9 a.m. to 4 p.m. and extended hours from 7 a.m. to 7 p.m. are offered. For more information on The Youth Center's summer camps, please call the Youth Center office at 562-248-6777 or visit online at TheYouthCenter.org.