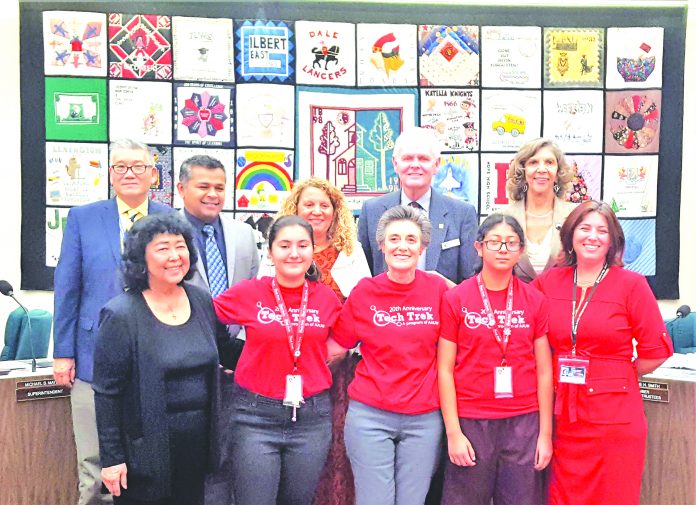 By Edna Ethington
Shahan Chejin-Ozturk and Lilly Sierra, eighth grade students at Walker Jr. High School in La Palma, were guest speakers at the November 8, meeting of the Anaheim Union High School District Board of Trustees. Shahan and Lilly each received a $900 sponsorship from the La Palma-Cerritos Branch of the American Association of University Women (AAUW) to attend a one-week STEM (Science, Technology, Engineering and Math) Tech Trek Camp at Whittier College this past June.
Assistant Superintendent Jaron Fried introduced Edna Ethington as the Co-Coordinator of the La Palma-Cerritos AAAUW's Tech Trek Committee that selected the Walker students. Mrs. Ethington thanked Superintendent Michael Matsuno, Board President Al Jabbar, Clerk Brian O'Neal and the Members of the Board of Trustees of AUHSD for allowing the students to come and speak about their experiences at the STEM Tech Trek Camp.
Mrs. Ethington then introduced Ms. Tobi Balma, a Charter member of the La Palma-Cerritos AAUW, and one who volunteered as a Dorm Mom for three years at the Whittier College STEM Tech Trek Camp. Balma had prepared a Power Point Presentation that highlighted Shahan and Lilly at the camp and moderated the presentation. She had a wealth of information to share about Tech Trek.
Balma explained that the girls had to have a B grade point average or higher after the first semester of the seventh grade, be nominated by a Math or Science teacher, complete and application which included a 500- word essay on how STEM could improve the world, and finally, be interviewed by the La Palma-Cerritos AAUW's Tech Trek Committee. Both girls were highly recommended by their Math teach, Mrs. Suzane Duris, and were selected after they were interviewed by the committee.
Balma showed slides that listed the STEM subjects the girls studied at the Tech Trek Camp that included physics, engineering design, neuroscience, coding, food science and aerospace engineering. They also had workshops on cybersecurity, learned about college entrance requirements, took field trips to the Whittier Cadaver Lab and to Cal Poly Pomona for animal and food science. On Professional Women's Night, the girls were able to meet a zookeeper, a physician and medical researcher, a business consultant, a CPA, a rocket design engineer, and an executive producer for Awestruck You Tube.
Lilly Sierra said that she enjoyed learning about the different careers that the professional women talked about, especially about the zookeeper. She said she took the coding class and now wants to be either a computer scientist or an Engineer.
Shahan said that she learned a lot at the Cadaver Lab and the class on neuroscience. She enjoyed meeting the physician who also did medical research at the Professional Women's Night. She now says that she wants to study neuroscience more and become a doctor and medical researcher just like the woman who came to speak at Professional Women's Night.
As the allotted time was ending, Tobi Balma answered questions posed and ended the presentation by thanking the Superintendent and Board of Trustees for listening to the girls and viewing their presentation.
This was the first time that the La Palma-Cerritos Branch of the AAUW sponsored two students from Walker Jr. High School and AUHSD to attend the STEM Tech Trek Camp at Whittier College. The La Palma-Cerritos AAUW has been raising funds so that they can send two more students from Walker Jr. High School to the next STEM Tech Trek Camp at Whittier College in June of 2019. AAUW members want to encourage young middle school girls to study STEM subjects and inspire them to prepare for careers in STEM fields by going to a STEM Tech Trek Camp.
For more information about the STEM Tech Trek Camp at Whittier College, contact Tobi Balma at 562-865-8675.