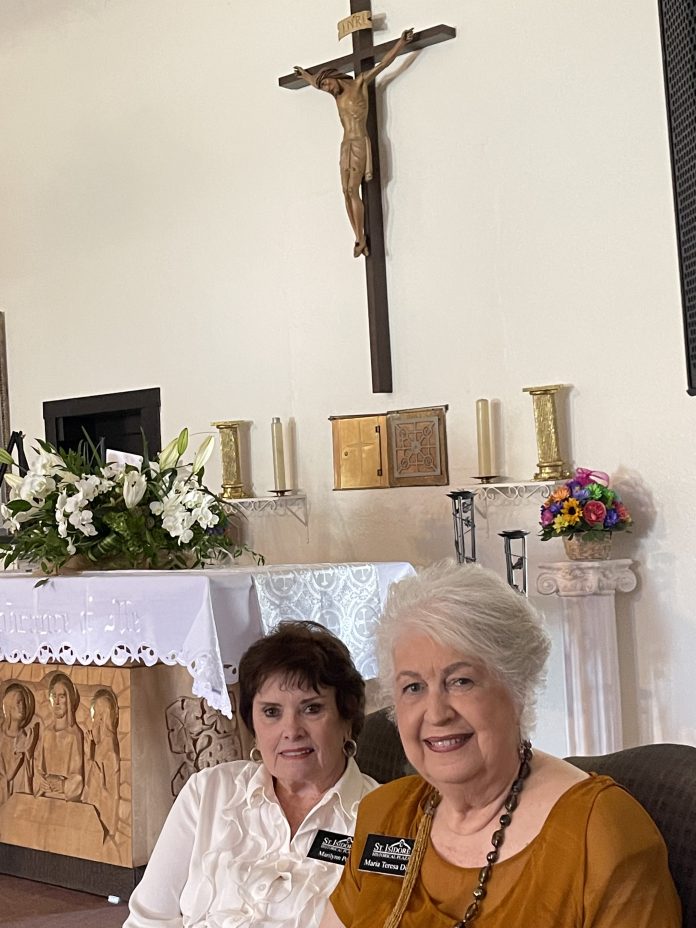 It took more than two decades, divine help from the Pope himself and it was a challenge that required the grit and determination of two women who had never met. Yet on Saturday, because of the 22-year odyssey, a tiny chapel in Los Alamitos is now preserved forever.
Former worshipers reunited at the chapel of St. Isidore Saturday to watch the unveiling of a bronze plaque that signifies its inclusion on the National Park Service's National Register of Historic Places.
Tears flowed as freely then as they apparently did in 1999, at the last Catholic Mass ever said in this former church.
"I'm excited because so many people worked so hard," said former mayor and local historian Marilyn Poe. "I get emotional about it," said Poe, thinking about the two decades struggle to preserve the chapel, purchase the property and preserve the "last original community building in the city."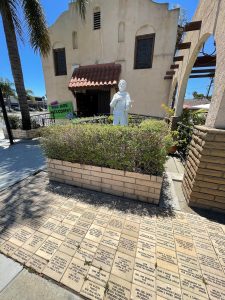 The tiny chapel still stands proudly at the corner of Reagan Street and Katella Ave. It has survived earthquakes, been closed twice, and emerged from a financial squeeze, yet the large group involved in its long rescue gathered to celebrate this new designation.
Shortly before the official ceremony, Poe, along with Rossmoor resident Maria Teresa Diaz, a retired singer, recounted their long fight to save the structure.
Diaz, who said escaped Communist Cuba to come to America, emotionally reminisced about how she and Poe faced down Catholic bishops, Poe revealing the advice of a banker that made the difference.
Poe was the elected Mayor of Los Alamitos when the Catholic diocese announced plans to close and deconsecrate the former Catholic Church.
Diaz, then heavily involved in St. Isidore, along with Pedro Brucoup, then the Chairman of the church committee, were stunned and did not know what to do, so they called the mayor. Pedro spoke Spanish, Poe spoke English and Maria was the translator.
Poe remembers it well. "It was more than a quarter-century ago," said Poe, "when I was asked to get involved." Many people thought she was "crazy," said Poe, as the former mayor agreed to help. "I am not even a Catholic," quipped Poe.
"We became fast friends," said Poe, holding up two touching fingers on one hand, and holding Diaz with the other, saying "and we've been like this ever since."
Poe said they had no blueprint in 1999.
"For me, it was personal," said Diaz, whose emotions easily succumbs to tears as this devout Catholic remembers their struggle to save the St. Isidore Chapel.
In 1905, there were only 500 residents in Los Alamitos. Like many emerging communities in Orange County, Los Alamitos was rural and agriculture based. By 1920, a large sugar beet processing facility attracted new residents and produced a vibrant community.
There was no Catholic Church for the largely Catholic, Latino population.
"In the early 1900s, the Catholic contingent was meeting at either the Hormona Hotel or at the Scott's Bros. grocery store, or wherever anyone would let them meet," said Poe.
In 1922, Poe said a man named Michael Reagan stepped up. He was Irish Catholic, she said, "and the only one that had a phone in town."
Reagan got the group of Catholic parishioners together, said Poe. He told them they should approach the town's key developer, the Bixby Land Company, and ask for a property on which to build a church.
According to Poe, in 1924, the Bixby Land Company ultimately agreed to deed them two vacant lots for the church, where the St. Isidore Historical Plaza now stands, asking only for the group to pay a sale recording fee of $10.
According to historical information, the Archdiocese of Los Angeles agreed to establish a Catholic Parish, naming it after St. Isidore, the patron Saint of farming.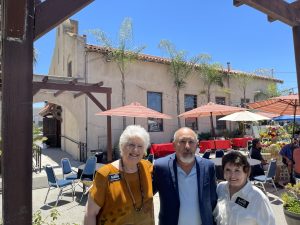 St. Isidore of Seville was born in Seville, Spain in 560 and died April 4, 630, according to Catholic records. He was a theologian and was the last of the Western Latin Fathers. Among St. Isidore's more famous works is "Etymologies," an encyclopedia of human and divine subjects.
According to the Archdiocese, when the St. Isidore Parish was formed, it consisted mostly of Belgian farmers, Irish guild members, Dutch and Portuguese dairymen, Mexican ranch hands, and sugar beet factory employees.
Hardy residents got to work building a church and after the construction of St. Isidore Catholic Church was complete, the parish began offering masses in March of 1926.
Father Miguel Santacane became St. Isidore's first priest. Back then, St. Isidore was only the 5th Catholic Church constructed in Orange County.
Only seven years later, however, on May 10, 1933, parishioners faced a major setback, said Poe. The Long Beach earthquake destroyed the church, including its choir loft. The disaster left parishioners shaken, but not defeated.
Kelly Sutherlin McLeod, a Long Beach architect who specializes in historical preservation, said Saturday said, "the Long Beach earthquake caused severe damage to the seven-year-old building."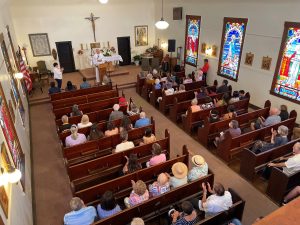 Nonetheless, McLeod said women in the parish began to sell tamales to raise money for repairs. The Archdiocese of Los Angeles donated money for the reconstruction. Within three months of the earthquake, the community successfully rebuilt the church.
McLeod said it is the property's rich heritage, the diverse history that gives it the special significance required to "meet the criteria" of the National Park Service.
"The property is associated with the early development of Los Alamitos as an agricultural community organized around a large sugar beet processing facility and a Latino community, including Mexican immigrants," said McLeod.
St. Isidore "derives its primary significance as a religious property for its association with Latino ethnic heritage as well as the community development of Los Alamitos," she said.
"Many community members collectively designed and built the church themselves," said McLeod.
Poe said McLeod's firm has guided St. Isidore Historical Plaza through the entire journey to becoming listed on the National Register of Historic Places.
Records indicate St. Isidore was a thriving church community from 1926 until 1960. St. Isidore was now in the Diocese of Orange but was shut down after St. Hedwig's was constructed on Los Al Boulevard.
Only a decade later, however, due to the strong Latino contingent at St. Isidore, diocesan officials reopened St. Isidore in 1972 for Spanish language masses, and parishioners like Diaz were ecstatic.
Diaz, who had moved to Rossmoor in 1975 after escaping Castro's Cuba, said on Saturday that, at that time, she was looking for a place to worship in her native language of Spanish.
"I was looking for a mass in Spanish and somebody told me there is one here (St. Isidore)," said Diaz. She came, said Diez, bringing her entire family, and said the church had become a big part of her life.
"I was a very big part of this church because I was the singer," she said, "I was the soloist of the choir for many, many years," said Diaz. "We had a Bible study here and I was very involved in that," said Diaz.
The former singer's soul was so centered in St. Isidore, she said, that when she tragically lost her 23-year-old son, Gustavo Diaz III, she insisted his service be held at the tiny chapel, reflecting how much it means for her to save this former church.
"All the people that have died in my family have had their goodbyes here," said Diaz, "including my child. It was here," she says proudly. "And I sang the whole mass. Yeah, and that is something that you just never forget. Gustavo, the third."
Diaz said it didn't matter that the funeral was packed in tiny St. Isidore's chapel. Mourners were out the door onto Reagan Street, she said.
"The place was so full that they had to be outside. But I wanted it here. And I sang for the whole Mass. I did. Yes. I had the strength to do that," said Diaz.
Diaz vividly remembers when, In 1999, crowds gathered and tears flowed as the parishioners celebrated what they knew was the last Mass their beloved church would ever see. The diocese had finally decided to close St. Isidore for good.
"I sang for the last Mass before they closed it," said Diaz. "I was the singer there in front while I was crying. I mean, there was not a dry eye…no place, everybody was crying," she said, "everybody."
Diaz said that's when they turned to Poe for help.
Poe picks up the story, saying St. Isidore Chapel "was the last remaining building of the original Main Street, so I was eager to help," said Poe. "Our first goal was to get the diocese to keep it as a Catholic church."
So they traveled to the Diocese to negotiate with Bishop Jaime Soto. After the first meeting, they knew the days of St. Isidore as a Catholic Church were over for good.
"After our first meeting with the diocese," said Poe, "we knew that was not going to happen."
Nevertheless, the two ladies, and their committee, committed to try and save the building, thus beginning a challenging journey that ended Saturday with the official U.S. historic designation.
"Our goal number two was to save the property," said Poe. They began to investigate how to save the property and they learned they would have to own it to save and preserve it.
In 2000, they formed the Committee of Love, which became St. Isidore Historical Plaza, and voted to begin the work required to preserve the site. Although the St. Isidore Historical Plaza includes lots and buildings where the parish rectory once stood, only the chapel itself is considered historic, Poe said.
In 2001, they received their nonprofit designation and from 2005-2008, they worked on a business plan for the site.
In the meantime, Poe said a friendly banker whispered advice in her ear about how to maintain the property until they could afford to buy it. "He suggested offering the church to maintain the upkeep and paying them $500 per month until we could buy it," said Poe.
Surprisingly, she said, the Catholic Diocese accepted the proposal. In 2009, they created the St. Isidore Historical Plaza brand and in 2010, formed a membership campaign. In 2012, the Los Al Museum recognized the building as the oldest remaining community building in the city.
They were gaining momentum.
By 2013, Diaz wrote a letter to Pope Francis I, which not only reached the Vatican but also, they believed played a divine role in the outcome. Diaz' prayer must have been answered as the Diocese reversed course, said Poe, and agreed to sell the property in 2014.
With ownership of St. Isidore Historical Plaza, the group quickly began work to preserve it.
In 2018, the group hired McLeod's architecture company to assist them and proceeded to seek the National Register of Historic Places designation that was celebrated on Saturday.
In 2019, while they sought the designation, Poe said the organization began to utilize the historical plaza and buildings for community meetings. She said St. Isidore is still paying a remaining mortgage on the property, using proceeds from site rentals, functions, fundraising and other events to pay the notes.
While the committee has achieved federal and state recognition, said Poe, there is much more to be done. She said restoration of each of the structure's eight stained glass windows must be restored at a cost of $8000 each.
So far, said Poe, only one of the eight has been fully restored. Nevertheless, Poe said for her and Diaz, Saturday's realization is a "dream come true."
Los Alamitos Mayor Tanya Doby offered the SIHS congratulations, presenting a proclamation to Poe and David Ochoa, representing Sen. Thomas Umberg, saying "we love seeing parts of our history and our culture being preserved."
The church has long been stripped of its relics, rails and other Catholic symbols that were removed after the church was de-consecrated. For Diaz, Poe, Pedro and the rest, it doesn't matter. They've already built a new altar, restored the bell and choir loft, and for many, it will always remain St. Isidore.
"I'm excited because so many people worked so hard. I get emotional. They're just wonderful. And we finally got the community to get behind us," the former mayor said.
"A lot of people first said, oh, Marilyn, you're crazy, why are you getting involved with that? But I think that's extremely important. And everyone that's been involved with this … some people have been here for a long time, some for a short time, but everybody has given their heart to it. So that's what makes me excited," she said.
For Diaz, too, the was emotional. Having within the walls of this tiny chapel having experienced both life and death, joy and heartbreak, she was overcome with joy at what they had achieved.
For Diaz, the event was moving and monumental. Even though the St. Isidore chapel had been deconsecrated, stripped of its railings, relics and gold, her heart will be in this place until her end.
"I go to the other churches," said Diaz. "I go because I know that is where I get communion and all that, but this," she said, "will be my church until I die."
For more information, visit stisidorehistoricalplaza.org.