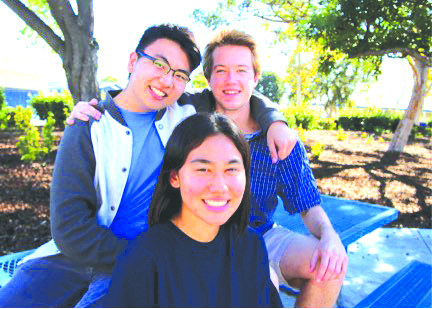 By Robert Ostmann, Los Alamitos Unified School District
John Kim, Marley Hughes and Rachel Kunowski earned the distinction by scoring in the top one percent of the more than 1.5 million students who took the Preliminary SAT (PSAT) nationwide in fall 2017. Another 20 students were named as Commended Students for 2018-19 for scoring in the top five percent.
Semifinalists advance to Finalist standing in the competition by meeting high academic standards and all other National Merit Scholarship Competition requirements.
These requirements include: plans to enroll as a full-time college student in the fall of 2019, U.S. citizenship or lawful permanent resident status, endorsement by their high school principal, and a record of consistently high academic performance throughout high school. Although Commended Students will not continue in the 2019 competition for National Merit Scholarship awards, these students are regarded as among the elite in their school, country, state, and nation.
The Los Alamitos High Commended Students are:
Anthony Chung
Riley Deutsch
Joshua Havstad
Anastasia Huddleston
Rachel Kim
Sianna Kim
Jackson Lawrence
Joshua Levy
Zoey Litt
Brian Loh
Morgan Lu
Allison Millar
Stephanie Nam
Elizabeth Nguyen
Nicole Park
Ashley Robinson
Melissa Rupert
Kailey Steenhausen
Chi-Yuan Wang
Stephanie Yeo