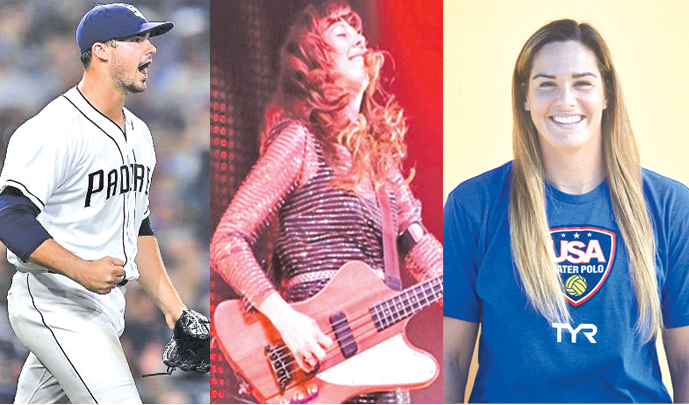 Despite the rain outside, the Los Alamitos Museum was completely full with family, friends and citizens who wanted to witness the induction of three standout residents whose accomplishments will be forever enshrined in the museum's Hall of Fame.
Marilyn Poe, the Vice President of the Museum's Board of Trustees served as moderator as she introduced each of the inductees.
The city's museum honored Jake Nix, a pitcher for the San Diego Padres, Rachel Fattal, a member of the 2016 Gold Medal Olympics water polo team and Nikki Monninger, a bass player for the music group Silversun Pickups.
"All of these individuals have grown up in Los Alamitos, attending Los Alamitos schools and gone on to national fame," said Susan Bell, a spokesman for the museum.
Nix said he loves Los Alamitos and is fortunate to be able to play in nearby San Diego for the Padres. "I have a home here and I come back almost every weekend," he said.
Nix also thanked the community for their support, saying the "support system" in Los Alamitos was an incredible asset.
Monninger, whose bass guitar (one of them) will soon be on permanent display, said she was "humbled" by the show of support from the community.
"It's something I never expected," said Monninger, but was tremendously honored by the recognition. Poe said jokingly that Monninger's bass guitar was so heavy, "I don't see how she does it."
Fattal, an Olympic gold medalist, reportedly said she too was honored by the community recognition.
The three now join dozens more that enjoy the "Hall of Fame" status and photos and other mementos of their illustrious careers will soon join the others in the permanent display. Now
Courtesy photos: