Justin Padilla does not just take the stage. He makes an entrance.
His students sit exactly where he once sat, and Padilla knows that only if he is at his best will students feel compelled to do the same.
"As go I, so go they," says Padilla. "You have to own the moment."
Padilla's long musical journey has lifted him from a second-grade clarinet player to conducting at what many call the pinnacle of music education in southern California.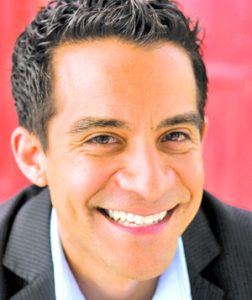 After fourteen years of impressive success as band director of Oak Middle School, Padilla was named Director of Jazz and Orchestra at Los Alamitos High School in 2016.
For Padilla, music has been a priority since second grade.
It began when Padilla's single mom Linda (Newman) took him to what he calls "the instrument petting zoo at seven years old."
"I don't know why," he says, "but I came home with a clarinet."
"My mom got me started and supported me the whole way," emphasized Padilla. From his second-grade trip to the music store to college and beyond, Padilla said his mom has "always managed to get me what I needed."
"I don't know why I started on the clarinet," said Padilla. "After a semester, I switched to saxophone," he says, while he was still learning the scales and other musical basics.
When he switched to sax, his mom stepped in again.
Padilla said his uncle Tony owned an alto saxophone. "My mom talked my uncle into letting me have it," smiled Padilla. He now proudly owned an alto saxophone. Padilla began blowing the sax in third grade and has never stopped.
According to Padilla, as his interest blossomed in music, so did the support provided by his mom. At every opportunity, says Padilla, she stepped in to procure instruments, provide lessons and was always there with moral support.
The young Padilla quickly became a soloist and a very respected junior high sax player. When he moved up to Hesperia High School, Padilla says he was fortunate to strike up a friendship with Josh Fox.
Fox was a senior and "an amazing sax player," says Padilla, who remembers meeting him as a lowly freshman. Yet, Fox became somewhat of a role model and mentor for Padilla.
Fox introduced Padilla to well-known music teacher Chuck Deremo, who had once been the standout sax player for the great band leader, Stan Kenton.
Again, his mom wrote the check to pay for her son to take private lessons with Deremo.
With Padilla now in high school, Deremo began to mold new techniques into the impressionable Padilla's musical repertoire, teaching him to embrace his own style and how better to read sheet music.
"He (Deremo) really, took me through the paces," said Padilla. Looking back, Padilla remembers, Deremo provided him with a critical intervention during his early musical development.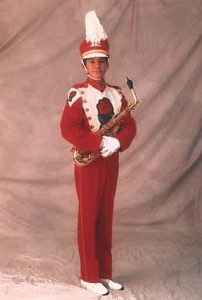 As a tween, it should be noted that while still learning, Padilla was already a well-respected saxophonist. He landed in all the area honor bands and was a soloist at festivals.
While competing with Hesperia High School (marching and concert) bands, Padilla won top awards at many of the same festivals that his students compete in today.
In addition to playing the sax, Padilla says he has always had a drum "hobby." At 12,
Padilla's mom had finally bought him a drum set. "She got tired of me beating on the pillows," he says wryly, noting he had a pair of drumsticks "years before I finally got the drums."
Padilla and his older brother Matt, a guitar player, started a grunge rock band. "We played the grunge circuit throughout high school," laughs Padilla. While rock-and-roll was fun, said Padilla, he nevertheless knew his future was in the big band sound.
Padilla's rock music hobby in no way distracted from his dedication to the sax. Throughout high school, Padilla was among the best sax players in the region, winning awards for solos and other accolades.
Most notably, Padilla earned a spot in the prestigious Tournament of Roses high school band and marched the iconic Rose parade route his sophomore, junior and senior years.
Learning music in those days, remembers Padilla, was hard. He said kids then had to work extremely hard to hear musical influences and share other musical experiences they sought.
Cassette tapes were all the rage, CD-ROM's were scarce and living in the high desert, finding music they wanted to hear on the radio was quite a chore.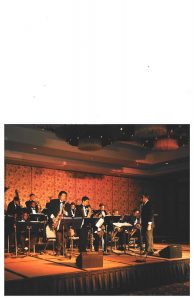 "It was back in the day when we had to drive an hour through the desert to be able to listen to 88.1 FM," said Padilla. For Padilla and his friends, it was sheer exhilaration when a hour-or-so into their car ride they could begin to hear the crackle of the greats like Hoagie Carmichael as the static dissolved into jazz on the car's radio.
By now, their road trips also included going to see his friend Josh play in the Jazz Ensemble at Fullterton Junior College. "That band was screaming and swinging," said Padilla.
"We would get as many of us into a car as we could fit and off we'd go to listen to Josh Fox," he remembers.
Padilla can quickly recite his many teachers, influencers and former band directors. "I will never forget," he said, noting that his first grade school music directo was Carmen DeLacruz.
Perhaps the most influential, however, was Leo Potts.
Potts is a legendary music teacher, having worked with the likes of Frank Sinatra, Diana Ross and others.
Padilla had entered junior college at Fullerton and was introduced to Potts by his friend Josh Fox. Again, his mom said yes, and paid for more private lessons.
Padilla said he had no idea what he was about to encounter. Little did he realize it, but Potts was about to ask him to forget most of what he knew about playing the saxophone.
"I remember going into the little studio Mr. Potts had behind his house," Padilla said. Potts, he said, was notoriously tough. "Many who entered that little studio left in tears," said Padilla.
"He (Potts) strips you down of all you think you know. He totally takes control of you," said Padilla, still seemingly startled as he retells the story.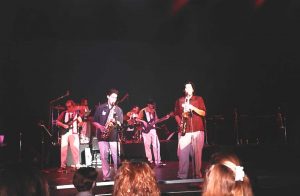 "Potts asked me to start by playing a single note," said Padilla, "yes, a single note. Then two," he said.
Padilla said he played only two notes over and over, "maybe for an hour," he said.
"Mr. Potts made me play those two notes over and over until the musical transition from one note to the next was absolutely pitch perfect," said Padilla. "He was so tough, but his artistry so deep," he said.
Even today, as he remembers Potts, Padilla said"I learned from him how to make beautiful music with only four simple notes."
Using techniques taught by Potts, Padilla said he learned that precision of musical artistry resulted from how precisely the notes are played, regardless of how they are arranged.
Using only four notes, Padilla learned, one can create "music played so sweetly, it can make the angels weep."
For Padilla, "the beauty of four notes" would become a lifelong lesson.
Padilla soon became the first in his family to graduate from college. After finishing with Mr. Potts and Fullerton Junior College, he transferred to California State University, Long Beach, where he graduated with a bachelor's degree in both Music Education and Saxophone Performance and where he also completed graduate studies in Instrumental Conducting.
Since then, Padilla has transformed multiple music programs into thriving programs.
He was chosen 2012 Oak Middle School Teacher of the Year, 2014 Los Alamitos District Teacher of the Year, the Orange County Music and Arts Administrators' 2014 Secondary Instrumental Music Teacher of the Year, and 2016 Orange County Music and Arts Administrators' Music Educator of Excellence.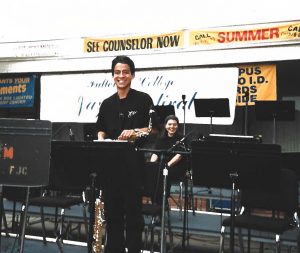 As a musician, Padilla is considered a saxophone authority and still plays semi-professionally, though his main stage is now much larger; his mission more profound.
When he became Director at Los Al, Padilla inherited a significant jazz ecosystem that had been developed by local jazz legend Chuck Wackerman, and others. He acknowledges excellence in the program "was happening way before me."
Even so, Padilla is making his own mark. Having had such a strong foundation of expert teaching and coaching, Padilla is rapidly building his own brand of musical success.
Ben Zander, the widely acclaimed Conductor of the Boston Philharmonic, has written "the musical conductor does not make a sound. The art of music can only be conveyed through its interpreters," said Zander, "and the conductor must depend on his ability to make others feel powerful."
So far, Padilla has been able to do just that.
Although he is working hard to elevate the "orchestra" to achieve new levels of excellence, the school's three jazz bands are already rocking hot.
For the last four years, the top jazz ensemble members have been invited to the Monterey Next Generation Jazz Festival. In 2020, the top jazz combo placed 3rd marking a historic first-time top placing at the Next Gen festival.
All three jazz ensembles and various combos have placed first in their respective divisions at the Reno, RCC, and Irvine jazz festivals. "Many of our students have received top scholarship prizes at the Monterey, Irvine, and Esperanza jazz festivals," he said.
Each year, Los Alamitos jazz members audition into the All-Southern California, and All-State Honor Jazz Ensembles representing the best of the best in the region and state.
Last year, he said, "one of our jazz musicians, Santiago Lopez, was awarded the Downbeat Award for Best High School tenor saxophonist, and Honorable Mention at the L.A. Music Center's Spotlight competition."
"One of my students even tried out, and made, the Tournament of Roses high school band," says Padilla.
Padilla's early influences and life lessons now accompany him to every practice, every performance and are obviously beginning to pay huge dividends for him and his students.
Legions of "band parents" starting from his time at Oak Middle School, until now, look up to Padilla as he equally embraces them. "If you engage parents, they will be supportive," he says.
Karen Denyer, now an alumnus, was a longtime band booster. She first met Padilla when her two sons took music under him at Oak Middle School.
By a stroke of luck, her sons graduated to high school the same year Padilla was named Director, creating the long association.
"As we are reflecting, I'm smiling," said Denyer. "I remember all the times I chased down Mr. Padilla with those famous words, 'Mr. Padilla, I have an idea.'"
"He knew new ideas were great for the program and he was always open to them," she said.
Such wisdom was never so evident as his latest ambitious undertaking, entitled Inspiration 2020. Four years in, Padilla is charting his own course by standing on the shoulders of those who came before him.
Padilla, however, is adding an additional layer of artistry by inviting mentors of national acclaim to create experiences for his kids, not unlike what his mom had done for him.
For instance, to bolster the upcoming "Inspiration 2020" event, Padilla has reached out to Chad Lefkowitz-Brown, a YouTube saxophone sensation. Lefkowitz, 30, whom Padilla calls a "phenom sax player" has accompanied Taylor Swift, Chris Bodie and others.
Between now and the Dec. 15 event, at which Lefkowitz-Brown will perform with Padilla's students, Leftkowitz will also hold two "master-classes" attended by the LAHS student musicians.
"That means something to them," said Padilla, believing these young music professionals can further "bring out the music" from his students.
The same is true for top trumpet player Willie Murillo, whom Padilla has also enlisted to participate in the upcoming Inspiration 2020 virtual concert.
Even though COVID has tried to silence the music this year, Padilla has found a novel way for Los Al music to play on.
"My job is to create memorable experiences for these students," he said. Honestly speaking, Padilla says student musicians today are "far ahead" of where he was at this point in development, saying modern technology can bring them any music of their choice to the palm of their hands.
For his much-anticipated winter concert, Padilla and his team have turned to advanced software and other technologies to allow his students to perform.
Each student will each record their individual parts while the software will edit the performances into an entire orchestra to produce the full, rich sound of a Padilla concert.
"It is a teaching moment," said Padilla, noting that his students are not only getting a chance to perform, but also an opportunity to learn technology that will enhance their future careers. The edited pieces will be performed in conjunction with a live production of Los Alamitos TV.
Every year, he graduates hundreds of young musicians. Padilla said he knows each one of them has a future, not all in music, but all will have music in their lives.
At the very least, Padilla wants students to have learned some of the lessons he was fortunate to have learned, hoping they will go on to make beautiful music of their lives.
Given the chance to make a difference for his students, it is not suprising that a man of such musical magic will has found an impressive way to "take the stage," even during a pandemic.
With prominent guests and eager students, Inspiration2020 on Dec. 15 promises to be just that.
Justin Padilla, for sure, will be at his best…and yes, he will make an entrance.
Editors Note: To attend Inspiration2020, visit www.lahsjazzorchestra.anywhereseat.com.