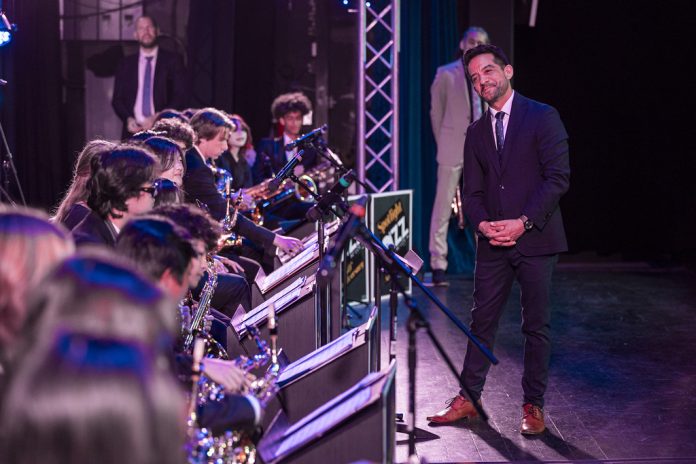 Although Chuck Wackerman did not live quite long enough to enjoy the 50th Anniversary of the prodigious event he founded, his spirit was alive and well Saturday as the community, and student musicians paid tribute to the legendary music teacher.
Wackerman, who passed away in August of 2021, began an event as a young music teacher at McAuliffe Middle School to raise money to support students learning to play jazz. Originally called "Class Notes," the event has grown into "Spotlight Jazz" but organizers say follows the same basic formula dreamed by Wackerman.
Parents, teachers, and music supporters filled the Los Alamitos High School Performing Arts Center Saturday for "Spotlight 50," the 50th Anniversary of a fundraising event that was started back in the 1970s by a young music teacher.
Over the past five decades, the event has evolved into a star-studded event featuring student musicians from the Los Alamitos Unified School system and top industry professionals who accompany them.
"Tonight, the student performers are the stars," wrote Justin Padilla, the LAHS director of Jazz and Orchestra, in the official program, "but this event is dedicated to one of the greatest jazz educators [Wackerman] the musical world has ever known."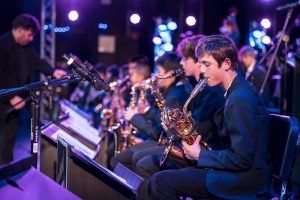 The three+ hour musical extravaganza featured performances by the Oak and McAuliffe Middle School jazz bands, three LAHS jazz bands, and performances by world-class drummer Chad Wackerman (son), vocals by "rising-star" Sophia James (granddaughter) and trumpet solos by John Daversa, a Grammy-winning composer and trumpet player.
Daversa also serves as Chair of Studio Music and Jazz at the Frost School of Music at the University of Miami.
Over the years, said Padilla, "music directors have nurtured the hearts and minds of thousands of student musicians."
Oak Middle School, under the musical direction of Robert Harrell, opened the event with performances of Duke Ellington's Cotton Tail, Shiny Stockings by Frank Foster and Tour de Force by Dizzy Gillespie.
Los Alamitos Jazz III, under Padilla's direction, opened with Such Sweet Thunder by Duke Ellington, then rounded out its set with Prayer Meetin' by Matt Harris and Los Changos Valando by Mike Dana.
McAuliffe Middle School's jazz band, under the direction of Frank Fontaine, opened with Easy to Love by Cole Porter, Nardis by Miles Davis and Cute by Neal Hefti.
Fontaine, who graduated from the Manhattan School of Music in 2012, paid tribute to Chad Wackerman, telling the crowd when he lived with former college roommates in North Hollywood, "we'd have to scrape dollars" to go down to "The Baked Potato," a local jazz club, "just to hear Wackerman play drums. He played with some really cool artists."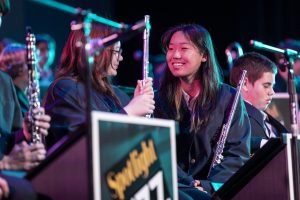 Fontaine said he was honored to have Wackerman accompany the middle school jazz band on drums for one of their three songs.
Following intermission, Padilla directed LAHS Jazz II through Sweet Georgia Brown by Sammy Nestico, Isfahan by Billy Strayhorn and Zebrano by Andrew Neu.
At this point, the program began meandering to a creative conclusion. First, Padilla brought the special guests to the front of the stage in a talk-show setup, wherein the artists spoke freely about their careers (see related story).
In addition, the guest artists broke into freestyle on stage, with Daversa bringing out his EVI (electronic value instrument), joined by Wackerman on drums, James on vocals, accompanied by the Los Al Unified music directors, including Harrell on bass and Padilla on alto sax and local professionals Sam Ross on piano and Scott Johnson on guitar.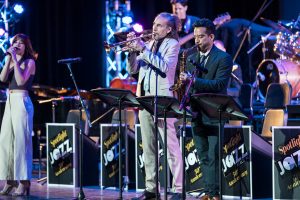 They jammed through Daversa's arrangement of You've Got That Thing by Cole Porter with James on vocals. Incidentally, James announced she had recently signed her "first record deal."
Padilla then directed Los Al's Jazz I through You Gotta Try Harder by Sammy Nestico, Almost Like Being in Love by Frederick Loewe and Central Park West by John Coltrane.
"Now we're going to have a drum-off," Padilla told the crowd, inviting Wackerman to an extended drum solo, after which every student drummer from each of the five performing groups took turns on a second drumset next to Wackerman, leading each of the students into their solos and mixing the beats to give each of them their own moments in the limelight.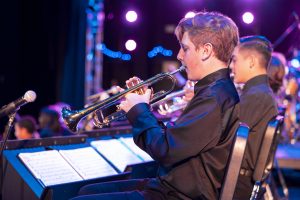 Throughout the evening, student soloists were featured during each tune, as the three professionals alternated with their accompaniment on the various tunes.
The event closed with Cheeks, a tune composed by Daversa and featured an extended opening passage between Daversa, playing his unique EVI, and Wackerman on drums, followed by a finale at which every student musician was invited back on stage as Padilla paid tribute to the late, great Chuck Wackerman.
Also, between the sets, Padilla introduced the guests, including Diana Hill and Marlys Davidson, both trustees from the school district, and presented various recognitions to the multitude of professionals, students, and parents whose work and dedication made the event possible.
He gave special recognition to the sponsors, band boosters, and the Spotlight Committee, especially co-chairs Andrea Howe and Paurvi Trivedi.
The event's program featured photos of Chuck Wackerman's career and the booklet paid homage to the 2023 seniors.
Before the event began, the Spotlight committee held a VIP dinner inside the new campus media lab.
Ironically, it was also a great career night for Padilla, as school officials announced he was the LAHS Teacher of the Year for 2023.
"It was a spectacular evening attended by over 500 guests celebrating the 50th Anniversary Spotlight Concert. It was a beautiful tribute to Chuck Wackerman and so meaningful to have his family performing alongside the middle school and high school jazz bands," said Spotlight Jazz co-director Paurvi Trivedi.
"It was an iconic event that will be remembered as a tour de force on so many levels," she said.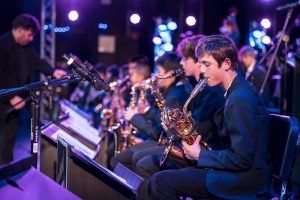 "I love seeing how everybody comes together in such a great service," said Daversa. "It comes from these folks up here and everybody out there in the audience and it is all to serve these young students here, so that warms my heart."