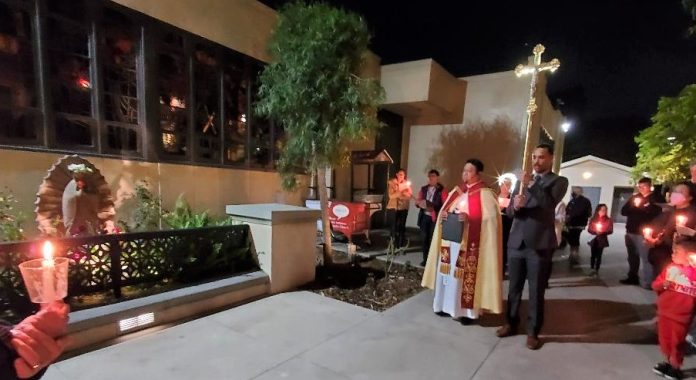 Shocking human trafficking statistics were posted on easels near the altar of St. Irenaeus Catholic Church. These posters revealed that 98% of human trafficking victims are never rescued; human trafficking generates an estimated $150 billion dollars each year; human trafficking is the fastest growing crime in the world; and sextortion is a hidden pandemic threatening our teenagers. About 80 people attended this prayerful and informative community event hosted by St. Irenaeus Health Ministry's Bridge of Light: Human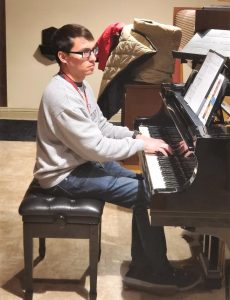 Trafficking to Human Triumph Ministry on the evening of February 7th.
A meditative Taize chant began the program. Music was provided by singers, Belinda Gonzalez, MiMi DiRosa, and Rosalie Valles, accompanied by Anthony Kocal, Music Director. Then, Rick Tkach spoke about the goal to increase awareness of human trafficking — to be a light shining in the darkness.
Next, Fr. Aaron Galvizo shared a gospel reading. Highlights of the evening included the candlelit procession and prayers led by Fr. Aaron; reading letters of appreciation written to an investigator by a rescued survivor of human trafficking and by her mother; information about the labor trafficking on seafaring vessels; a letter written by the mother of a teenage boy who committed suicide as a result of sextortion; the film, "False Imprisonment," about the exploitation and abuse of disabled adults in Georgia; and a film about the Orangewood Foundation.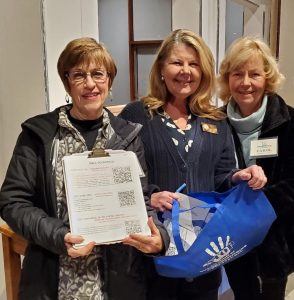 The Mayor of Cypress, Anne Hertz-Mallari, the Cypress Police Chief, Mark Lauderback, and Hannah Adkison, Resource Home Recruiter/Trainer for the Youth Connected Program at Orangewood Foundation, attended this event. They each gave speeches later in the evening. Police Chief Lauderback said that he takes a victim-centered approach to human trafficking cases.
Since 71% of human trafficking victims were previously in foster care, it is vital to be proactive by supporting The Orangewood Foundation that provides services to vulnerable youth. This organization, a 501c3 nonprofit, provides services to Orange County youth to prepare them to become independent adults, thus preventing human trafficking. Orangewood's "Project Choice" is the only program in Southern California that provides Drop-In services for kids who have been or are being trafficked.
Call to Action suggestions were many: Call 911 if someone is in immediate danger; Call the National Human Trafficking Hotline at 800-373-7888 if you suspect human trafficking; Pray and Discern — consider becoming a mentor to youth through the Orangewood Foundation's Youth Connected Program at www.youthconnectedprogram.org/about; join St. Irenaeus' CarePortal Response Team to help stabilize families, reducing the risk of human trafficking; and support Global Hope 365 & CA Coalition to end child marriage. Advocacy letters to our local representatives were available in the vestibule to facilitate distribution. For more information, please contact Monica Kovach at 310-490-6113.