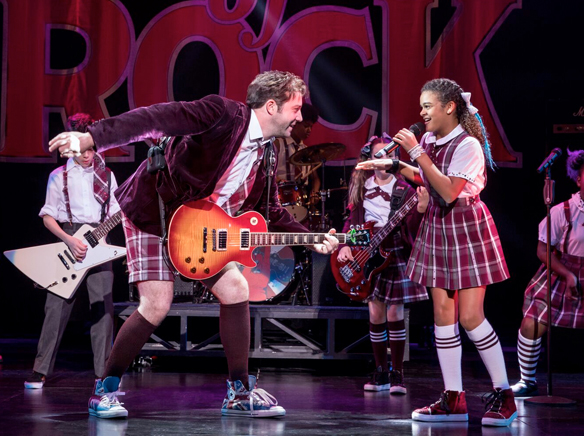 Andrew Lloyd Webber's hot new musical is rocking the Segerstrom Center for the Arts, July 24 to August 5, 2018. Not since "Jesus Christ Superstar" has the Lord of Broadway had such a madcap bolt of energy, and pure joy rocking theaters from East Coast to West. The rock and romance hit is based on the cult film that made Jack Black a star. And Black is the first to sing its praises, saying "I laughed, I cried, I rocked!"
You don't have to be a Rocker to roll with the beat of all the original songs from the movie plus 14 new melodies written by Lloyd-Webber, with lyrics by Glenn Slater and book by Julian Fellowes. And here's the kicker, the show features musical theater's first-ever all kids rock band. Lloyd-Webber says about these pint-sized musicians "You wouldn't really think that it's 10 and 11 year-olds. I mean, it's extraordinary for their age, just how great they are and how together they play."
The wildly talented and utterly adorable youngsters are not the only stars of the hard hitting, energetic musical. The talented cast is led by Rob Colletti as Dewey but here's the twist, this show is so high volume that there's an alternate Dewey, Merritt David Janes for 3 shows a week. It's unusual to alternate actors in a starring role yet that's the name game in "School of Rock."
Janes, who understudied Dewey on Broadway, jumped right into the gig, explaining "The Alternate slot in this show is the hardest job on planet earth right now. There's no more difficult part then Dewey and that's why Rob and I alternate the role." He continues, "playing Dewey is very, very vocally demanding. It requires maximum stamina, you're running, jumping, screaming, yelling and on stage in pretty much every scene. It's a three ring circus and a whole lot of fun."
"School of Rock" is the story of a wacky, out of work rock singer and guitarist who shams his way into a teaching gig at a prestigious prep school. His BS isn't in science as he bulldozes his way through a few fifth grade classes at the Hoity Totty School before discovering his students have musical abilities. This inspires the wannabe rocker to form a band of fifth-graders and enter the upcoming "Battle of the Bands" competition.
Working with talented kids is right in Janes' wheelhouse. A fine musician himself, he attended the University of Maine intending to be a music teacher before getting bit by the show biz bug. The baby-faced band members are getting rave reviews and that's fine by Janes who says "They are just fantastic. We are riding these tykes coattails all the way to Costa Mesa. What I love about this show is that kids are doing stuff that's never before been done on Broadway. That's pretty great because I feel like it's putting musical instruments into young hands all across the land."
Janes describes his character Dewey as a "very much disorganized rock & roll enthusiast. He doesn't have much direction in his life outside of music but when he meets the youngsters he finds his direction. He is the only one that they feel listens to them. This is what the story is all about."
Janes describes his role as all-encompassing, saying "It's very unique because I get to be in a band fronted by kids and that's extremely fun since it's not just all singing and dancing. It's a great balance and mix of everything. I'm singing, acting and playing an instrument on stage, just like what I've always wanted to do." He continues, "Comparable traits that I share with Dewey are that I love playing music and performing as much as he does. We both have a similar stream of mischief running through our blood and I like to think that my sense of humor is like his."
The 2003 Jack Black movie is a favorite of Janes but he stopped watching it after he landed the Dewey role. He wants to bring himself to the character and not just be a Black impersonation. Janes says "the best way to put his individual stamp on such an iconic character is to not lose track of what you can bring to the table so that it will always remain true to your personality."
Janes physical appearance is at the opposite end of the stratosphere from the usual suspects who play Dewey. He's had more debonair types, (the Wedding Singer is an example) then quirky and lovable Dewey who is, well, a sloppy madman. But as he says, "I try to identify with the character in any way that I can. As long as we're telling the story in an honest way then it all translates. Plus, make-up and costumes help."
Lloyd Webber would claim that the differences between the move and the musical are that the story has more depth without losing the comedy. Janes puts it more ingenuously "In the movie they get 26 takes to get it right and onstage we get one. Yeah, just one shot at getting it right and it lasts the whole night."
Janes one word description of "School of Rock" is "Boomsplosion!" because it will have audiences jumping out of their seats as talented ten year's olds pound out "Stick It to the Man."
"School of Rock" is a big beautiful blast of musical comedy with a simple message. In Lloyd Webber's words "the central message is one of the empowering force of music." The report card is marked and "School of Rock" gets an A+ for boisterous exuberance and musical magic.
Let those kids 'rock' you at the Segerstrom Center for the Arts, Segerstrom Hall July 24 – August 5. For tickets and information: The Box Office, 600 Town Center Drive, Costa Mesa; phone, 714-556-2787 or online at SCFTA.org.