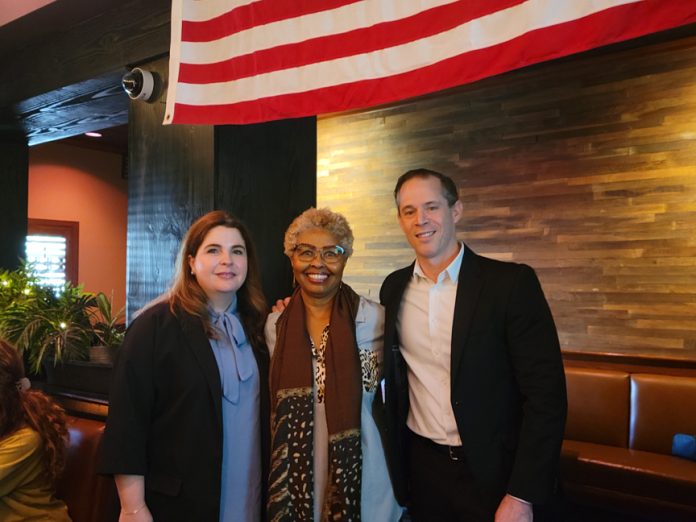 During the Los Alamitos Chamber of Commerce's March Breakfast meeting, members listened to Small Business Development Center (SBDC) representatives Mike Daniel and Manal Richa on how to grow their business.
Daniels is the Regional Director of the Orange County Inland Empire SBDC OCIE Network, which assists current businesses and aspiring entrepreneurs throughout Orange County in providing one-on-one consulting and training.
OCIE SBDE is hosted by the California State University of Fullerton through the College of Business and Economics.
"You don't need to do it on your own; we're here to help," said Richa. If your business needs to grow and expand or you need extra capital, SBDC can help you get there."
Richa explained that they use college students to do marketing research. "We can help you put your marketing plan together; a way to tell people what your business does with an online presence – an exposure beyond local and we can match you with a lender – we are here to help you through the journey."
Daniels shared that as a business owner and entrepreneur himself, he started his career as owner of a Rocky Mountain Chocolate Factory, currently owning stores in Huntington Beach and Long Beach. He also owns a Sugar Pop Sweet Shoppe in Long Beach that is an old-time candy store with "fill-it-yourself" containers.
Manal Richa, director of the California State University Fullerton OCIE SBDC said the Network offers no-cost one-on-one assistance and training to business owners and entrepreneurs in Orange County.
"The CSUF SBDC helps entrepreneurs and business owners launch and expand through growthplanning, startup assistance, marketing strategies, access to capital and building teams," she said.
Manal founded the MarCom Network, which is a marketing and creative consulting firm that helps small businesses build not only exposure but offers a way to increase sales. She also started BreakThrough Networking Inc. where she helps clients build relationships, leverage connections and offers how to use different social media platforms in order to take their business to the next level.
Daniel is a graduate of California State University; he and his wife have two children that he says he is, "Grooming to take over his business," when he retires.
Richa is also a graduate of California State University, Fullerton where she earned her BA in Communications and Advertising; she earned her MBA in Organizational Leadership from Brandman University.
Presentations and certificates of recognition were made by California Assemblyman Tri Ta, with the 70th District; Congress woman Michelle Steel's office; Cypress City Mayor Tanya Doby's office, and the Los Alamitos Area Chamber of Commerce.
For Los Alamitos Chamber information visit info@losalchamber.org or call 1-562-598-6659.