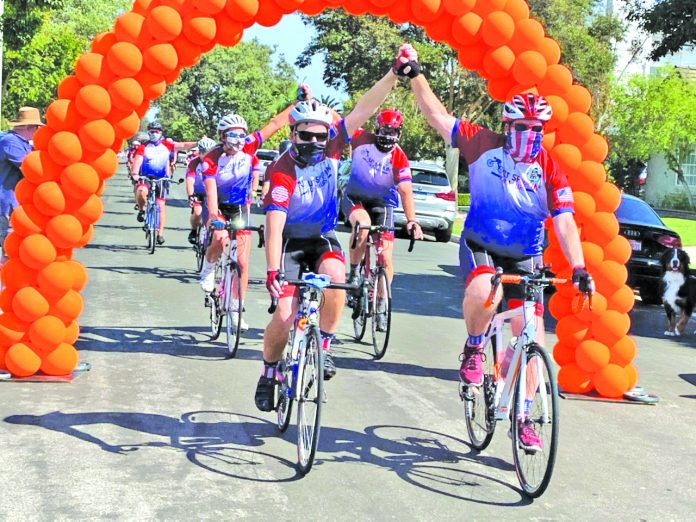 On Friday evening, Roger Waterman did what he has done this time of year for almost three decades.
This Rossmoor businessman prepared his bike team for a different kind of weekend competition. They were about to bike for a cause that, he is now convinced, has been instrumental in saving his wife's quality of life.
Almost immediately after learning his wife Roxanne had Multiple Sclerosis in 1993, Waterman said he had the "most helpless feeling I'd ever felt. I wanted to physically do something that could realistically help her," he said.
But there was nothing, he said, until they were introduced to the National MS Society.
According to Waterman, they explained to them what his wife should expect with the disease's onset, but also told them about several fundraising and support activities.
One of them was a brief bike ride in Venice Beach that Waterman said he and his wife could participate in together. That was 28 years ago, and Waterman has since graduated to the National 'Race for a Cure' event in Orange County called Bike MS.
He said biking involves fundraising, where each team member not only pedals for the cause, but also raises money as part of the team.
"I started in 1994, rode by myself. The following year, a couple of friends rode with me. Next year, five or six, eight or ten." After two decades the team grew to more than 20 and this year, Waterman said he was proud to welcome six new riders.
Waterman began participating in the L.A. Chapter biking event, which runs from Ontario to Palm Springs but switched to the Orange County in 2004 after moving to Rossmoor. "I'd rather ride along the coast than in the desert."
Each year, about 2,000 riders brave the elements to ride from Irvine to San Diego, spend the night and bike back as part of the Bike MS fundraising program. "It's a 100-mile route," he said, and incredibly challenging.
Waterman said he and his team members begin training each May for the Bike MS race. "We physically train for several months before competing in the event," he said.
Although the pandemic cancelled this year's regular ride, the National MS Society did sponsor the "Bike MS – Inside or Out" event. This allows teams of riders to set up their own routes and for those with biking machines "inside" to participate via an app.
"I decided I wanted to do this," said Waterman, so he sat with his friends/teammates to brainstorm a route. They decided they would start in Rossmoor, travel down Seal Beach Boulevard, turn left on PCH and for team members wanting the 45 mile route would turn around at Balboa Island, and those wanting the 60 mile route would bike to Crystal Cove before turning back.
Waterman's wife Roxanne and several friends and family members set up support tents along the way to offer them a nearby bathroom, a drink of water, etc.
Waterman has rules for his team that seem to belie the times in which we live. No one wins on his team. For each of the 28 years, his team members always wait for each other so "we can all cross the finish line at the same time."
He also demands that his team adhere to a "no drop" rule, meaning that occasionally, the team slows to allow the lagging riders to catch up. Togetherness for a good cause.
Waterman knows the real race is the one to find a cure and "we are seeing progress. When we started raising money, there were no medications to treat my wife (or anyone else)," he said.
Teams like the one organized by Waterman have poured more than $100 million into research to create new drugs and treatments for MS over the past three decades. Waterman said there are now 13 medications, including one that has worked for his wife Roxanne.
He said MS is the body's own immune system attacking itself, with frayed nerve endings covered with scar tissue, eventually interfering with the signal reception from the brain.
Waterman said one of the medications developed as part of this research is now able to arrest the development of MS in his wife's body and in "those living with MS."
"We can see the evidence of what we've been riding for all those years," said Waterman. "It is so fulfilling," said Waterman, whose efforts alone have raised more than $750,000 for MS. He is looking forward to reaching the $1 million mark so he can then complimentarily compete in any of the National MS races nationwide. "They have some beautiful rides across this country," he said.
Even in the pandemic, Waterman's team is expected to raise $15,000 for MS resulting from Sunday's ride. Waterman treated each of the participants to lunch at his Rossmoor home and presented them each an honorary certificate.
"I ride because I can," he said, "and for those with MS who cannot."
Waterman is already looking forward to next year's race and has no plans to slam on the brakes, even after nearly three decades of rides.
"We are closing in on a cure," said Waterman, "and I believe that it will come in my lifetime."
For this Rossmoor resident, this is a personal race for a cure that he is determined to win.