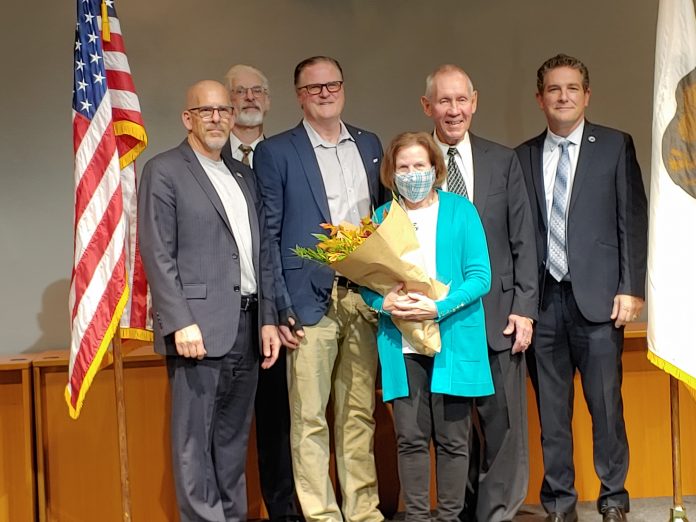 Officials from throughout Orange County came to Rossmoor Tuesday to pay tribute to Ron Casey, a Rossmoor Community Services District Director who has termed out after 12 years of service.
Casey was first elected to the Rossmoor Community Services District and began his service in 2008. He served as the District's President in 2018.
Mike Maynard, the current President of the Rossmoor Community Services District, read an official proclamation to Casey, noting that Casey "promoted technological advancement for the benefit and convenience of residents."
As President, said Maynard, Casey resolved many lighting issues by working with utility companies to install (LED) lighting, also noting many other improvements, including street sweeping and better relations with Los Al Unified and the California State Assembly, among others.
The Rossmoor CSD Resolution also cited the many organizations on which Casey served representing Rossmoor, including the Orange County Transportation Authority.
Maynard mentioned "Concerts in the Park" and numerous programs for Rossmoor championed by Casey during his term.
Tim Whitacre, representing Congresswoman elect and Orange County Board of Supervisors Vice Chair, said honoring Casey would amount to one of Steel's "last official acts" as Vice-Chairman.
Whitacre told Casey that Supervisor Steel "really appreciates everything you've done on behalf of Rossmoor. You've done it well, above and beyond," he added. Whitacre said Casey had demonstrated "distinguished leadership, an example for others to emulate."
Steel was elected to Congress Nov. 3 and has already departed for Washington.
Lt. Gary Knutson, representing the Orange County Sheriff's Office, also thanked Casey for his years of dedication of working with his office to protect the citizens of Rossmoor.
"Ron has been a very supportive district director the staff and he undoubtedly has a grassroots heart for the community of Rossmoor," said General Manager Joe Mendoza. Casey's ability to communicate with chambers and other elected officials have been very helpful, he added.
Casey thanked the District Board and Rossmoor residents for their support as the board presented him, with certificates, awards, and mementos. They presented his wife with a bouquet of flowers.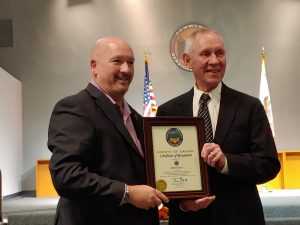 For Casey, he says his service on the Rossmoor CSD has been an eye opening experience.
After winning a Director's seat in 2008, Casey said he was literally "shocked" when Rossmoor residents overwhelmingly rejected a vote to become its own city. Measure U, which looked to incorporate the 988-acre county island, failed with 3,424 votes against incorporation to 1,350 in favor in November of 2008.
"The residents wanted no part of it," he said. Casey said he was "surprised," thinking the residents would see many of the same advantages of keeping all of their tax money within the community. "I thought certainly they would do it," he said.
"We are certainly a donor (to Orange County) and not a receiver," he said.
Since 1955, Rossmoor has remained an unincorporated community, meaning taxes paid goes to the county, which then returns them according to a formula, said Casey.
Casey said studies have shown the community consistently sends more than it gets back but he learned quickly that residents "like things just the way they are. If it ain't broke, don't fix it."
He said they tried a move to claim more governance power from Orange County LAFCO (Local Agency Formation Commission), but that ran into a dead end as well. Unlike local cities, Rossmoor remains an unincorporated area.
Each of Orange County's 33 unincorporated islands are part of LAFCO's structure that seeks to provide some remote governance standards to these unincorporated areas, according to the agency's website.
Since those early stumbling blocks, however, Casey said he has learned to channel his energy into projects he could accomplish rather than focusing on the things that could never happen. "My background in community involvement and volunteerism has enabled me to determine the best technique to accomplish this objective. My services to the community have been wide and varied," said Casey.
"In 2012 I served on The Shops at Rossmoor ad hoc committee which was involved with the new owners of the facility. As part of this process the committee was instrumental in keeping low income housing out of the shop's property," he said.
Also in 2012, Casey served on a gas company ad hoc committee which was involved in determining the location of two data collection towers which serve the Rossmoor community. While they wanted both towers to be located within Rossmoor, both towers were placed outside of Rossmoor, one in Los Alamitos and the other in Seal Beach "due in large part to the actions of this committee," said Casey.
He's learned that change does not come easy in Rossmoor so the board began working to improve the infrastructure like streets, lights. Although a massive lighting project was achieved while he was president, he gives the credit to the board and the residents of Rossmoor.
Where possible, he said, the Community Services District makes life better for Rossmoor's residents. They have created numerous social events, some recurring, that range from church groups to dancing, from drive-in movies to activities for senior citizens.
"I have also had the privilege to serve as the Rossmoor representative to OCTA and Caltrans during the past eight years," said Casey. The completion of the West County Connectors "provided our residents with additional traffic lanes adjacent to Rossmoor and a less congested traffic flow," he added.
Most recently, said Casey "our current RCSD Board also approved paying off Rossmoor wall bonds of $108,000 early to save $9,135 in interest charges. We also reduced administrative costs by $44,900 and increased revenues over expenses by $68,000."
He said "this was accomplished while completing many community facilities upgrades and ensuring that they are well maintained and serviceable."
Overall,"there were so many programs, from street paving to maintaining Rossmoor's 'urban forest,'" yet Casey said he is most proud of his work to "maintain and enhance the quality of life for all of Rossmoor."