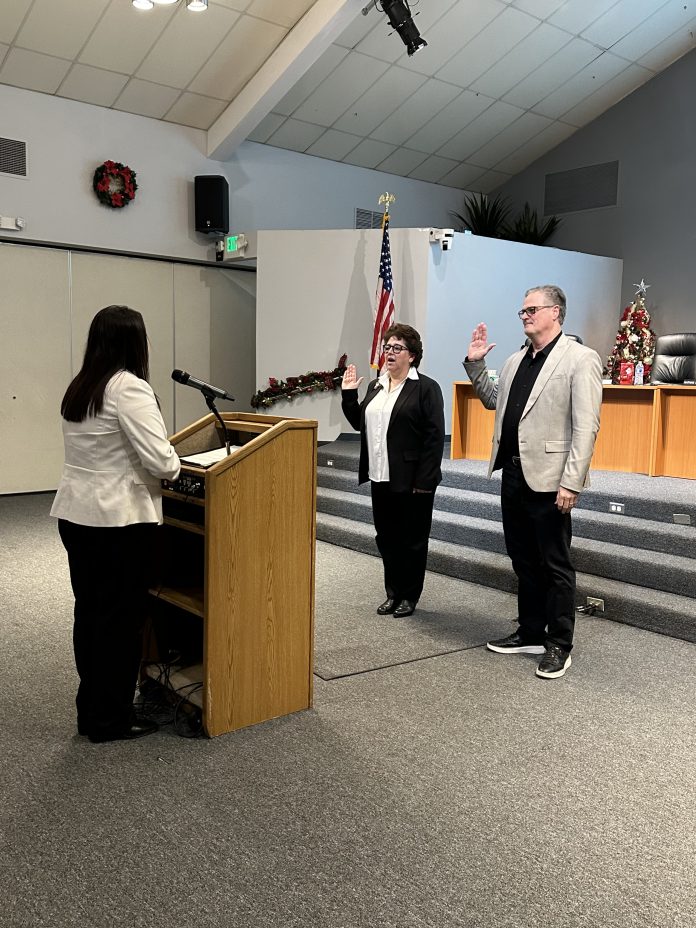 Four Rossmoor Directors have directed the General Manager of the Rossmoor Community Services District to create a 90-day pickleball "pilot" project, despite the fact that the results of studies on various impacts on Rossmoor are not yet known.
The issue was set to come up again this week at the RCSD's January meeting, slated for Tuesday of this week.
Before the discussion, the RCSD installed former Director Michael Maynard and Director Jo Shade, both of whom won seats on the panel in the Nov. 8 election, as State Senator Janet Nguyen administered the oath of office.
Nathan Searles, the 2nd Vice President acted as President for the December meeting, as the RCSD was expected to pick new leaders this month. Searles was next in line after President Rips lost his bid for re-election and First VP Mark Nitikman did not run.
Searles and the other members welcomed Maynard and Shade to the dais.
For the past few months, Directors have gone back and forth on the issue of pickleball in Rossmoor. General Manager Joe Mendoza conducted a trial run (for a weekend) and has engaged various sound experts to do acoustic tests.
While none of the test results had been announced, Director Tony DeMarco said he thought eight months of study was a long time. "We've got to do all these studies," he said, "but it is my belief that we should be also playing pickleball to gather more information."
"Instead of bringing in consultants and having to pay money for them to tell us how loud it really is. why don't we just go play it and see how loud it is," said DeMarco. "I played it over at Rush Park and it's not that loud," he said.
"I'm going to get negative emails over this, but I never see all four (tennis) courts being used, never," said DeMarco.
"So why don't we just develop this and have the general manager develop a pilot program for 90 days to get that going," he said, suggesting a 90-day actual trial will generate data that can also be used to make a final decision.
"I would like to have it at the same time as tennis, said DeMarco. "We have lighted facilities, but it's like we're gonna talk about this for another year," questioned DeMarco.
DeMarco said after eight months of talking, it's time to play pickleball.
"I can tell you there are tons of people that have, that are in support of this in Rossmoor that don't even come to the meetings anymore. They've been to six meetings already and we're not doing anything. Let's just play pickleball for three days a week… and gather our own data," he said.
Newly sworn-in Michael Maynard, a former Board President, jumped in.
"When I decided to run for office, I called a couple of people to ask for their support," said Maynard. When he asked one of them what was the biggest issue facing Rossmoor, "he said pickleball. I literally laughed out loud I said that's our biggest issue as a community?"
"I read this twice to make sure I did my math right, but it has been eight months since the whole concept has come into question," said Maynard, noting he did not understand the cost of hiring consultants to "prepare."
"I think what Tony (DeMarco) just proposed brings me back to my college days. I went to CalPoly and we learned by doing, that was the Polytechnic approach," said Maynard, who agreed with the suggestion to do a 90-day trial before the acoustic studies were complete.
Searles, an attorney, is serving on a committee of he and former Director Mark Nitikman, who is also an attorney, to study the issue of bringing Pickleball to Rossmoor. Searles tried to convince the other directors to wait a little longer.
"Listen, I'm for Pickleball in our community," said Searles, "but I want things to be done the right way."
"Former Director Nitikman's concern about litigation is also one I share," said Searles, "because we don't need to unnecessarily get ourselves into litigation over rushing through this." He suggested there is a clear risk of litigation as evidenced by multiple suits against homeowners' associations and others regarding Pickleball.
"We're focusing on an activity in a park so much and now we're worried about getting sued," asked DeMarco. "Okay, but we're not worried about getting sued when we have a winter festival, and we take the entire street and impact all those homes there."
"I would say that that's exactly the kind of situation that director Nitikman would bring up, as there's a history of litigation about pickleball and nuisance and that's the reason we should be concerned about it now how we decide to vote," answered Searles.
"I think it's important for us to make sure that we're not doing anything hastily and costly," said Director Jo Shade, "but also I also would like to see some sort of a timeline like get a schedule going on what and goals like timeframe wise as to what we want to have done by what date."
Regarding pickleball, Shade said the RCSD needs to "try and get on a schedule where we're not dragging this out forever. I am all about action," she said.
"The (Pickleball ad-hoc) committees had eight months to do this and we're no closer, said Director Dr. Jeff Barke. "We're just continuing the study process, not that we shouldn't continue the studying, but I think we should implement the pilot program and test it out now," he said.
Mendoza gave the Directors an update from two consulting firms the RCSD has engaged for acoustic and other studies. He said the results could be in before the next meeting.
Despite Searles' opposition, the Directors voted 4-1 in favor of DeMarco's idea for a 90-day pilot pickleball project and ordered Mendoza to have a proposal ready for the district's meeting on Jan. 10.
Following the vote, the Board heard from two residents who asked to speak on the issue.
Carol Churchill asked that if the board insists on doing a pilot project before the study is complete, a meeting should be called by the board and the general public be invited along with experts to present the data on the sound reports, the information on financial costs, and a lawyer who will discuss the litigation that has occurred across the country and the liability that the board may have if they proceed with the matter without considering the impact on the quiet enjoyment of people in their homes being impacted.
"I don't even understand it, opinions instead of facts, just because you or someone thinks it doesn't sound loud and yet, companies are hired across the country to do specifically acoustical studies because it is well known that pickleball is a unique type of sport," said Michele Fieldson.
"You don't hire engineers for a farmers market or a winter festival; we're comparing apples to oranges here," she suggested.
"You want to put something into place because you don't want to wait for a study to come through, so you want a pilot program," said Fieldson. She noted that the four-day trial of Pickleball yielded "no useful data," so how would a 90-day pilot project be any different, she asked.
"It wasn't actually data, it was opinion based, so what modifications are you going to put into place for this pickleball trial?" she wondered. "You already have studies that say pickleball should not be within the vicinity of 300 to 600 feet of homes," said Fieldson, "and that's being summarily ignored and a basis for many of the lawsuits we're talking about."