Perhaps to demonstrate the impact a wayward owl has already had on this city in 2023, Mayor Anne Hertz-Mallari passed little tiny stuffed owls to members of the City Council before the start of the meeting Monday.
Following a rocky pollical season that brought a different kind of scrutiny to Cypress, a snowy owl more comfortable in the Arctic tundra has brought new headlines and attention to the city from literally all over the world.
And, if Mayor Hertz-Mallari's words ring true, the owl, a symbol of wisdom, might be a harbinger of more cooperation among the council.
Hertz-Mallari not only apologized to previously ostracized council member Frances Marquez, but she also called the new council "a team of five" in her opening remarks.
"I realized that in my first video from the mayor, I welcomed our newly elected members and did not mention my colleague, Councilmember Marquez, and my apologies for that unintentional oversight because I truly look forward to working with you," said Hertz-Mallari.
"It's a team of five up here and we are raring to go," she said.
On the previous council, Marquez said she felt isolated after being censured over new rules regarding council conduct.
Nevertheless, perhaps simultaneously, but with the Snowy Owl has come a new perspective. And, before getting the business underway for 2023, Hertz-Mallari asked the city to pause and reflect on the impact of the Snowy Owl.
"Bear with me for just one minute. One of the things that have united our city in the past few weeks is the appearance of our beautiful snowy owl. Right? We love this owl," the mayor said.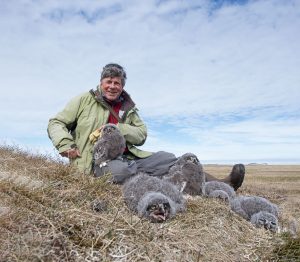 The owl was so dominant that Pastor Mike McKay referred to the Snowy Owl in his invocation. "She is so beautiful and thank you for praying for wisdom for us," Hertz-Mallari said to McKay.
The mayor said "the snowy owl is considered a symbol of wisdom. And I think that's a perfect analogy for the role of our city council. So I have a very small gift for my colleagues as we begin 2023 together and just asked that it really remind us all that we all work together, all five of us, to make the wisest decisions possible on behalf of the community," said Hertz-Mallari before reaching into a bag and passing to each Council member a small, six-inch stuffed Snowy Owl.
"We're going to make this fun," she said.
For the past few weeks, news crews, birdwatchers, and long lenses of all kinds have arrived almost daily to get a glimpse of the female Snowy Owl that has mysteriously found a temporary home among the rooftops in the city.
So much so that the Sea and Sage Audubon Society (Orange County Chapter of the Audubon Society), in association with the California Department of Fish and Wildlife is presenting "The Breeding Ecology of Snowy Owls," a discussion led by Owl expert Denver Holt this Thursday, Jan. 19, at the Cypress Community Center on Orangewood Ave. The event begins at 7 p. m,
"In his presentation, Denver Holt will share insights from his more than 30 years of research on Snowy Owls, focusing on their breeding ecology," said Lauren Smith in an email from the Owl Research Institute in Charlo, Montana.
"He will also share general information about Snowy Owls, including their behavior and movements, such as why they may travel down from their breeding grounds in the Arctic to more southern latitudes- even all the way to southern California! He will also discuss the Snowy Owl that has recently been spotted in Cyprus [sic], and what it is about owls (Snowy Owls especially) that makes them so fascinating," she said.
Community members or the general public who want to perhaps learn how and why this owl ended up in Cypress are free to attend the presentation and Smith said there will be a Zoom link for those who want to attend the Snowy Owl presentation at home.
Seating will be allotted on a first-come, first-served basis, according to the organizers, but persons who want to attend by zoom can get the Zoom link at www.seaandsageaudubon.org or www.owlresearchinstitute.org.