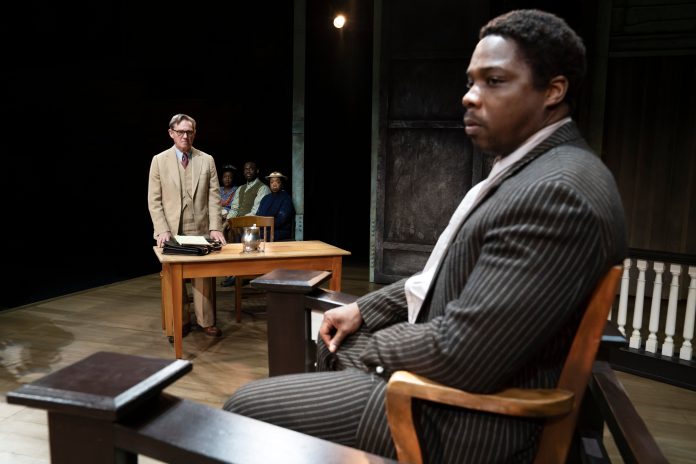 Almost like a voice from an earlier age, Oscar-nominated actress Mary Badham has returned to the limelight with a message for anyone willing to listen.
In the early 1960s, 10-year-old Badham played the role of Scout, the daughter of Atticus Finch (played by Gregory Peck) in the classic film production of the Pulitzer Prize-winning novel To Kill A Mockingbird by Harper Lee.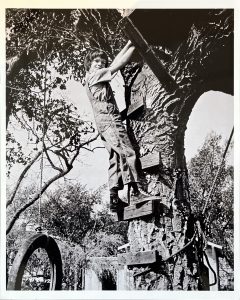 Sixty years on, Badham said she accepted the role of Mrs. Dubose in the current stage production of Mockingbird because, like the story itself, she still has something to say. The stage play opened at the Segerstrom Center for the arts Dec. 27 and runs through Jan. 8.
When the movie premiered back in the 1960s, the nation was struggling with civil rights and inequality.
Set in Alabama in 1934, Harper Lee's enduring story of racial injustice and childhood innocence centers on one of the most venerated characters in American literature, small-town lawyer Atticus Finch.
For Badham, six decades later, things haven't changed, at least not enough. So, for one of the few living cast members of the original film, she's not going to miss a chance to speak out.
"We've had some change," she says, "but not enough. We are still fighting the same battles. The legal issues and the bigotry haven't gone anywhere; they've just changed their clothes," Badham said in an interview.
Make no mistake, she says, "there is prejudice, racism, and bigotry anywhere you go in the world. Here in the United States, we're still dealing with the black/white issue and people of color."
Badham thinks the Aaron Sorkin version of the play is fantastic but says the story itself is powerful enough in its own right to pause and take note.
The current tour of Mockingbird, she thinks, comes at a good time following the two-year pandemic.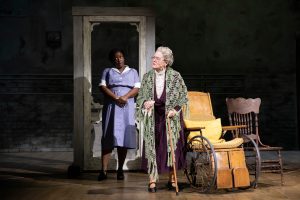 "We've had a real wake-up call in this country. We are at the crossroads of figuring out what we want and I just hope we make the right decision…and that we don't lose our democracy."
In addition to racism, Badham thinks the story also speaks strongly to parenting.
"How many children do we have in this country that need real parents?" she asks. "Anybody can have children," she says, "but it's something else to be a parent. You have to work at that."
Playing the child of Atticus Finch in the movie, Badham said she became a lifelong friend of actor Gregory Peck, who won an Oscar for his portrayal of Finch in the movie.
"He was so wonderful," said Badham of Peck. With Peck, she said, "what you saw is what you got. He was a great believer in doing the right and being morally grounded." The actress said she remained friends with Peck until his death and remains close to Peck's children.
She refuses to make comparisons between Peck's role as Finch in the movie and Richard (John-boy) Thomas as Finch in the Sorkin-inspired tour version of Mockingbird.
"Through the years, I've seen a lot of [Mockingbird] plays and it depends on what each individual brings to the role," says Badham. "Richard Thomas is doing a brilliant, brilliant job," she notes. Also, "he would have been one of my first choices for Atticus."
"He's so believable in the role and it is very close to who he is as a man, as it was with Gregory."
The cast of characters includes Atticus's daughter Scout, her brother Jem, their housekeeper and caretaker, Calpurnia, their visiting friend Dill, and a mysterious neighbor, the reclusive Arthur "Boo" Radley. The other indelible residents of Maycomb, Alabama, are the Finch's neighbor, Mrs. Dubose, Bob Ewell, Tom Robinson, prosecutor Horace Gilmer, Judge Taylor and Mayella Ewell.
According to historian Joseph Crespino, "in the twentieth century, To Kill a Mockingbird is probably the most widely read book dealing with race in America, and its main character, Atticus Finch, the most enduring fictional image of racial heroism.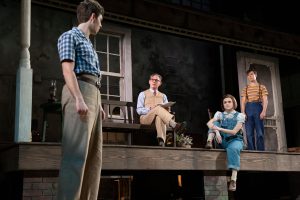 Starring in the critically acclaimed production are Emmy Award®-winning actor Richard Thomas as Atticus Finch, Melanie Moore as Scout Finch, Jacqueline Williams as Calpurnia, Justin Mark as Jem Finch, Yaegel T. Welch as Tom Robinson and Steven Lee Johnson as Dill Harris. It was designed by Miriam Buether, with costumes by Ann Roth, lighting by Jennifer Tipton, sound by Scott Lehrer and an original score by Adam Guettel. Musical direction is by Kimberly Grigsby, hair & wig design by Campbell Young Associates, casting by The Telsey Office, and design adaptation and supervision by Edward Pierce. The national tour is produced by Barry Diller.
The current play opened at Segerstrom Dec. 27 to cheers and applause, she said.
"People were standing up and cheering," she says rather happily, surprised. "He [Thomas] gets applause," says Badham. Though the play deals with serious subject matters, she said it is funny too.
And, says Badham, "it's okay to laugh," as if letting the audience know the play wants to make people think about the serious issues, but also audience members should know it is okay to enjoy the humor. "Please feel free to laugh," the actress said.
Moreover, she said the storyline of Mockingbird is as relevant today, perhaps more so, as when it was published in 1960.
"It resonates today just as strongly today as it has ever been because the main issues haven't gone away," the actress says.
"The racial issue, especially in the past five or six years, haven't gone away. If anything," said Badham, "it's still sitting there, and if you walk into any high school today, you're going to hear it, and you're going to feel it."
"Ignorance," says Badham, "is the root of all evil," and "education," she adds, "is the key to freedom."
"I think it [Mockingbird] has helped a lot in educating people in these things and it makes people think about what they really want as a country. That is the reason I accepted this role," says Badham, "because I believe there are still lessons to be learned."
To see Badham, Thomas and the award-winning cast in "To Kill A Mockingbird," inspired by the timeless novel of the same name by Harper Lee, tickets are available online at SCFTA.org, at the Box Office at 600 Town Center Drive in Costa Mesa, or by calling (714) 556-2787; for inquiries about group ticket discounts for 10 or more, call the Group Services offices at (714) 755-0236.
TO KILL A MOCKINGBIRD holds the record as the highest-grossing American play in Broadway history. It began performances on November 1, 2018, at the Shubert Theatre and played to sold-out houses until the Broadway shutdown in March 2020.
On February 26, 2020, TO KILL A MOCKINGBIRD became the first-ever Broadway play to perform at New York's Madison Square Garden, in front of approximately 18,000 New York City public school students, also marking the largest attendance at a single performance