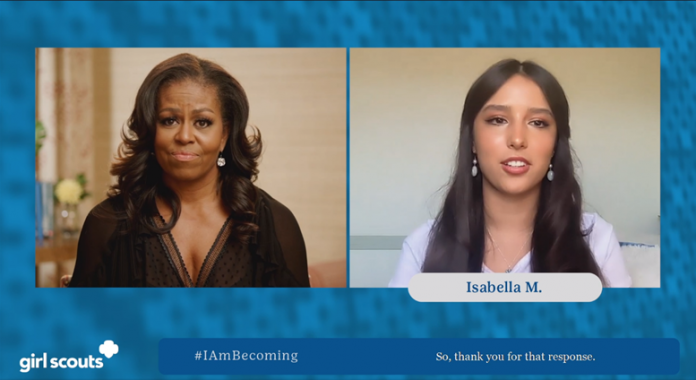 Girl Scouts of Orange County (GSOC) is delighted to announce that distinguished local Girl Scout alum and current Harvard University freshman Isabella Madrigal was selected to moderate a national Girl Scouts of the USA (GSUSA) virtual event with Former First Lady Michelle Obama. The event, held yesterday, gathered tens of thousands of Girl Scouts and adult members from across the country and around the globe.
In mid-March, GSUSA shared exciting details about the Becoming Me program, a special collaboration with Penguin Random House and Former First Lady of the United States Michelle Obama. The program follows the recent publication of Mrs. Obama's book, Becoming: Adapted for Young Readers, and offers a unique opportunity for Girl Scouts to embark on their journeys to become their best selves. A virtual event with Mrs. Obama was held yesterday during which Temecula native and Girl Scouts of Orange County alum Isabella Madrigal moderated a conversation with the former First Lady and six younger Girl Scouts.
"I am so pleased to be working with Girl Scouts of the USA on the Becoming Me program," said Mrs. Obama. "It is a joy and privilege to support young girls along their journeys of becoming, working together to unlock the unique and profound power that lies within each of our own stories."
"Mrs. Obama is so grounded and down-to-earth. I was truly honored to have the opportunity to facilitate a conversation with her and younger Girl Scouts," said Isabella. "So much of what is taught in Girl Scouts – resilience, finding your voice, serving one's community, the importance of mentorship, and owning your story – overlaps with the themes in Mrs. Obama's new book. And this is the perfect time to further support girls, as we relaunch our lives after such a challenging time. I'm thrilled to be a part of this."
Girl Scouts' Becoming Me program will be available at no cost to any Girl Scout enrolled for the 2021–22 membership year. Drawing on existing Girl Scouts' programming, the curated Becoming Me program series includes a six- to eight-week experience centered around core themes from Mrs. Obama's Becoming: Adapted for Young Readers that align with the Girl Scout mission, such as knowing and telling your story, maintaining mental health and wellness, and supporting and nurturing girls on their own journeys. The program also includes a journal activity through which participants reflect on their personal experiences as they answer the question "Who are you, and who do you want to become?" Learn more about Girl Scouts' Becoming Me program by visiting www.girlscouts.org/BecomingMe.
Isabella Madrigal is a Harvard student on the pre-med track. A National Gold Award Girl Scout (Girls Scouts' highest award), Isabella hails from Temecula and attended the Orange County School of the Arts. Being of Cahuilla and Chippewa descent, Isabella saw a need for cultural strengthening in her community. For her Girl Scout Gold Award project last year, she addressed Native representation in the arts, collaborating with ethnic playwrights, cultural consultants, and musicians to develop the play "Menil and her Heart." The play, which has been performed to over 1,000 individuals from California to Washington, D.C., follows the disappearance of a Cahuilla girl, her family's subsequent grief, and sister's efforts to find her. Isabella's project included a corresponding workshop series for tribal members and mainstream participants that wove traditional Cahuilla stories into the current issue of missing and murdered indigenous women. Learn more at www.isabellamadrigal.com.
About Girl Scouts of Orange County
We are the Girl Scouts of Orange County. We are 30,000 strong – nearly 18,000 girls and 12,000 adults who believe that every girl can change the world. Girl Scouts began over 100 years ago with one woman, Juliette Gordon "Daisy" Low, who believed in the power of every girl. Today, we continue her vision of building girls of courage, confidence, and character, who make the world a better place, by helping them discover their inner strength, passions, and talents. With programs in every zip code in Orange County, there are opportunities for every girl to do something amazing. We are the Girl Scouts. To volunteer, reconnect, donate, or join, visit girlscoutsoc.org.