Nico Villanueva, the student representative on the Los Alamitos Unified School District Board, admits he is the first student board member to "ever serve during a pandemic," but perhaps never has a board been so enthusiastic to hear from its students.
Villanueva has, in many ways, ironically been the board's best connection to real life, the student body and the hope their exploits brings to the school district leadership.
For most of 2020, meetings have been filled with fear, uncertainty and stress as the LAUSD board, like everyone else, struggled to cope with the pandemic.
Enter Villanueva, who always brings hopeful and encouraging messages from his fellow students, and so it is with a special joy that board members have awaited his periodic presentations.
Villanueva's slide shows often give detailed accounts of student activities, but also how the students were coping with the many changes forced upon them by the pandemic. In the beginning, Nico was unafraid to voice his concerns, advising the board of some aspects of policy the students wanted changed.
One of his more popular "features," as part of his report, is finding students to "spotlight." They have ranged from enterprising musicians to entrepreneurs.
Moreover, his "spotlights" have pointed out some unique and amazing pursuits undertaken by students in their ordinary lives away from school.
"Welcome Nico," said Board President Marlys Davidson, introducing Nico's report on the agenda. "The board always enjoys your reports," he said.
On Tuesday, Villanueva gave an update on finals, reported on activities of students during the holidays and, of course, presented his "Student Spotlight" student at the first meeting of 2021.
Since the lockdown prevents anyone but the board members from being in the boardroom for the meeting, Nico appeared via video, sporting a new Christmas paddleboard and of course, pictured himself at the beach with the board under his arm.
His latest "Student Spotlight" featured Alexandra Magana, a senior member of the drama program at Los Al High School, noting she is co-president of her troupe.
Also, he said Magana was only one of 12 senior "thespians" selected to arrange dramatic events for the whole state of California.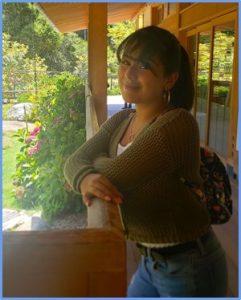 By the way, "thespian" means "having spent more than a thousand hours in or around the theatre," said Nico. Also, he said, Alexandria serves as president of the gift club, which raises funds for Precious Life Shelter.
"While that's all very impressive, it gets even better," he told the board.
Last July, while watching the popular show "Shark Tank," and wanting to create her own business, Villanueva said Magana started her own "soy wax" candle company. "Her mom was supportive and told her to go for it," said Villanueva.
So, she did.
Her company, "Too Hot to Candle," sells homemade soy wax candles on Instagram to raise money for college, said Nico.
Each month, Magana issues new candle flavors and sells them on her Instagram account. Apparently, business is good. "Alexandria is always thankful for her customers," said Villanueva, and "she plans to continue selling them until she leaves for college."
Among her January candle flavors, said Nico, are "Sit Back and Rewax," "Jar of Dreams" and "Clean Machine."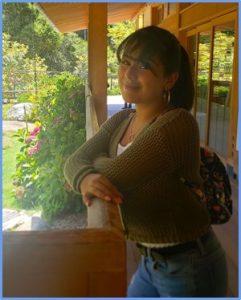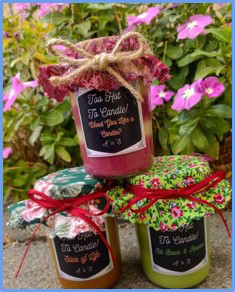 Magana, he said, "is just another example of Griffins being well rounded students."