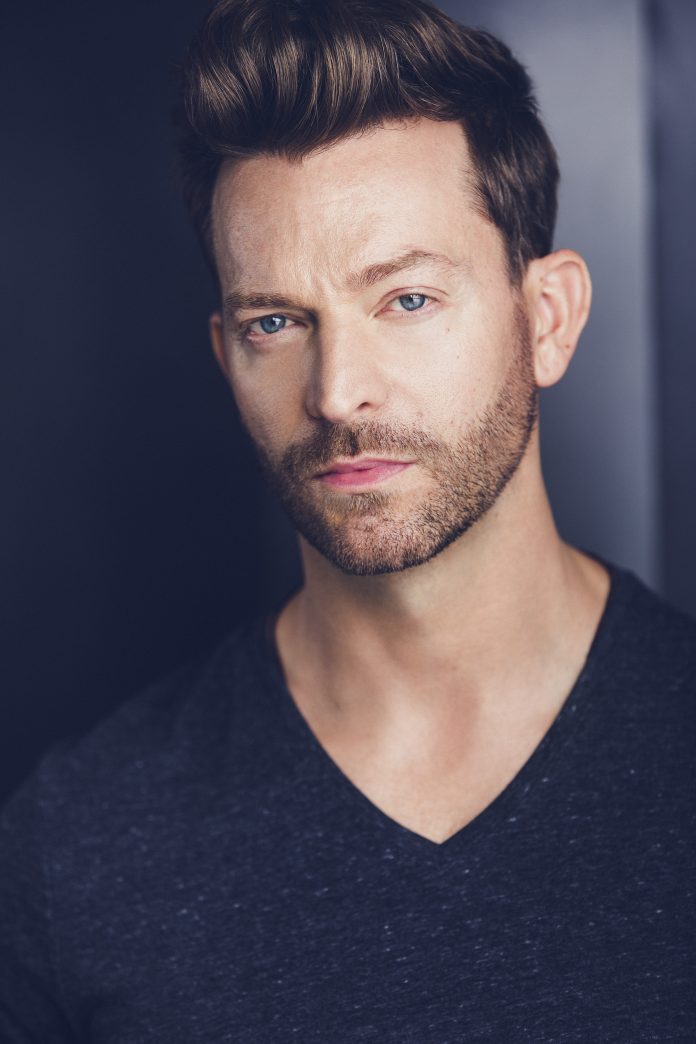 The Gods didn't descend from Olympus to bring "Hadestown" to the Segerstrom Center for the Arts, August 9 to 21, 2022. While the 2019 Tony (8) Award winning musical may seem heaven sent, it's the creative talents of notable singer/songwriter Anaïs Mitchell and ingenious director Rachel Chavkin who have turned traditional Greek Tragedy into the triumph smash hit that is currently on tour.
"Hadestown" cleverly merges, not one but two Greek myths, with Americana music fit for, who else, but the Gods or more aptly OC audiences. The story is a romantic and at times mischievous take on legendary Greek mythologies. It follows the ill-fated love story of Orpheus and Eurydice along with that of the rocky marriage of Hades and Persephone. As the show's narrator Hermes, Levi Kreis, tells the tale of the main character's descent into, well, Hell/Hades.
"Hadestown" is a 'Folk Opera.' It's been branded Opera because it has very few spoken lines. The scenes with dialogue take on the form of rap numbers. And 'Folk,' well, these Greeks aren't wearing Toga's. They are more attuned to the seedy side of depression era New Orleans. It's the Americana vibe of Southern Soul, Gospel, New Orleans jazz and Pop, that is such an important part of the musical.
Despite winning a best featured actor Tony Award for his role as Jerry Lee Lewis in the "Million Dollar Quartet," and a full scholarship to Vanderbilt University to study piano while still in High School, Levi Kreis, aka Hermes, was initially attracted to "Hadestown" because as a Tennessean, Americana music is in his DNA, proving you can take the boy out of the country, but you can't take the country out of the boy. He says, "I grew up around Americana music, Gospel, country and blues. All the roots of music that defined so much of my upbringing are exhibited in this piece. I don't get to talk enough about the Americana roots of 'Hadestown' and why it makes sense to set it in the color palette of New Orleans. I bring a bit of Southern twang to it."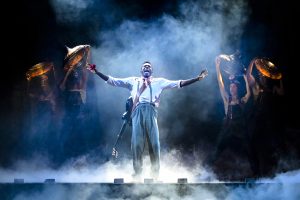 Southern charmer, Kreis, may play a Greek god but doesn't claim to be one. Just the opposite, he says, "I don't think Hermes or any of the characters are Gods on stage, nor are they literally depicting Greek mythology. There are some glorious creative liberties that have, very smartly, been implemented into 'Hadestown' to give it a color palette that is unexpected."
"Hadestown is a place where a song can change your fate," according to Kreis. He says, "We follow the beautiful overlapping stories of young lovers Orpheus and Eurydice along with that of Hades and his wife, Persephone. It is a love story for today and always, intertwining two mythic tales into a haunting, and I think, hopeful theatrical experience that grabs audiences and never let's go."
Kreis knew immediately that he was right for the role of Hermes. He says "it fits me like a glove. The creative team encourages the cast to find our own voice, make our own imprint on the piece," he said.
"And 'Hadestown' draws on a myriad of genres; it's an umbrella of Americana music. It's important for someone with Southern musical abilities to be a part of it," said Kreis.
Aside from the music, the message of "Hadestown" excites Kreis. He says, "I appreciate that 'Hadestown' is built on a set of core values; power of community, equality, diversity, inclusion, and dreams."
"This is the show's message, it's spiritual. These very important topics are finally being bought to the forefront in contemporary society. I lean into the philosophy, for me it's personal, as it's presented by Hermes to both Orpheus and to the audience, said Kreis.
"I also believe that 'Hadestown' champions awareness of the arts. And I like the idea expressed in the show that a song can change the world," he added.
Kreis continues, "The Greek myths in 'Hadestown' are very relevant in today's world on two levels, spiritually and socially. There's an awareness of caring about our climate, we need to be good stewards of our planet. 'Hadestown' also taps into the subject of power and greed, offering a banquet of concepts for conversation."
Greek tragedies are infamous for unhappy consequences befalling the characters. Yet audiences are drawn to the musical. Perhaps, this is because 'hope springs eternal' that this time there will be a happy ever after, or is it as Kreis explains, "audiences can see themselves in this story because it speaks directly to the reality that we often create the same experiences in our lives over and over until we begin to envision something different for ourselves."
"This is clearly expressed in the lyrics 'I'll tell you where the real road lays, between your ears, behind your eyes. That is the path to Paradise, and likewise, the road to ruin," said Kreis.
Hermes is the messenger God who can journey between worlds. He is able to travel between the realms of the Gods, humans, and the dead. In 'Hadestown,' Kreis's Hermes is a puckish prankster, guiding audiences into the depths of Hades (town).
As the musical's narrator Kreis explains, comments and moves the story along. In describing his role, Kreis says, "it's a dance between being responsible for the audience and their journey while being very much immersed in the relationships on stage, my love for Orpheus and my history in respect to Hades. It's a dance between those worlds, being present with the audience and being very present in my relationships on stage. It's kind of fun."
Kreis recommends "Hadestown" to audiences, saying "Hadestown" goes well beyond just effectively entertaining audiences, it inspires conversation."
Take a bewitching journey with Hermes into the underworld. "Hadestown" is playing at Segerstrom Center for the Arts, August 9 to 21, 2022. For tickets, Online: SCtA.org; By phone: 714-556-2787; In person: The Box Office, 600 Town Center Drive, Costa Mesa. Hours are Monday, 10a.m. – 2p.m.;Tuesday – Friday 12p.m. to 5p.m.