Syed Shah is not a typical innkeeper, but a happy one.
This week, one the nation's top travel websites, Trip Advisor, awarded the Best Western Westminster with its prestigious "Traveler's Choice" Award, for which Shah says he is "deeply honored."
Given this award is generally reserved for "five-star properties," Shah said he was "especially proud."
Shah has owned the Best Western Westminster for more than a decade and despite his education and corporate experience, guest ratings have consistency brought the property recognition and awards.
It hasn't always been that way.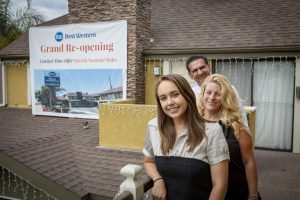 Shah is "a very proud American," who immigrated to the United States as a teenager from Lahore, Pakistan. He carried with him only a dream and two prepaid semesters of college.
At 17, says Shah, his dad sent him to America. His dad pre-paid for two semesters at the Illinois Institute of Technology and told him to go to work "and get educated." Shah would major in engineering like his father.
Although his family had hoped he would eventually return home, Shah said he "loved the people of the USA" and he respected its constitution, "where it makes you have a sense of being free." So he stayed.
Syed arrived in Chicago in the 1970's. On a bare bones budget, he enrolled in the engineering institute. "I remember not getting cheese on my burger at McDonald's because it cost an extra five cents," Shah remembers.
Shah said he soon found a job at Chicago Cold Storage, working in the lab doing research while he finished his bachelor's degree in engineering.
Shah's attention to detail eventually caught the eye of Bell Labs in Chicago and then to the University of Nevada, Las Vegas, for his Master's in Business Administration.
While teaching statistical analysis at UNLV, Shah said he was invited to participate in the creation of a strategic vision for the city of Las Vegas. At that time, said Shah, it was mostly a gambling place.
Shah's team presented a vision of Las Vegas as an "entertainment complex," which, in many ways, he said it eventually became.
In the 1980's, Shah was lured to Van Nuys here in California by Superior Industries, working in the labs of the huge manufacturing company. He worked at a Honeywell company for a while then Superior invited him to come back.
At one point, Shah said he managed 80 employees throughout a network of international laboratories. As the U.S. Space Program expanded, Shah said his division worked closely with the U.S. Space program and the Pentagon.
Shah said he oversaw the development of components for the Apache helicopter and evaluating environmental-control systems for the International Space Station, and building-manufacturing plants in Arkansas, Europe and Mexico.
He has lectured at the Johnson Space Center in Houston.
Seeking to transition from the corporate world into private business, he bought the Best Western hotel a little over a decade ago.
Friends and associate say the hotel has become infused his Shah's personality, which is always open and welcoming. Shah says it has always been his goal to make his guests "feel like they are staying in their own place."
In the age of COVID, Shah keeps the place "super-clean," saying he uses "ultra-violet" lights to sanitize every room and respects all of the sanitizing and social distancing mandates. Business is down, but local construction projects has been kept a steady flow of guests staying in the hotel.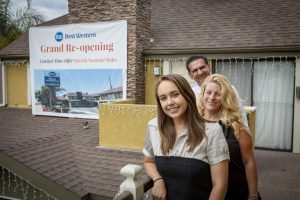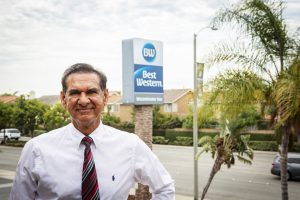 Perhaps it is Shah's generosity of spirit that draws in his guests. No one is quite sure what promotes that down-home feeling to his guests, but for sure Shah has a found a comfortable niche in the hospitality industry.
Shannon Latham, his hotel manager for the past ten years, says her employer is a "detail oriented, but very nice employer." Latham said Shah "walks the walk" and genuinely cares about others.
Samantha Bao anh Nguyen, of Westminster, a longtime friend said she has worked with Shah on community projects said Shah "is always ready to help the community." Nguyen said when she needed help, Shah showed up "with a smile."
Shah recounts an incident when a local police captain brought to his hotel a woman and her children that were being abused by her boyfriend. Shah refused the police officer's offer to pay and offered the woman and her children free room and board until they could be reunited with a brother.
Shah said he once learned (pre-COVID) of a faltering nail salon. "The owner told me her business was not doing well," he said. Visiting her place of business, he noticed it was a bit worn. Shah says he took his entire maintenance crew over, let the owner pick the colors, etc., and renovated her shop.
Paying it forward, Shah said he has sponsored three undocumented employees just as his company sponsored his American citizenship in 1980. "I will help anyone willing to carry their own weight," he said, especially "those who want to add value to society."
"Those little things make a huge difference, but they must come from the heart," said Shah.
"My business is really all about helping the local community succeed," said Shah. When local businesses do better, said Shah, "it's a win for the community and a win for all of us."
Shah has served as President of the Westminster Chamber. He tripled the membership and tried to get the government and community aligned to make Westminster a "tourist mecca."
Apparently, the city fathers had too many other problems to fully focus on his idea, but they still recognize his management style. The Westminster Awards Program this week named the Best Western Westminster as the "Best of Westminster" in the hotels and motels category.
Of all his corporate titles over the years, for now he seems content with the transformation of this small hotel in Westminster, where he keeps a small apartment for himself.
"I have high hopes for the future," said Shah. "I believe in America."
Syed Shah is not your typical innkeeper, rather a man who engineered his own American dream.