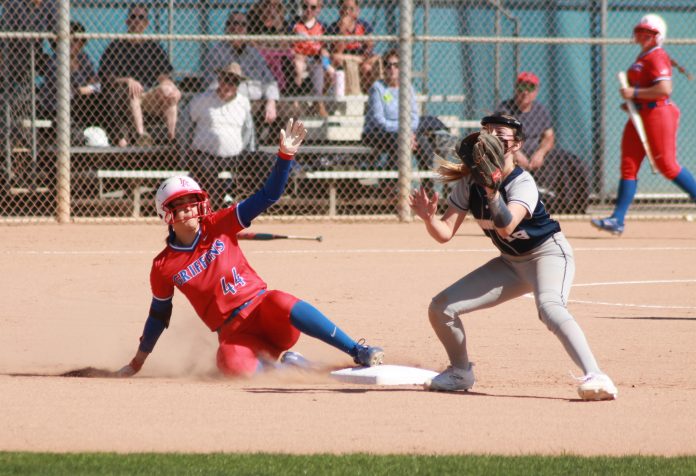 The Los Alamitos High softball team went into their spring break playing nine games in a nine-day span. But the Griffins had little trouble in that stretch, winning all nine, with only two games ending as close a two-run wins.
After the Carew Classic Tournament at the start of April, the Griffins rolled off four league wins in five days and capped the run into the break with a 9-1 win over South Hills in a non-league game on Saturday.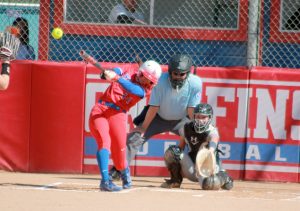 On Thursday, the Griffins hosted Newport Harbor on a day when they also had youth softball players in attendance, inviting some of the youngsters to join them on the field for pre-game introductions. Head Coach Rob Weil admitted the team was a little lackluster at the start of the game. All the fanfare may have contributed to the slow start, but Griffins eventually pulled away for a 6-0 win.
"They know how to turn it on and turn it off, it's a very talented team," Weil said.
Weil gave the day off two No. 1 pitcher, senior Berkley Vance as well as junior Cari Ferguson. But the Griffin defense, behind that pitching battery of Josephine Marsh, Layni Kimura and Alexis Montez, the Griffins were able to keep Newport off the scoreboard.
The Griffins were blanked in the first two innings, but opened the third with three consecutive singles by Julie Holcomb, Giselle Alvarez and Gabby Terrones that scored the first two runs. Terrones moved to third on a flyout and then scored on an errant throw.
With two outs, Isabelle Rodriguez drew a walk and then came home on a double by Malayna Terrones. The Griffins would add two more in the fifth inning on a two-run double by Paige Kingery.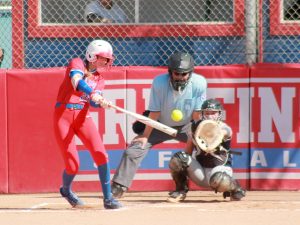 The Griffins are 17-2 on the season and 6-0 in Sunset League play. Their only two losses have come against Norco High. But two recent league losses by Norco have dropped them to second in the current CIF-SS Division 1 rankings, behind No. 1 Los Al. The Griffins will be back in league play on Monday at Newport Harbor at 3:15 p.m. They will play at Huntington Beach on Tuesday at 6 p.m. and then host Marina on Wednesday at 6 p.m.
They also have one more test against a tough division opponent when they play at Pacifica High on April 21 at 3:15 p.m. The Griffins have the making of a serious CIF championship team and Weil said he feels like they are almost playoff ready.
"I think we're right there," Weil said. "Obviously you don't want to peak too early … but the biggest thing is that we play hard every day and we get better one percent every week and I think we'll have ourselves prepared when it comes CIF time."