After a festival season that saw the Los Alamitos High School Orchestra win numerous "superior" ratings, the group settled in for a first-ever "Candlelight Celebration" on March 30 at the school's Performing Arts Center.
"On behalf of the entire Los Alamitos high school orchestra program, I would like to welcome you to our very first candlelight orchestra celebration," said Maestro Justin Padilla, who directs the school's Jazz and Orchestra programs.
While the school sponsors a traditional "Spotlight" fundraising concert for jazz (slated for April 9), this is the first time the school's orchestra performed a solo event.
"This performance is a celebration of the hard work our students and staff have put into making music that uplifts the heart and satisfies the soul," said Padilla. "After working diligently during festival season to receive unanimous superiors from the judges, it is time for us to simply celebrate the orchestra without any critique."
Several luminaries dotted the crowd, including school board trustees Marlys Davidson, Scott Fayette, Board President Diana Hill, and Vice President Chris Forehan. Los Alamitos Council member Ron Bates was in attendance along with Christiana Kraus, the school's principal.
Padilla said the program featured student senior soloists, and for the very first time, the Orchestra had a special guest performer, violinist Jooeun Lee.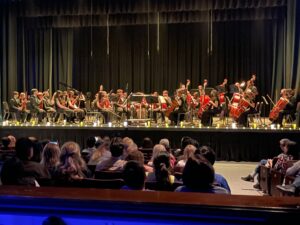 Flanked by candelabras and on a stage lined with candles, the LAHS Orchestra opened with Andante Festivo, written by Jean Sibelius, followed by Scherzo in C Minor by Franz Joseph Haydn and arranged by Sandra Dackow.
Before the introduction of the special guest, the orchestra played "It Ain't Necessarily So," from Porgy and Bess, written by George Gershwin and arranged by Jascha Heifetz.
The special guest, Jooeun Lee, a violinist, accompanied by Dr. Jiyoun Kim on piano, then performed several selections by Brahms, Gershwin, and Monti, and received a rousing ovation from the audience and from the orchestra members themselves, many of whom have been tutored by Dr. Lee.
Padilla said Lee is a doctoral candidate in violin performance from the University of Illinois, Urbana Champaign, where she received a scholarship to study with a member of the Grammy-winning Pacific Quartet.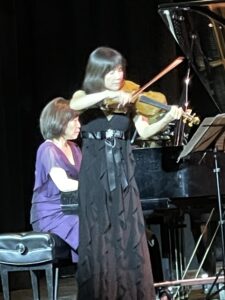 "Tonight, everyone will have the opportunity to hear her stellar musicianship on display," he said. "We're so blessed to have her as our string coach," the maestro told the audience.
Padilla said she has practiced "her love of teaching" for more than a decade, including at the school music program at Weaver Elementary, a coach at McAuliffe Middle, and currently at Los Al High School. He said she is an active member of the Music Teacher Association of California and maintains a private violin and viola studio in Los Alamitos, California.
Following Lee's performance, Padilla presented a host of student soloists, including Caslin Hawkins on violin, Kathleen Albers on cello, a violin duo of Matthew Nguyen and Michael Yoon, and a quintent made up of Alma Ahn and Sophia Ly on violin, Nikki Orr and Jinu Hong on cello, and Leo Yip on viola.
The entire orchestra then closed the evening with Holberg Suite by Edvard Grieg.
"We believe this evening's concert will be the first of many candlelight events to share the extraordinary accomplishments of our students," said Padilla.
"With the continued support of our boosted boards, who staff and administration we are encouraged to make music that will bring joy to your life and continue to attract future Griffin musicians," he added.