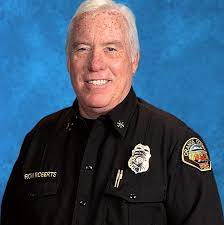 The City of Los Alamitos paid tribute to long-serving Fire Chief Ron Roberts, a popular fixture at council meetings for many years, who passed away unexpectedly while vacationing in Costa Rica.
Council member Shelley Hasselbrink, who serves as the city's representative on the Orange County Fire Authority, said that although Roberts served in many capacities, he is perhaps best known for his role as OCFA Division 1 Fire Chief, which services the City of Los Alamitos.
"Our former division chief Ron Roberts," said Hasselbrink, "who sat right over there [pointing to his seat], "passed away on Feb. 9th, just 125 days after he retired."
She said Roberts was vacationing in Costa Costa Rica with his wife and another couple when he and his wife were unexpectedly taken out to sea by a riptide.
Hasselbrink said the couple was eventually rescued, "but unfortunately, Ron did not survive."
"He was a terrific man who gave 42 years of his life to fire service and was starting to enjoy the prime of his life," said Hasselbrink, asking everyone to keep Roberts in their prayers.
At his retirement ceremony in October, 2022, OCFA posted a thank you to Facebook for his 42 years of service.
"We thank Division Chief Ron Roberts for his 42 years of fire service as he retires today from the OCFA. Chief Roberts began his career as a Reserve Firefighter for Santa Ana Fire Department in 1980 before becoming a firefighter for the City of Westminster in 1981. In 1995, the City of Westminster joined the OCFA as the 19th member city, and he continued to proudly serve Orange County," said the statement.
Chief Roberts has held a variety of specialty positions in the emergency service, including paramedic, fire investigator, helicopter crew chief, assistant fire training officer, division administrative captain, emergency command center battalion chief, and chief fire investigator. Chief Roberts retired from Division 1, which serves Los Alamitos, Los Alamitos Joint Forces Training Base, Midway City, Rossmoor, Seal Beach, Westminster, and Garden Grove.
Chief Roberts has served on multiple incident management teams, including in positions such as Incident Commander for our Covid response and Incident Commander for the Bond Fire. One of his most impactful memories was being at the 2001 Darby Fire in Northern California when the news of the 9/11 attacks arrived during their morning briefing. He remembers the morning briefing pausing for several minutes before they continued on with their firefighting mission while still processing what had occurred.
According to the OCFA, Roberts lived in Orange with his wife Stacy. They have two grown sons and three grandchildren that they enjoyed spoiling.
Roberts, according to the retirement ceremony account, told his OCFA fire family, "I will miss you all, you are good people doing great work. Take care of one another."
In announcing the news, Fire Chief Brian Fennessy issued a statement.
"Chief Ron Roberts built a career and lived his life in service of others," said OCFA Fire Chief Brian Fennessy. "Our hearts are broken, but we take solace in knowing that the legacy of his service will live on in the communities he protected and the lives he saved in his more than 40 years of service."
"Ron was a natural leader and mentor to many firefighters and chief officers. His kind heart and strong character made him a trusted and loved leader in Orange County and throughout the fire service community," said the statement.
Plans for funeral services are pending, Hasselbrink said.
The city closed out its February meeting with a tribute to Roberts and the mother of Laura Herzog, Vicki, who died in a head-on car collision in Westminster earlier this month. Herzog is the Executive Director of the nonprofit "Honoring our Fallen."