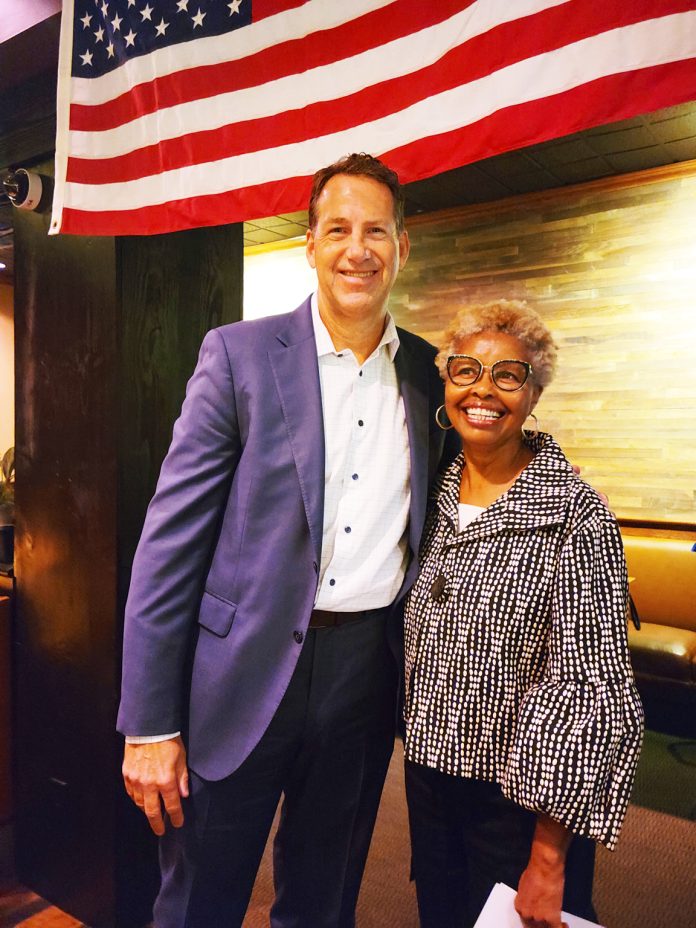 Los Alamitos Medical Center's CEO Kent Clayton was guest speaker during the recent Los Al Chamber of Commerce's monthly breakfast, hosted by Maderas Steak & Ribs Restaurant.
Clayton was introduced by Susan Morales with the Medical Center as being a strong leader who engages with the staff.
"He attends and hosts all of our Employee of the Month events, holds a Breakfast with the CEO event, has a special-parking-drawing each month for the employees who live our I-CARE values and he does spontaneous recognitions," said Morales. "His strong leadership-style motivates our staff to want to do their best every day for our patients and for the hospital."
The Los Alamitos Medical Center (LAMC) is an acute care hospital that has been serving the community for more-than 50-years.
Clayton said he's been with the Medical Center for the past nine-years and that he loves the area; "It's a great community."
He shared that his oldest son has just graduated from his alma mater, USC, in four-years, going on to say that his son asked him, "What do you do every day?"
Good question.
Clayton explained to his son that he wears a lot of different hats during the day at work, but mostly, he said, "I expect the unexpected, because we have a lot of different stake holders."
He went on to explain that there is a lot of up-keep in hospitals and investment in great technology to provide the best for the patients' well-being and to make sure it's safe for them in the hospital.
LAMC is a very busy hospital, employing 1,100 employees. Clayton said when they first heard about COVID-19, they did an, "All-hands on deck" approach. "We saw patients from Orange County, Los Angeles and Long Beach."
He also noted that, "We are a Comprehensive Stroke Center, and we receive many awards at LAMC."
Clayton said that LAMC treats everyone, even with an up-tick in homelessness, "Because that's the right thing to do and it's also the law," even though the labor shortage is real because of the cost-of-living and burn-out, with people moving to other states where it's currently more affordable to live than here.
He went on to say that LAMC likes being involved in the community. "We like being visible and having a communicative dialogue."
LAMC is an acute care hospital; Clayton oversees the strategic, operational and clinical activities for the hospital and its extended campus facilities.
Prior to being the CEO at LAMC, he was at Placentia-Linda Hospital for 10-years, with an impressive track-record of creating a very positive culture, strengthening clinical programs and improving patient care.
His partnership with the medical staff and governing board resulted in acquiring advanced technology and strengthening key service-lines to meet the needs of the community, including notable additions to patient services such as an Orthopedic Destination Center, building a bi-plane cath lab with neuro-interventional capabilities, MAKOTM robot-assisted surgery technology, the addition of a 128- slice CT, and expanding radiation oncology via affiliation with UCLA Health. Through the enhancements, local community involvement, and engaged key stakeholders, the hospital is evolving with the fast-paced healthcare environment.