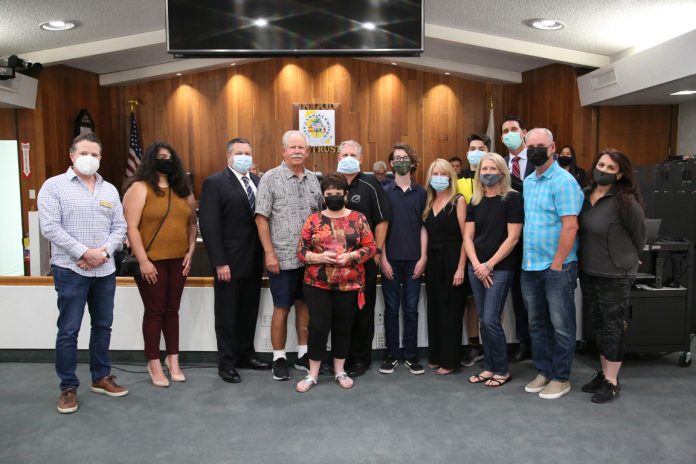 The Los Alamitos City Council honored former mayor and council member Marilyn Poe who was back at the city council chambers this week to receive the California Parks and Recreation Society District 10 Volunteer Merit Award.
The presentation took place at last week's meeting and was presided over by Mayor Mark Chirco.
"Marilyn has played an integral role in the city of Los Alamitos, and in the Orange County region, by volunteering for numerous organizations, all while raising her family of three children," said Chirco.
"This is quite an honor," said Poe, thanking city Recreation official Emeline Noda for nominating her. Poe thanked the people throughout the community who volunteer their time to assist the city.
"We were raised to give back to our community," she said, "and for our parents, it was just a natural thing. Anything I've done for this community; I have always received more than I've given," said Poe.
She urged others to volunteer as well. "For anyone out there that feels like they want to participate, they should jump in with both feet."
"You will be glad you did," said Poe.
Chirco said Poe began her public service back in 1988, being appointed to the Parks, Recreation and Cultural Arts commission. She was first elected to the city council in 1994 where she served for 12 years alongside council member Ron Bates, who recently won a seat to return to the council.
Poe served as Mayor of Los Alamitos in 1999 and 2003 and was re-elected to the city council in 2008 and served again as mayor in 2010. During her years of public service, Poe served on a variety of Orange County boards and commissions, including the Orange County Fire Authority, Rivers and Mountains Conservancy, OC Council of Governments and the Southern California Association of Governments.
In the community, Poe has volunteered for the Los Alamitos PTA, softball leagues, The Youth Center, St. Isidore Historical Plaza, Family Resource Center and many others, all while raising her own three children.
Chirco thanked Poe and congratulated her on receiving the award. Poe was technically nominated for the award by the entire Los Alamitos Parks, Recreation and Cultural Affairs Committee.
"Parks are a big deal here," said Chirco, "the sense of community we have is a big deal." During the presentation, Chirco also read a Proclamation that makes July "Parks make life Better" month throughout the city.