By Michael Claborn
(Editor's note: The Los Alamitos Chief of Police is a self-described fanatical football fan and has agreed to give our viewers a sideline view of the season. Here is his Week 2 report).
The Los Alamitos Griffins embarked on the second week of the season with a trip to Ft. Lauderdale, Florida to play in the Geico ESPN High School Kickoff. This game was broadcast on ESPN2 and showcased two nationally ranked teams, the #19 American Heritage Patriots versus the #25 Los Alamitos Griffins.
The Griffins are led by five-star quarterback Malachi Nelson and five-star receiver Makai Lemon, both verbally committed to USC. Unfortunately, T.A. Cunningham, the Griffins highly touted defensive lineman was not cleared by CIF-SS in time to play in the game. Cunningham is considered the #1 class of 2024 defensive linemen in the country.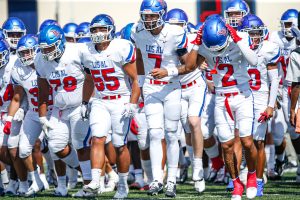 This game was billed as a battle between two teams full of scholarship athletes at almost every skilled position on the field. However, the game was ultimately decided in the trenches by the American Heritage offensive line that was able to establish a ground game that the Griffins could not stop. The Patriots starting running back rushed for 224 yards on 19 carries and two touchdowns.
Malachi Nelson ended the game with respectable numbers by any standards, throwing for over 200 yards passing, three touchdowns, and one interception. Makai Lemon on the other hand had a game to be remembered. His stat line will read just under 200 yards receiving and three touchdowns.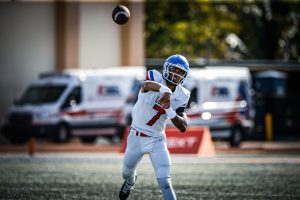 However, consider the fact that the referees had a significant impact on the outcome of this game. Makai Lemon had two potential game-changing plays called back due to a penalty. The first was a 65-yard touchdown reception and the second was a kick-off returned for a touchdown.
The Griffins don't have to wait long for an opportunity to get their season back on track, however, after their 56-27 loss to the Patriots. On Saturday night, Sept. 3 at 7:00 p.m. at Westminster High School, the Griffins host the Basha Bears, the preseason #1 ranked football team in the State of Arizona.
Be sure to come out and support the Griffins on their quest to get back to the playoffs.