This past weekend the Los Alamitos High Cross Country team was victorious in its first race of the season. The Griffins coming off their best season ever last year, when they swept all 6 league cross country championships, opened the season winning 7 of the 8 races against Villa Park High.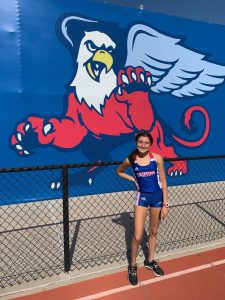 Among the many highlights were seeing a few young stars shining for the Griffins. Freshman Hallie Muniz led the Griffin Varsity team to a 19-41 (low score winning) victory, with Senior Ava Faris right behind in second place and fellow freshman Kaitlyn McQuillen taking 4th, Hallie's 18:50 for the 3 miles was one of the fastest opening times ever by a freshman.
On the boys side sophomore Zachary Nakada in his first varsity race led the Griffin team with junior Tyler Austin right behind him helping the team to a strong showing on opening day. Nakada and Austin ran together up front battling a very strong Villa Park team. In the Junior Varsity divisions Katherine Kussler and Julia Muniz led the Griffins to a perfect 15-50 sweep (taking all 5 top finishes)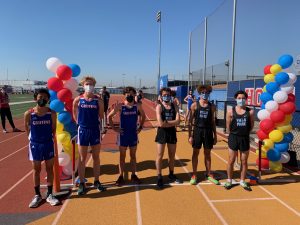 and on the boys side Aidan Lee and Luke Rettich led the boys to another dominating 20-46 victory.
Los Al has one of the largest teams in the state and the frosh/soph teams had a great day showing a great glimpse of the future for LAHS. While all high school runners race 3 miles, this first race was set for 2. Freshman Elenie Burke and Sophomore Kiana Low led the Griffins to a perfect 15-50 victory. Burke's 14:08 was a fantastic first race with Low and her teammates right behind. On the boys side Freshmen Issac Parhami and Lon Monk led the Griffins to a 16-49 victory. Parhami's blazed to a 11:19 victory, with Monk and their teammates finishing strong together.
Post race, LAHS coach Mark Celestin said it was awesome to finally see the runners get a chance to put 8 months of practice to the test. "Seeing the joy of all of our runners competing in the Griffin uniforms made all the hard work with it. This is a special team – they have hung in there with on again, off again training (due to Covid restrictions) and did so much of their training on their own. They should be proud of their achievements so far and will be getting faster and faster as the season moves forward." Currently, due to Covid, Cross Country is the only high school sport in California allowed to compete. This coming
Saturday the Griffins will race Newport Harbor HS at LAHS.